Is Using Timesheets Still a Viable Option?
Timesheets is a great way to track time, calculate payments, and bill your clients, but time management can be tricky.
Companies around the world try to tackle this issue in a variety of ways. The traditional method is to use an Excel timesheet template that each employee fills out, resulting in errors, lost productivity, and missed deadlines.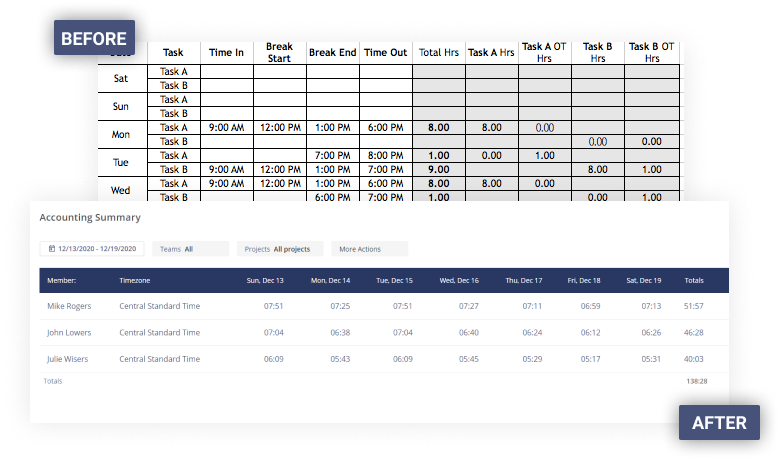 Monitask's automatic time tracking tool eliminates the need for manual timesheets, saving both time and money. The lightweight employee time tracking app is available for Windows, Mac, and Linux.
Company owners then can check timesheets with proof of work in a simple, real-time interface.
Will Your Employee Timesheet Software Work With My Current HR and Payroll Solution?
The Monitask Employee Timesheet Software will work perfectly well with your current HR and Payroll Solution. The timesheet software is easy to read and understand, enabling you to view live interactive details on your employee's activity.
Whatever your HR and Payroll Solution, it will definitely integrate well with the Employee Timesheet Software. The Timesheet Software keeps a detailed record of time your employee spent working on a task, the time the employee stopped working, the specific task that was worked on and the task that is yet to be concluded.
With all of this information and much more, you can effectively monitor the tasks to pay for and the task left undone. Also, you can assess your employees and know what decision to take or steps to be made as regards your workforce, either to employ a new set of persons or not. The timesheet software yields productivity and profitability, allowing your HR to visualize the productivity and efficiency of employees.
Therefore, there is no cause for alarm. The Employee Timesheet Software will work very much fine with your HR and Payroll, and its automation will ease you a lot of stress of having to manually do some oversight functions.
We Use A Lot Of Business Specific Software, Will It Work With Timesheet Software?
The timesheet software will work for your business, regardless of your business Specific Software. The timesheet software has been carefully designed to work with any software and can be easily accessed from any mobile device or desktop.
More so, it can also integrate with a payroll system and automate wage calculation, or an invoicing app meant for billing. The timesheet centralizes all billable hours that have been recorded. It also functions as an attendance report, tracking hours of time spent, time wasted, absences, time offs, and holidays. It also allows users to create reports and summaries deduced from the available that has been recorded. All of these functions can go with any business software, because they are just simple and basic duties, and not very complex.
How Much Control Do I Have Over How My Employees Track Their Work Hours?
Though it might seem as though you do not have absolute control over how your employees track their work hours, but the truth remains that you have absolute control over them, as long as it is concerning their work hours which is a contractual agreement between both of you.
Regardless of whether they work remotely or at the conventional office space, it is implied that they owe you every bit of accountability and work commensurately to their pay. Therefore, in an instance whereby an employee is unaccountable of their work time or makes it quite hard for you to keep track of their work hours, they are indirectly vitiating the terms of employment.
The best way to have control over how your employees keep track of their work hours is to ensure they are accountable to their time tracking software. From the time tracking software, you can then deduce the necessary information you need about how diligent and committed your employee is to the task at hand. The time tracking app promotes workplace transparency, improves the accuracy of deadlines, and also helps empower your employees.
Our Staff Is Not Very Tech Savvy, Will They Be Able To Operate Your Timesheet Software?
The Timesheet Software does not require any prior technical experience or expertise before you can put it to use, effectively manage your team's task, and monitor their time. In actual fact, you need little or no knowledge about technology before you can use and utilize the Timesheet Software.
Time Sheet Software is all about time tracking, team collaboration, and reports of the team. It is also a time and business management solution allowing you to manage projects, finances, and teamwork.
The functions of the timesheet software are one that an ordinary person can relate to. It has real-time dashboards, tracks and bills time, give reports on projects, performance, and time spent or time wasted. All of the functions are things that someone would have done while manually managing their team and keeping track of time. The only difference now is just that all of these functions are now automated, or better put, technology has come up with an easier and faster way to get things done.
That being said, anybody can operate the Timesheet Software, you only need to be taught basic steps within a very short time on how to use it.