Monitask Integrations with 3rd Party Apps
One additional thing you can do with Monitask is to link our interface with powerful apps you are currently using already which will help you take all your workflows under control and enjoy increased productivity.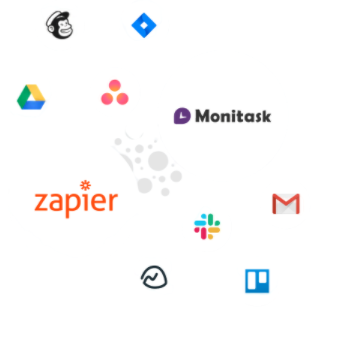 Common Integrations
Zapier
Zapier is the most popular way to automate tasks through customized workflows with 1,300+ web apps.
Build a Zapier integration, and you'll clear dozens of your app's top feature requests at once. You don't need to build custom integrations with every app. One Zapier integration connects your app to every other Zapier integrated app, with more added every day.

Basecamp
Their unique blend of tools is everything any team needs to stay on the same page about whatever they are working on.

Slack
Slack is a platform for Team communication; everything in one place, instantly searchable and available everywhere you go.

JIRA
Jira is a proprietary issue tracking product developed by Atlassian that allows bug tracking and agile project management.

Asana
It is a collaborative information manager for the workspace. It helps you organize people and tasks effectively.