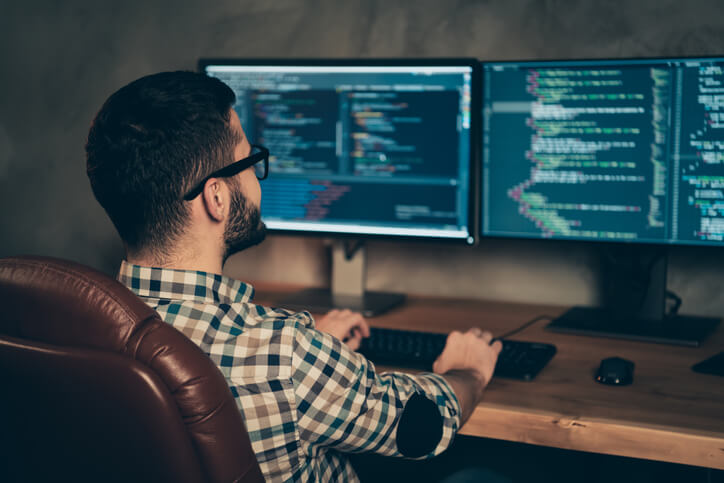 What is the Advantage of a Hire Remote Developers?
It's sometimes tough to hire the right software developer for your company's needs. However, the best solution may be to search for candidates worldwide and work with them remotely. Besides, companies that hire only developers who work in the traditional workspace miss out on some opportunities. Mentioned below are five advantages that come when you hire remote software developers for your organization.

Flexible Working Hours for Employees
The flexibility of working hours benefits both employers and their employees. Remote developers stick to a specific schedule to ensure the highest quality and performance. In this way, they will choose the most suitable time to achieve the best possible result. As an employer, you don't need to keep track of the number of hours your remote developer spends while working on a software project. 
Besides, you can subscribe to Monitask monitoring software to help you track your remote developers working hours. This monitoring tool gives you the freedom to focus on other important tasks. 
HackerRank conducted a survey, asking 7,000 employers their most significant challenge when hiring talent. 41% picked talent shortage as their biggest challenge. Nowadays, various industries have an increasing need for skilled developers. And this can make hiring difficult, especially when you need specific-skilled developers. 
So, starting a remote software development team at your company will give your company access to untapped local markets and an endless stream of skilled foreign talent.
In today's world, it's highly productive to have a remote development team in your company. Besides, based on a remote work survey by "Indeed," 72% of organizations that implement remote work policies say they have a more productive workforce. Also, another 22% believe a remote team is far more productive, while only 3% agree it's less effective to work remotely. 
A company requires good infrastructure before it can employ full-time developers. Working with the remote team saves you enormous costs for your IT infrastructure, workplace, and many more. Furthermore, remote developers do not have additional expenses such as electricity bills, internet, refreshments, meals, and many others. It's simply cheaper to hire a remote developer.
Creative Ideas for the Project
It's known that remote developers don't attach themselves to a single project. Hence, their multi-dimensional exposure makes them think creatively and critically. They can provide you with new ideas that can be useful for your team's successful management. Moreover, this makes remote workers more motivated and inspired to do their jobs.

Is it Possible to Create a Successful Remote Team?
Yes, it's possible to build or create a successful remote team that can satisfy all business needs and accomplishes an organization's goals. Here are a few valuable tips for managing a remote team successfully:
Ensure to communicate your mission and values to your remote team

Ensure you remind your remote workers that they are valued and appreciated

Schedule one-on-one meetings or virtual stand-ups

Instill an environment of trust and create psychological safety 

Don't overload your team with tasks, and make sure you pay them in time

Don't forget to step back and question assumptions
Why can Remote Developers be Most Productive?
Remote developers are productive because they get to work in a suitable environment, and at the time, they are most focused. Remote management gives developers the ability to organize their day, so they can function most effectively. For instance, if a software developer is more productive between 4 AM-7 AM, his company may not get the best out of him if they require him to work 9-5. That is why it is best for companies to allow their developers to do tasks when they're most in the zone, irrespective of the time.

What are the Benefits of a Remote Development Team?
With the technological revolution taking place today, most organizations set up a remote development team to fit in with the current business trend. Below are some benefits of a remote development team:
Allows employers to tap into the best talent across the world

It helps to increase your company's efficiency and productivity

Enables your employees to network and grow professionally

Helps to reduce office space costs

Remote team meetings are short and more effective

Solutions to Monitoring Remote Developers
Nowadays, more developers are working from home because employers can monitor them using various remote monitoring technologies. These monitoring tools help employers track keystrokes and measure their active and idle time. Also, these tools can take photos to see whether remote developers are sitting at their laptops at home. However, there are some monitoring tools out there that may not satisfy your remote team's needs. 
That's why we recommend employers use Monitask to monitor their remote developers. Besides, this Employee Monitoring Software delivers solutions to monitoring remote developers, boosting accountability and productivity across your team.
Wrapping Up
In conclusion, it is beneficial and cost-effective to hire a remote developer for your company's software projects. Fortunately, you can use the Monitask monitoring tool to build a strong communication network and collaborate with your remote development team. Ensure you sign up here today to take advantage of the tool's numerous features and functions.
Try Monitask
Track employee productivity and simplify work with them
117