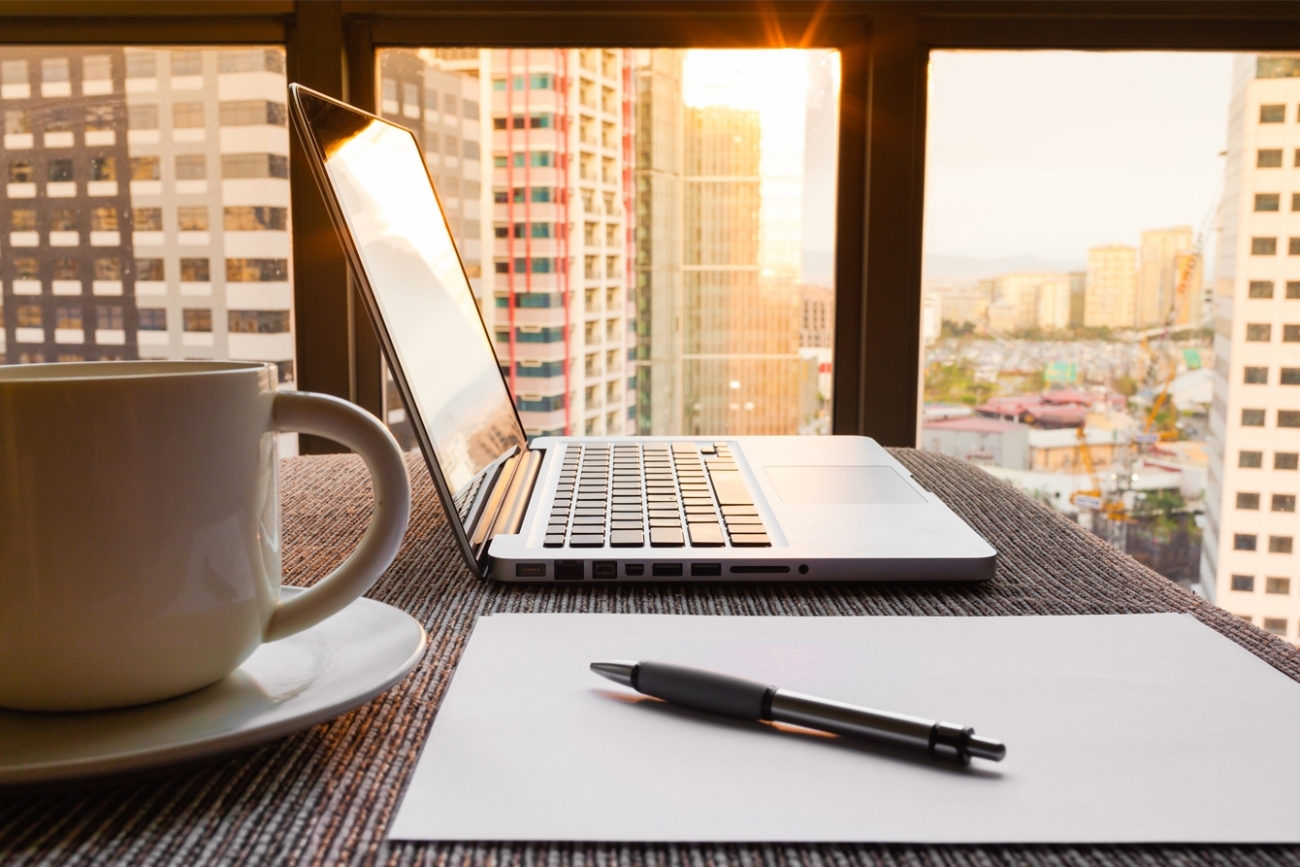 6 Ways to Find Good Remote Workers Outside of UpWork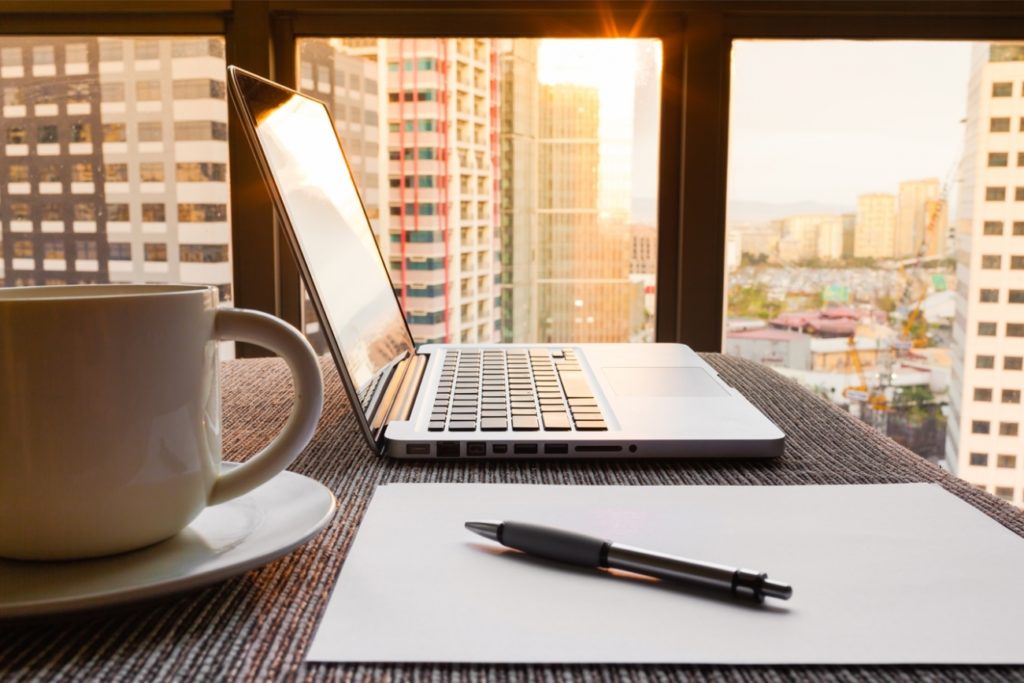 Hiring freelancers has many benefits, the most powerful being that it gives you access to a geographically unrestricted and limitless talent pool. When you add cost savings to this list, since you won't need to hire a full-time worker for just one project, it becomes quite clear why hiring remote workers is becoming a trend.
One of the most popular platforms to look for freelancers is UpWork. It was formed when Elance and oDesk merged. However, although UpWork remains the largest freelancing platform, connecting thousands of employers and freelancers around the world, there are plenty of similar platforms where remote workers can be found.
All of these platforms offer some unique benefits and have specifics ways of helping you contact and collaborate with remote workers.
Outsourcely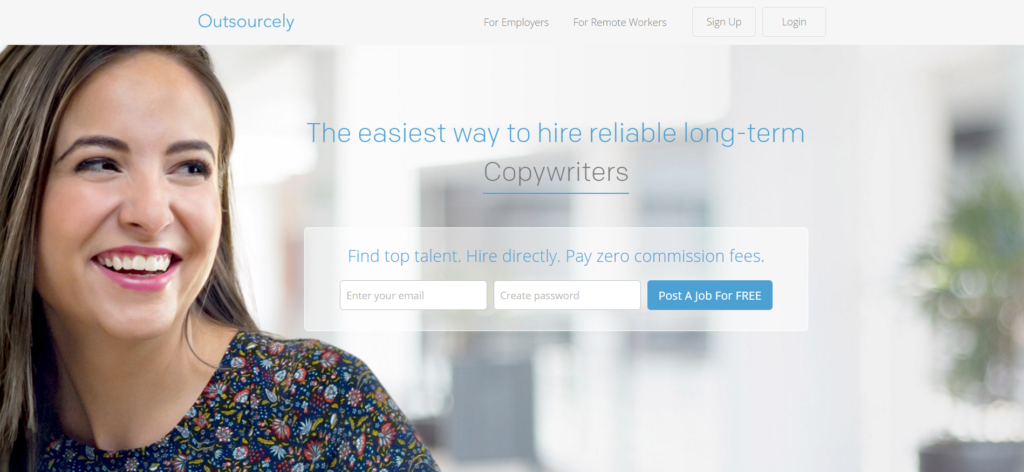 This platform is focused on ease of use. It is incredible how fast and easy you can find vetted and reliable freelancers on this website. The talent pool is very big and it includes remote workers from 132 countries.
You have two options once you register on Outsourcely. You can either search for freelancers by skill or post your job offer. You are left with several options to connect with job candidates, via real-time chat, regular email, or video call.
While you can find freelancers looking for short-term projects on other platforms, the Outsourcely remote worker community is focused on long-term remote work. So if you want to build long-lasting relationships with your remote workers, this is an excellent place to look for them.
Unlike UpWork, this platform allows employers to pay freelancers directly. In most of the scenarios, this is a huge money saver. Keep in mind that a lot of similar platforms charge fees for each employer–worker transaction. This platform also offers a built-in solution Team Workplace. It makes remote worker or team managing easy.
PeoplePerHour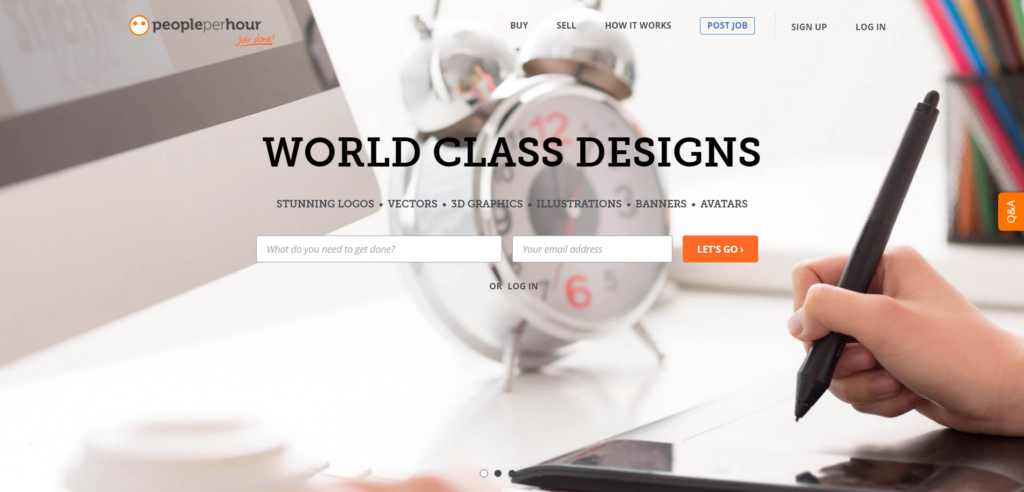 When you visit their website, you can find remote workers by browsing "Hourlies", which will list all the current fixed price offers; you can post a job and wait for freelancers to contact you or you can search for freelancers and contact them.
When you are viewing the profiles of remote workers you can see their reputation so far. Make sure to read reviews in order to hire a reliable freelancer.
Browsing through the Hourlies option is very convenient since it lists fix price offers, so you don't have to negotiate with a remote worker. With these offers, you can immediately hire someone, literally in just a few clicks.
Satisfaction guarantee is there to ensure that you can pay only for the work that you are satisfied with. The PeoplePerHour platform has everything you need in one place, so you don't have to leave the platform at any given point – it offers a project management tool, document sharing, and supports various payment types.
Hubstaff Talent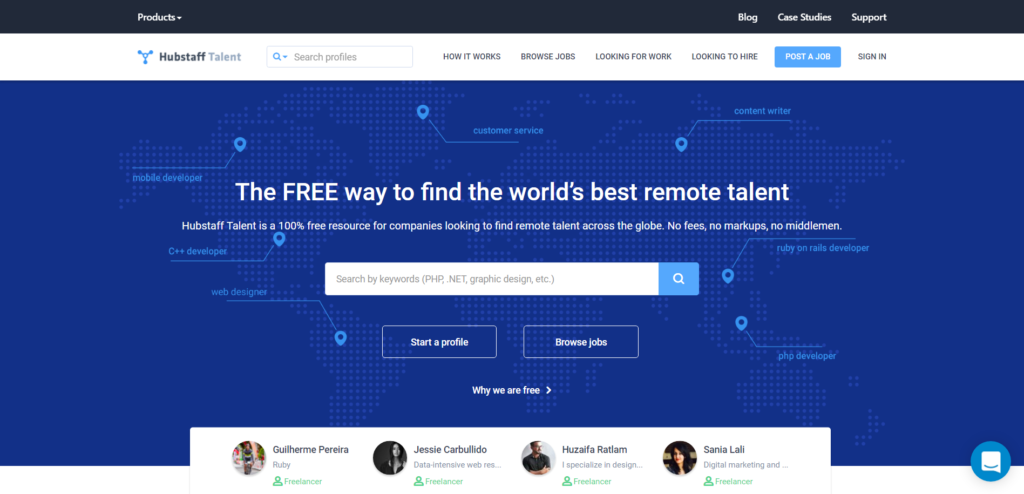 Hubstaff Talent is a free directory for employers in need of a remote worker. This platform comes with no markups and no fees on the freelancer's and business owner's side. When you are looking for a remote worker on this platform you can sort the results by country, years of experience, skill, and availability.
Hubstaff Talent platform also offers time tracking software tool, so that you can easily manage remote workers. There are also other useful features such as automatic payroll and activity monitoring.
The pricing plan for this platform is very affordable and ranges from 5 to 9 US dollars, per month.
Guru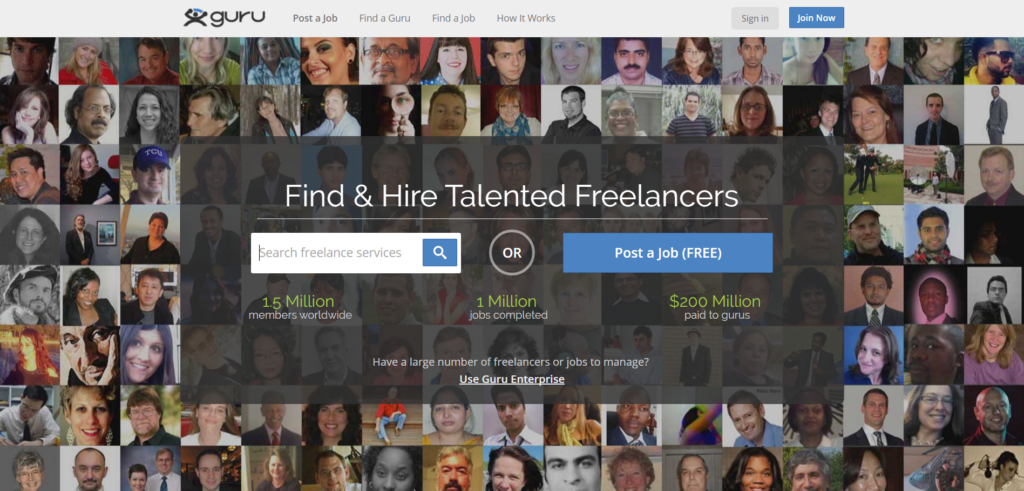 There are more than 1.5 million gurus (freelancers) on this network. Their skillset ranges anywhere from graphic design and IT to business and app development.
Each freelancer profile includes testimonials, reviews, a complete portfolio, and recommendations. Access to all of this information makes it much easier when you are deciding which remote worker to hire.
The Guru platform has an integrated project management tool, just like PeoplePerHour, and their software is highly sophisticated. It allows you to communicate and share documents with a remote worker and you can also define milestones and tasks and create agreements.
When you are looking for a Guru, you can filter them by reputation, experience, and price. This platform is ideal for both small and medium-sized business.
Freelancer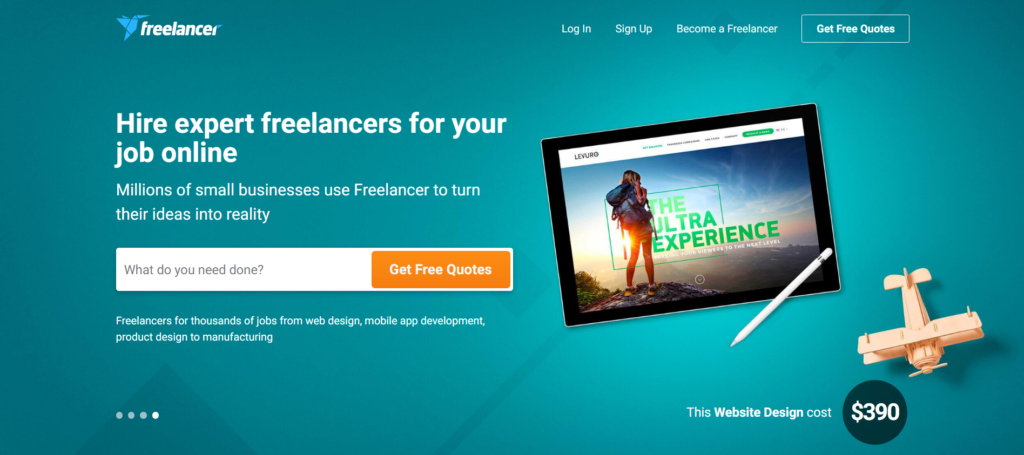 Freelancer is a ten-year-old platform with over 17 million registered users. The easiest way to look for freelancers on this platform is to post a job. Before posting a project, you will have to fill out project details, required skills, and pricing (hourly or fixed). Posting a project doesn't cost anything, but if you want your project to be classified as urgent, NDA-required, or classified, you will have to pay.
You will not have access to free time tracking and project management tools. If you are running on the basic plan, make sure to read each freelancer's portfolio, history of completed jobs, and reviews to pick the best (wo)man for the job. If you don't want to pay for time tracking tools, you should go with a fixed project price rather than the hourly rate.
Witmart

This is a Chinese-based platform, with most of the workforce coming from this country. With almost 10 million registered users, it is among the largest crowdsourcing services in the world.
When you post your job offer as an employer you have the option to open the job post for an auction. Freelancers will then be able to compete via a bid.
You can filter freelancers by price, reputation, and experience, the same as on other platforms. Witmart is a great place for small and mid-sized business to look for freelancers proficient in logo and website design.
These six crowdsourcing platforms are great alternatives to UpWork. You should be aware of the fact that there are many platforms of this type online. Some of them specialize in just one niche to attract freelancers who are experts in their field, while others cater to a broader audience. It is always advisable to do some digging before deciding which platform to use for a particular project.
Try Monitask
Track employee productivity and simplify work with them
542