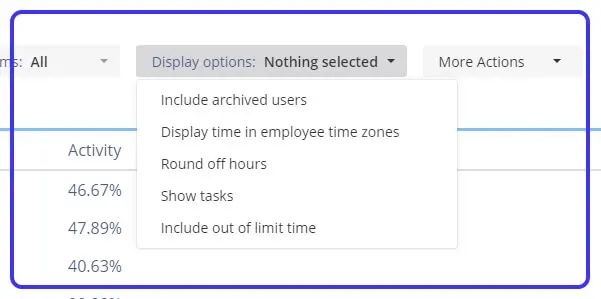 Try New Feature – Display Options Filter
We continue to improve the features of Monitask for you and in one of the latest updates, we have implemented a new and useful feature – filter display options in the Time entry details report. Now you have 5 additional filters for displaying information in the daily report.
Below we will tell you what this filter can be useful for you.
Option 1 – "Include archived users"
If enabled, the table will show data on users who have been previously archived. This will allow you to quickly view the necessary information about employees who no longer work in the team.
Option 2 – "Display time in employee time zones"
If enabled, the time will be displayed in terms of employee time zones. This will allow you to evaluate the working hours of an employee and employee productivity more objectively.

Option 3 – "Round off hours"
When this option is enabled, an additional column appears in the table that displays rounded-off hours of an employee for convenience. It is useful for those who keep records of working hours by hours worked.

Option 4 – "Show tasks"
This option includes a column with the tasks that the employee worked on during the working day.
Option 5 – "Include out of limit time".
This option includes the displaying of the employee's working time if the employee exceeded the weekly limit of working time specified in the company settings. By default, exceeding this limit is not displayed in the Time Entry details report.
Try Monitask
Track employee productivity and simplify work with them
70