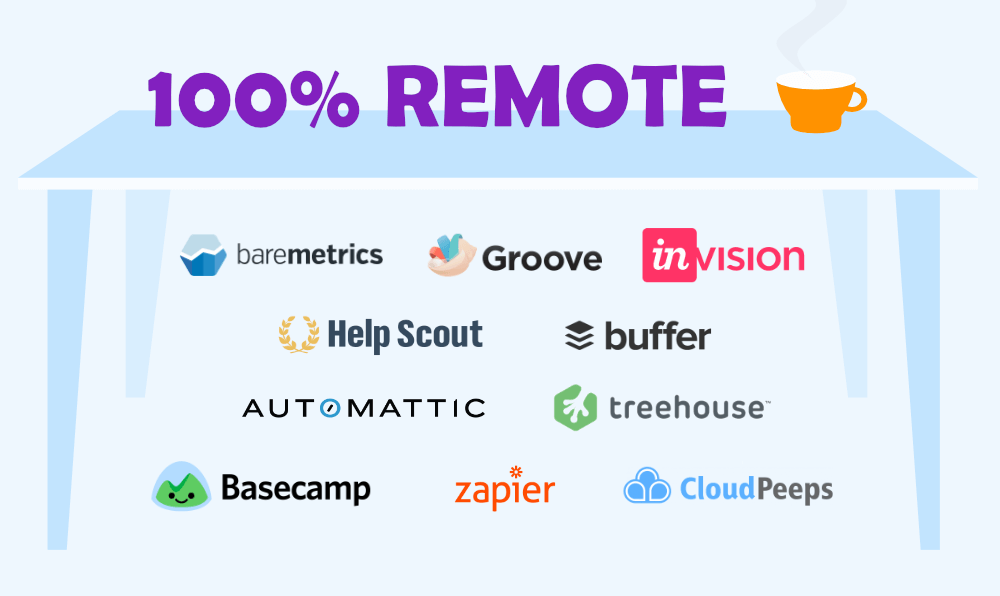 Top 10 Successful Companies That Are 100% Remote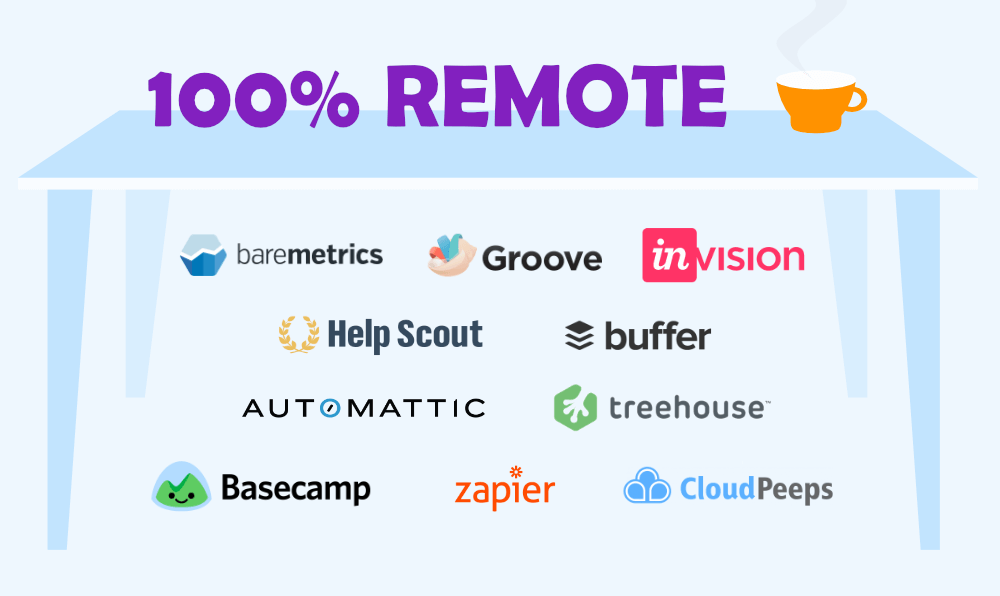 The workforce as a whole is changing at a very fast pace and there is a lesser need for workers to be located inside their office in order to be able to perform their daily tasks. With each coming day, remote working is becoming more and more popular and distributed teams can definitely function efficiently and effectively, without compromising their quality of work.
Some of the most successful companies in the world have embraced the remote work culture and quite a lot of companies are starting to follow in their footsteps, as they are realizing the potential of having distributed teams and the impact it can have on their overall business. Take a look at the top 10 companies that are completely remote and witness the success they have reached, regardless of the fact that their workers are spread across the entire planet.

1. Automattic
Automattic was one of the first companies in the world to embrace fully remote working. It is the company behind WordPress.com and a lot of other products and services, including WooCommerce, Simplenote, VaultPress, Simperium, Akismet, Polldaddy, Gravatar, Jetpack, Cloudup, and Longreads.
The company's team is spread across 40 countries and the key to their success, when it comes to connecting the people who don't share an office with a strong and effective team, is their open communication. They don't use email, but rather chat, and their internal blog called P2, so every team member is always kept in the loop with the latest updates and everything necessary for performing their daily tasks and completing them with flying colors.
2. Basecamp
Once known as 37Signals, when it was founded back in 1999, Basecamp is a company that proves that remote work can be extremely effective and beneficial. They also preach that remote work should be fun and challenging in order to increase motivation and produce positive results. Their main focus is to work remotely in order to make life better, rather than making work better.
They published books "Remote" and "Rework", and they also stand behind various apps, such as Campfire, Writeboard, Sortfolio, Backpack, Highrise, Ta-Da List, We Work Remotely, Know Your Company, and Job Board & Gig Board.

3. Buffer
Buffer is yet another fully remote company that counts 75 employees distributed across the world, and their number is continually growing. It is the company behind the Buffer social media management app designed for marketers and agencies. Their main focus is to make sure that every member of the team works where they are the happiest, as that is exactly what will inspire them to do a good job.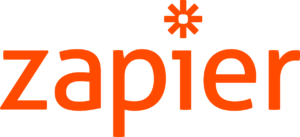 4. Zapier
Zapier is behind the platform for connecting apps in order to automate tasks and their main goal is to work smarter rather than to work harder so that every task can be completed with maximum effectiveness. What many people would find absolutely great is that the remote workers of this company can choose whether they want to work full-time or part-time, or even work as interns or contractors.

5. InVision
InVision is yet another remote work company that knows that the key to success is open communication, so they are using Slack to collaborate on all of their projects. The collaborative design software company organizes a daily stand-up meeting to talk about their projects and plans and their core belief is to make sure the team members are comfortable where they are. Therefore, they don't care about their location, but rather prioritize their talent.

6. Groove
Groove, the company behind the Simple Help Desk Software, also uses Slack to hold daily stand-up meetings to keep the entire team up-to-date with ongoing projects. They don't want their workers to be tied to their desks, but rather work wherever and whenever they are most productive.
They also communicate in a Slack room that is designed for water-cooler talk, that is, they engage in relaxed and casual conversations not related to work, which helps them unwind and recharge their batteries, not to mention strengthen their relationships.

7. Treehouse
Treehouse is a company that teaches web design and coding and is proud to have more than 100 remote workers who help generate more than $8 million on an annual basis. It is a fast-growing company that highly concentrates on building trust and inspiring loyalty.
The Treehouse team collaborates by using Automattic's blog P2, Google Drive, and Google Draw, as well as Trello for handling bigger projects.

8. Baremetrics
Baremetrics is a company that provides SaaS analytics and insights for businesses to help them track their crucial metrics and improve their bottom line. The company's key to success is hiring remote workers who are highly motivated and have great problem-solving skills. They also hire a lot of writers, since most of their communication with target audiences represents providing online textual content.

9. CloudPeeps
CloudPeeps is a company that stands behind the platform and community for individual freelancers and freelance businesses. They work very effectively with their remote workers with the use of many communication and collaboration tools, proving that remote work can truly bear fruit, just like all of the aforementioned companies.
They use Trello and GitHub to handle their tech projects, while they consider Asana to be the best for other projects, not related to technology. It provides them with transparency and allows them to easily collaborate on all of their projects. They also communicate through Slack, as well as Google Hangouts to hold weekly stand-up meetings. Also, every Peep of the company is provided with a copy of the book "Remote".

10. Help Scout
Help Scout is a company that is one of the most influential leaders in customer support, if not the best one. Their key to remote work success is definitely making friends at work from day one. The company's marketing team member, Gregory Ciotti, says: "Work friends matter, and although they naturally form over time, feeling settled in shouldn't wait".
Just as they know how much customer support is important, the Help Scout team knows that a relaxed and friendly work culture is crucial, especially when all the team members work remotely. That is exactly why they are the leaders in the industry.
Conclusion
All of these highly successful companies prove that remote work can be done and, most importantly, that it can lead to the best possible results and pave the way to great success. Therefore, if you were skeptical about hiring remote workers or indulging in remote work yourself, you can be sure that remote work can turn out to be one of the best endeavors you can take.
Try Monitask
Track employee productivity and simplify work with them
605