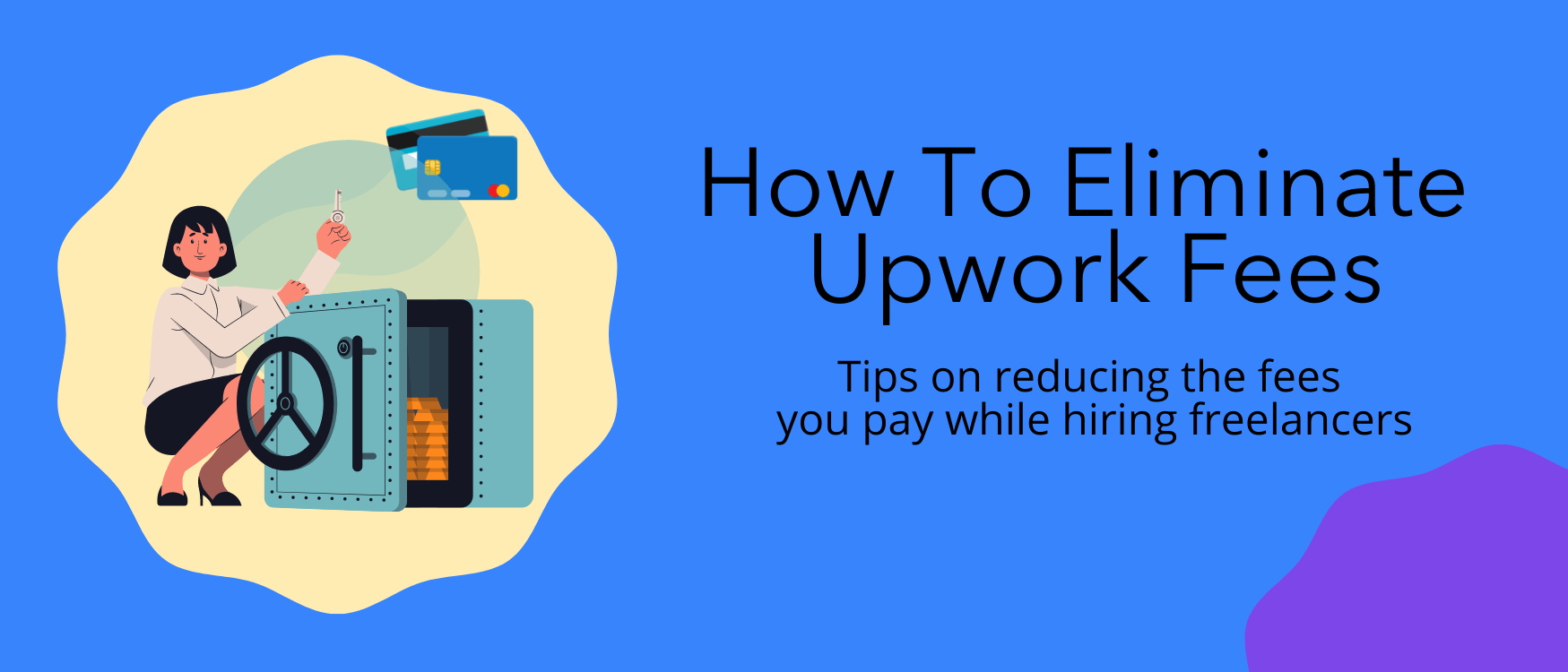 Upwork Fees and Charges: The Complete Guide to Rightfully Reduce Them
When you're looking for freelance work, Upwork is one of the first places you'll turn. After all, Upwork has had massive growth since its inception back in 2015. Why? Because it's a great platform that connects freelancers with businesses all over the world!
However, as in every company, there are rules to follow, so before signing up, there are some fees and charges you should be aware of beforehand. This article will show you how to avoid or reduce Upwork fees so you can get the most out of your Upwork profile. Stay tuned!
First and foremost, it's crucial to understand that Upwork is a business and the service fee is how Upwork makes money, so it's not entirely possible to avoid fees altogether! Maybe, the only way you can do that is if you're the one hiring and you use Upwork as a client, and still it will not be completely free. Most of the fees are charged to the freelancer you've hired which will be deducted from their earnings.
We know it sounds confusing, yet this is why we are here: to clear everything up for you, whether you are the client or the freelancer. Let's begin!
How Upwork Works?
Now that we got that out of the way, let's take a look at how Upwork works and how their fees are structured. As we mentioned before, businesses or clients can post jobs for free (this doesn't apply to a featured job which will cost you a one-time fee of $29.99) on Upwork that freelancers can then apply to. Once a freelancer is hired, they and the client will agree to an hourly rate or a fixed price.
A featured job helps clients to reach more talent by featuring their job at the top of relevant search results. Also, if you are a freelancer with a top-rated badge, you will get a discount on your fees when working on a featured job!
See the eye-catching blue badge? That's a featured job and it's one of the ways you can reduce Upwork fees while working as a freelancer on the platform. You skip the 20% service fee!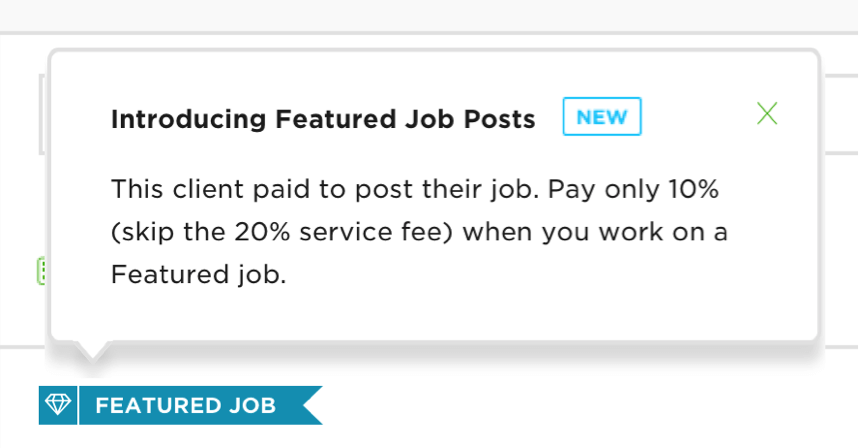 Hourly Rate Projects
Hourly Rate
If you are new to Upwork take into account that if you agreed on an hourly rate with your client, you will have to download and install the Upwork Desktop App to track your time. This is a fairly simple process, but it's important to do as it will be used to generate invoices that will be available for the client at the end of the time limit arranged beforehand.
The app takes screenshots of your screen and activity randomly, just make sure to remember to start and stop the timer every time you start or stop working!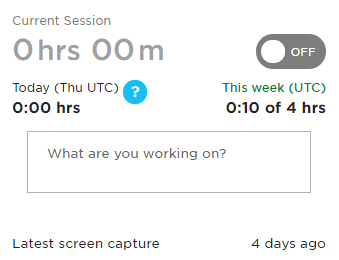 Once the job is completed, or the time limit is up, the freelancer will then submit the work diary to the client for approval. The client will have up to 5 days to approve the work diary and once they do, the funds will be released from escrow (which we'll talk about in a bit) and deposited into the freelancer's Upwork account.
Fixed Price Project
If you've agreed on a fixed price with your client instead of hourly, then the process is a bit different. In this case, you and the client will have to agree on milestones. Once these milestones are completed and approved by the client, the freelancer will ask for the milestone to be approved and the funds will again be released from escrow and deposited into their account.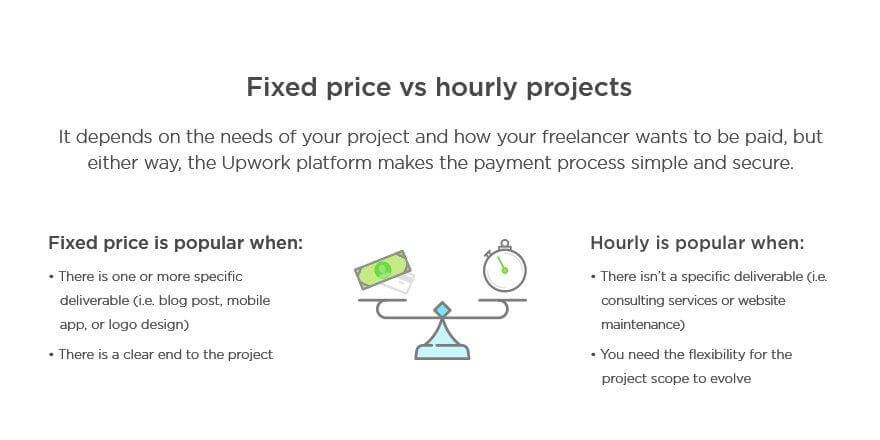 Yes, Upwork makes money by charging service fees. Let's review these fees more in-depth!
Get more out of your employees
Get the best employee engagement content every week via mailing list
Upwork Sliding Service Fee System for Freelancers
Upwork charges up to a 20% fee (we will call it the initial fee from now on) for freelance work done through the platform, though there are several ways you can reduce it.
If you have earned more than $500 with a single client in the past year the service fee is reduced to 10%. If you have earned more than $10,000 with a single client over the same time service fee is reduced to 5%.
The Upwork sliding service fee looks like this:
First $500: 20% fee (initial fee)
$500.01: 10% free
$10,000.01: 5% fee
Upwork Charges for Freelancers (Mandatories and Optional)
Now let's take a look at the Upwork fees for freelancers. First, signing up for an Upwork account is FREE, you will just have to pass through a filter to get your account approved, and after you get the approval: Welcome to the jungle!
A freelancer will only be charged a service fee once they land their first job and start working with a client, not before that. Yet, you will need a small, little thing called connects to land that job. Upwork uses a virtual currency system called Connects which are some sort of digital tokens you can use to submit your proposals!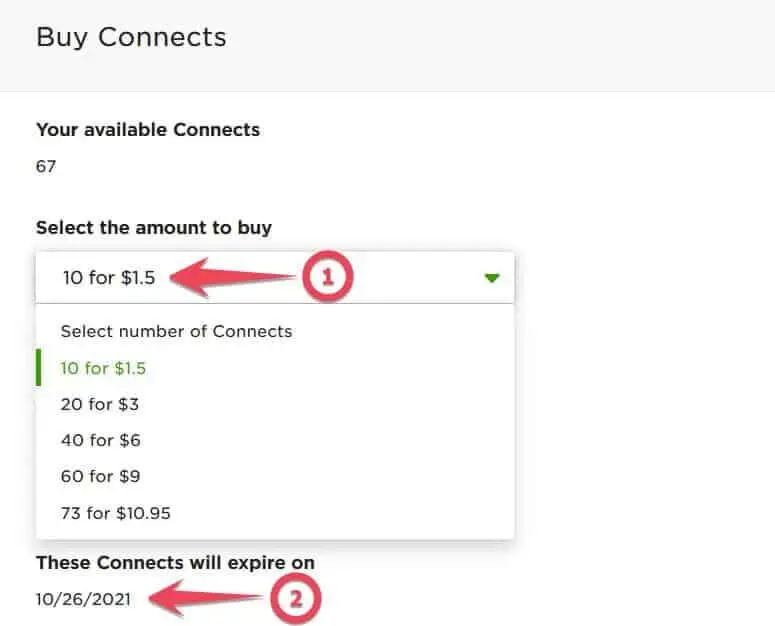 When you create a new account, you get 40 Connects for free and 40 more if you complete the Upwork Readiness Test, which sums up a total of 80 Connects, for you to get started. If you have an Upwork Basic account, you get 10 free Connects every month and a bonus of 10 Connects if you get an interview.
Consider that even if you land two interviews, you will only get 10, not 20! Upwork is no longer awarding connects for every single interview won. On the other hand, with a Freelancer Plus account ($14.99 per month, which is an optional subscription with a set of premium features for freelancers), you receive an additional 80 Connects each month.
Without Connects, you won't be able to submit proposals!
If you run out of Connects, it's time to buy some! You can buy them in bundles of 10, 20, 40, and 60 connects and up, each of them at $0.15.
10 Connects: $1.50
20 Connects: $3.00
40 Connects: $6.00
60 Connects: $9.00
Reduce Upwork Fees and Charges for Clients
Now, as we mentioned before, clients don't actually pay any Upwork fees when they use the platform to hire someone. However, other charges may apply, let's look at them!
Whether, you hired a freelancer based on an hourly rate or a fixed-price project, as a client, you will be charged a 5% processing fee for every payment you make through Upwork. This fee is non-negotiable and is deducted from the amount you're paying your freelancer before they even receive the funds.
Yet, this payment processing fee per transaction can be reduced to 3% if you are an eligible U.S client paying through ACH (Automated Clearing House). This is a way to reduce fees as an Upwork client!
Let's say you processed 5 payments in one week; one for each day of work, you will be charged $25 in total processing fees ($5 per transaction). However, this fee doesn't apply to the $29.99 fee for a featured job, enterprise service subscriptions, or direct contracts.
Keep in mind that these processing fees go to Upwork and not your freelancer!
Upwork Enterprise
Up we mentioned enterprise service subscriptions, this is another possible charge if you want to upgrade your client's Upwork account, however, this is not mandatory! Upwork Enterprise is a solution for clients who want to build long-term relationships with the best talent on Upwork.
It's designed for companies who have an ongoing need for high-quality remote talent and provides access to a curated talent pool, up-front pricing, and enhanced security features
See the little building-like badge? That's an Upwork Enterprise client!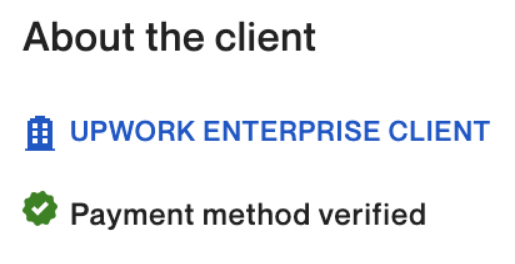 If you're a client interested in signing up for Upwork Enterprise, reach out to Upwork here to get your customized pricing solution!
As a freelancer, getting hired by a client with an Enterprise subscription is another way to reduce service fees, how? All Upwork Enterprise contracts have a set 10% service fee that stays the same for the length of the contract, meaning you can avoid the initial 20% service fee.
However, it's important to highlight that if an active client of yours upgrades to Upwork Enterprise membership, your contract will be ended and replaced with a new Enterprise contract! If you're already paying the reduced 5% fee, don't worry! You will continue to receive this great rate for the remainder of your specific contract.
Any future contracts with this client will have a set 10% service fee. This is another way to reduce service fees
Yet, don't forget that Upwork Enterprise contracts have a 10% flat rate, so you will only avoid the initial 20% service fee and you won't get the 5% reduced fee when hitting the $10,000.01 mark!
Escrow for Fixed-Prices Projects
Upwork provides a safe way for both freelancers and clients to handle payments called Escrow. This is a feature that many clients prefer as it protects them from being scammed by a freelancer who doesn't deliver on their promises, and vice-versa!
With Escrow, the client deposits the agreed-upon funds for the project into an account that Upwork holds. The freelancer can then see that the funds are available and can start working on the project. However, they can't withdraw the money until the client approves of the work that they've done and release the funds.
Below, you can see how projects with escrow available look like. Every project on escrow will appear as funded.

As a client, you have 14 days to approve work or request changes after it is submitted. If you do not respond within this timeframe, this will be considered automatic approval and result in the release of escrowed funds.
If for whatever reason, after funds were released the client is not happy with the work or if there are any issues, they can dispute the milestone which will then open up a case. This is where Upwork's support team will step in and mediate the situation!
More on How to Reduce Upwork Fees and Charges
We already mentioned how you could work around Upwork service fees, yet, there are some other strategic ways to reduce them!
Higher Rates
As a freelancer, you're in control of how much you charge. When you create your profile on Upwork, you're asked to specify your hourly rate. This is the amount you'll be charged per hour of work – it's up to you to determine what that rate is. If service fees are a nuisance for you, one way to avoid them is by setting up a higher rate!
For example, if you wanted to avoid the 20% fee on projects up to $500 and you charge your client $10/hour, you would want to set up a rate of $12.50 per hour. This way, when factoring in the service fee, your effective pay will still be what you want it to be.
Set Long-Term Clients
By establishing a long-term relationship, the freelancer can avoid the initial 20% fee and get up to the 5% reduced rate over time. This is especially beneficial to freelancers who do a lot of projects with the same client!
It's important to remember that Upwork fees and charges are there to protect both freelancers and clients. Before you try to reduce Upwork fees, make sure that you understand how they work and weigh up the pros and cons of each strategy!
With this in mind, you will find a way to reduce Upwork fees while still benefiting from the protection it offers and the convenience of its services.
The Takeaway
There are a few ways to reduce Upwork fees. You can choose to work with clients who have an Enterprise subscription which will result in a 10% flat rate or you can set up higher rates on your profile so that the service fees don't eat up too much of your earnings.
Lastly, establishing long-term relationships with clients is an effective way to reduce Upwork fees as it will give you access to the 5% reduced rate over time. Each of these strategies can be useful in managing Upwork fees so that you maximize your earnings, regardless of the type of work you do on Upwork!
It's important to always keep in mind that Upwork constantly changes its policies to improve everyone's experience on the platform, in case of doubt, make sure to always keep in touch with Upwork support. Good luck!
-The Monitask Team
Try Monitask
Track employee productivity and simplify work with them
1096