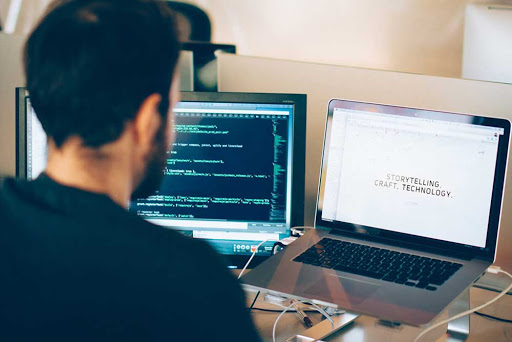 Remote Developer Adaptation Process and Time Tracking
Today, the remote developer adaptation process is a reality for many of us. About 4.7 million employees work remotely in the U.S. That number is increasing day by day and more industries embrace remote work.
Regardless of the industry type, people need to adapt to this work culture, and the sooner they transform, the better will be the results.

Adaptation of New Remote Developer
Remote jobs are increasing in every industry, and remote developers are no more an exception. Whether you wish to work from home or have a more flexible schedule, a remote developer can open new job opportunities for people.
Remote worker adaptation can offer you a better work-life and allows you to gain jobs around the globe. Further, companies can also get benefits from remote developers and can take the help of the latest time tracking or managing tools to remote track developers' work.
Adapting To Our New Remote-Work Reality 
Since last year, work culture has changed a lot. Most of the companies have started adopting remote work culture. It is assumed that remote work is here to stay for long hours.
For some, shifting to work from home is a vulnerable position, physically and emotionally. However, it is an opportunity to regain a sense of control over their working environment for others.
But whether you like it or not, WFH is here to stay. According to a recent study by Gartner, 74% of companies are planning to permanently shift 5% or more of their staff to remote work.

Work from Home Challenges
Working remotely has its perks. There is flexibility to work, no daily commute in the morning, and no fixed hours. But, it also has few disadvantages.
Here's a list of some work-from-home challenges faced by many employees and employers around the globe.
Managing Schedule and Time
With work remotely, no more setting the alarm and no more sitting in your cubicle all day. This makes employees a little lazy, and most of the time, they start work late.
Disturbed Personal and Professional Life
When you work from home, you no longer understand the difference between workspace and personal space. Ideally, the home is a place of relaxation, safety, and security. But, when you work from home, it becomes a stressful space or workspace.
Even if you have a dedicated space to work at home, staying productive during working hours can be challenging. Surrounded by your personal belongings, it's hard to focus.
Sitting at home by yourself all day takes a toll. The human being needs interaction with other people to swap jokes, share things, etc. Of course, video conferencing helps — a little, but still, you feel lonely by not going out for work.

How to Lead a Team Remotely? 
To increase productivity with remote work, it is important to manage or lead the team remotely. Here are various tips to increase productivity and to track the employees while working from home.
 

Clearly define the mode of communication
Define a mode of communication for your team, and this helps you streamline conversations. For instance, use video conferencing platforms for team meetings and instant messaging tools.
Define common availability hours
Remote teams that work across various time zones can use common availability hours for collaboration.
 

Use a variety of communication tools
Using good communication tools is essential for leading remote teams. After all, this is the only way to talk to employees in person. You can use any of the following tools for time tracking, work management, video calls, and more.
Video conferencing tools- Livestorm, Zoom Microsoft Teams, Eyes on
Instant messaging tools – Slack, Flock, Google Chat
The biggest challenge that most team members face is to stay productive. And, one of the best ways to help them out with this is to use technology, like time tracking tools, video conferencing tools, or messaging apps.
Many apps like Trello, Asana, Slack, ProofHub, and more can lead the remote team or ease remote worker adaptation.
How monitoring of remote developers helps your project 
Do you have remote developers?
If yes, then monitoring of remote developers can help your project in many ways. It allows you to track the status of the project. Also, by monitoring the remote developers, you can suggest your suggestions to the developer so that you can get what you want.
There are various monitoring tools that you can use to monitor remote developers.

When to Tell a New Employee about Time Monitoring
Poor time management skills of remote employees can affect the business and productivity of the team. When you find that an employee is not completing everyday targets or tasks, you should ask him for time monitoring.
Often, new employees are unable to adjust according to remote work culture and mismanage the time. This is where time tracking or time management tools can help.
How Do You Tell A Remote Developer To Track His Working Hours?
If there is a developer in your remote team, then you can ask the developer to track time with time tracking tools.
Solutions To Track Productivity Of Remote Developers
Are you a freelancer or remote team who is looking for a solution to track the productivity of remote developers?
If yes, then Monitask is a great option for you. It is the best time tracking software for remote teams. With this, your employees can start and stop the clock when they begin and end their day.
Further, the screenshots and comprehensive reporting will give you insight into your team members' work habits.
Time tracking remote teams with Monitask is certain to help your business.
Wrapping Up
As companies are adopting remote work culture, it becomes important to track remote developers. Tracking the time of remote developers or remote teams is helpful in many ways and increases productivity as well. Remote worker adaptation is increasing day by day, and it needs proper tools to manage employees remotely.
Try Monitask
Track employee productivity and simplify work with them
99