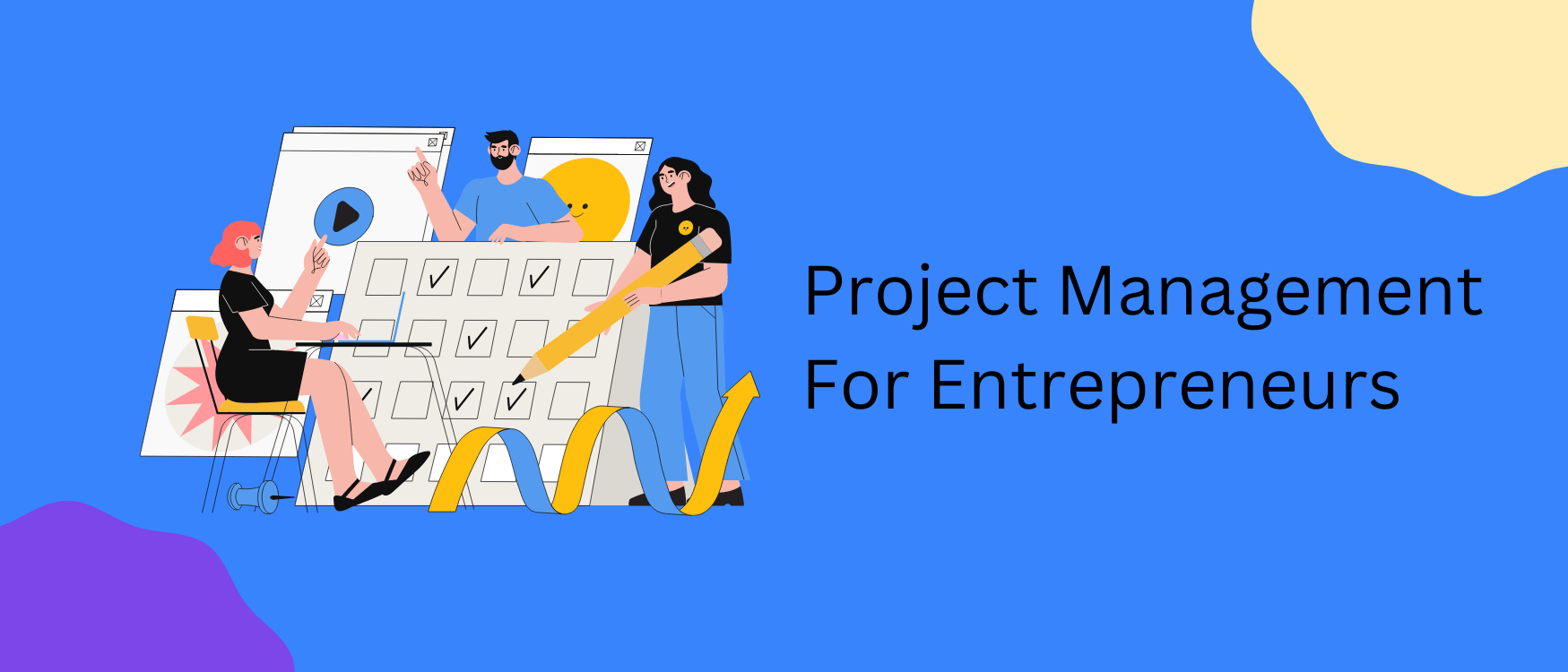 Essential Steps to Mastering Project Management for Entrepreneurs
Project management is an essential skill for any entrepreneur, as it can be the difference between a successful business and one that fails. As we know, being a boss and employee can be overwhelming! It requires a lot of time, energy, and dedication to make things work and run smoothly.
You may be wondering how to accomplish it, and in this blog, we will discuss the key steps to mastering project management for entrepreneurs starting with one of the most important things you can do as an entrepreneur: learn how to manage your projects efficiently. Project management is all about planning, organizing, and overseeing the progress of a project. We will tell you how. Stay tuned!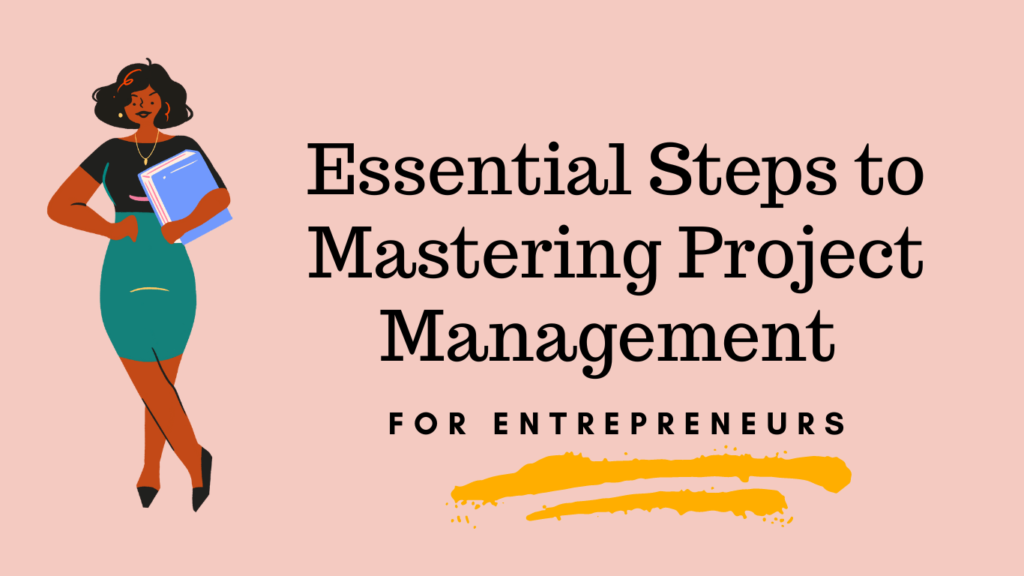 Sometimes, the difference between a successful project and a failed one is small details that were overlooked. As an entrepreneur, it is essential to learn how to manage your projects efficiently to avoid these common mistakes. In fact, according to a survey by PwC, 97% of organizations believe that project management is highly important to business success and operational performance.
Project management is the road to success in any kind of business, especially entrepreneurship!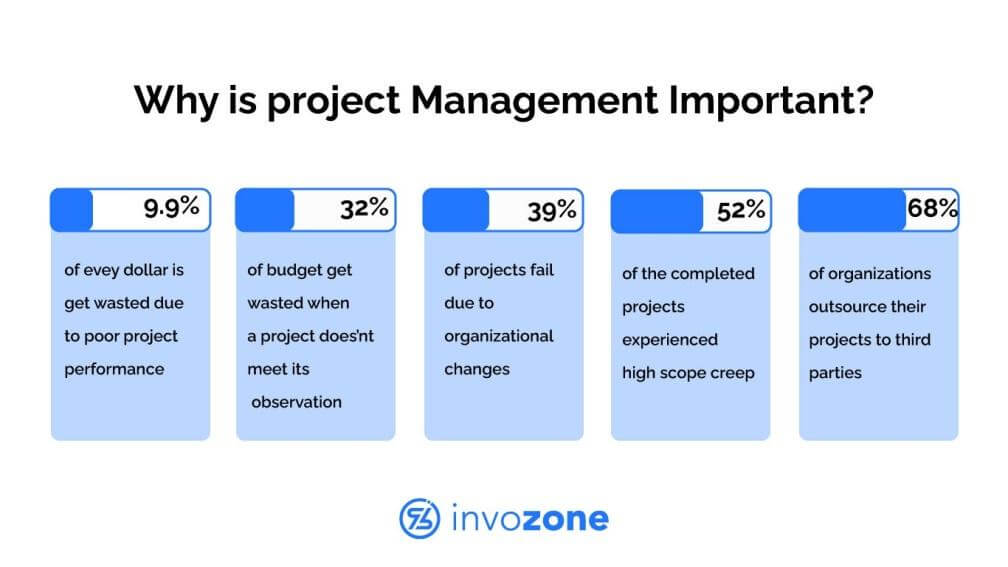 We could think entrepreneurs are very different from project managers, but in reality, they are not! Haven't you ever managed a project? Of course, you have!
You might not be aware of it, but probably every time you started something new in your life, it was a project.
For example:
When you decided to open your own business
When you launched a new product
When you organized holidays
When you moved to a new house
All these were projects! And as an entrepreneur, you are constantly managing projects. So, it is essential to master the art of project management if you want to be successful in your entrepreneurial journey.
How Can Project Management Help You as An Entrepreneur?
Project management can help you in different ways as an entrepreneur. It will not only allow you to get things done on time and within budget but also ensure that the final product meets the requirements and expectations of your customers or clients.
Project management can be a valuable tool for any entrepreneur looking to stay organized and reach their goals
Project management can help you save time, money, and resources while ensuring that the quality of your product or service is up to par. It can also help you avoid common mistakes entrepreneurs make when managing their projects.
In summary, having a project management plan in place helps you to:
Increase efficiency and productivity
Allows for more effective communication and delegation among team members
Plan and anticipate any potential challenges that may arise during the project's execution
Minimize risks and ensure that goals are met promptly
Now that we've answered the question of how project management can help you as an entrepreneur, it's time to dive into the vital steps of mastering this essential skill.
Key Steps to Mastering Project Management for Entrepreneurs
There are many different aspects of project management, but we've narrowed it down to five essential steps that every entrepreneur should know. By following these steps, you can ensure that your projects are well-planned and executed, allowing you to avoid common mistakes and achieve success.
1. Have in Mind Your Purpose at All Times
A project manager must never forget the ultimate goal of said project, right? Otherwise, why make an effort? Determining the objectives and goals of a project is the first step to successfully managing it.
But as an entrepreneur, you also need to have your business objectives in mind at all times.
What is the purpose of your business?
Why did you start it in the first place?
Where do you see your business in the next 5 years?
A project manager needs to be very clear about the goals of a project so that they can align all the work being done towards achieving those objectives. Similarly, as an entrepreneur, you need to have a clear understanding of your business goals so that you can ensure that all your projects are moving you closer to those objectives.
For example, if your goal is to increase sales by 20% in the next quarter, then all your projects should be focused on achieving that target. Below, you got a nice list of the top business goals!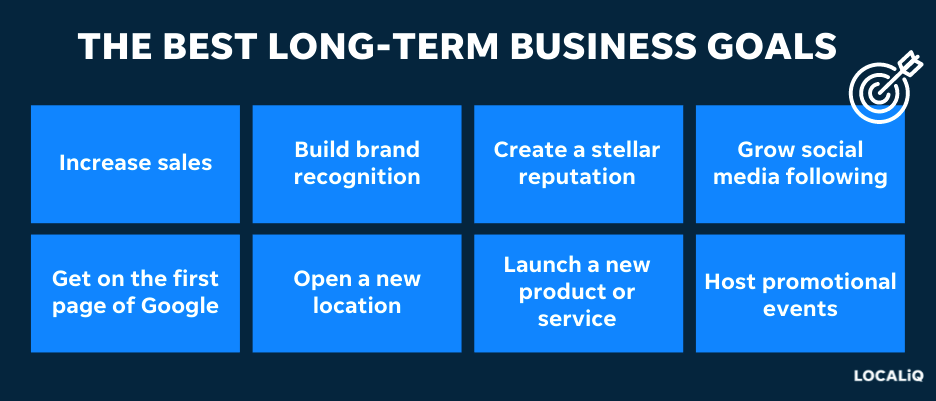 By having a clear understanding of your business goals, you can ensure that all your projects are aligned with those objectives and are working towards helping you reach your goals.
2. Create a Project Management Plan
Once you know what your goals are, you can develop a plan to achieve them; this is basically the essence of project management! This process is all about planning, organizing, and executing a project so that it can be completed within the given time frame and budget.
As an entrepreneur, you need to create a project management plan for each of your projects. This plan should include all the steps that need to be taken from start to finish. It should also include a timeline for each task so that you can track your progress and ensure that the project is on track.
Follow the timeline below!
Initiation: Conduct a feasibility study to determine if the project is viable and worth pursuing. Gather all the information you need about the project, including the goals, objectives, timeline, budget, and resources. 
Planning: Develop a detailed plan for how the project will be executed. This should include a timeline, task list, and budget. Delegate tasks to team members and establish clear lines of communication. 
Execution: Carry out the project according to the plan. This includes working on tasks, tracking progress, and communicating with the pertinent stakeholders during the whole plan.
Monitoring and Controlling: Regularly check in on the project to ensure that it is still on track. Make changes to the project as needed. 
Closing: Once the project is completed, evaluate its success and document what you've learned.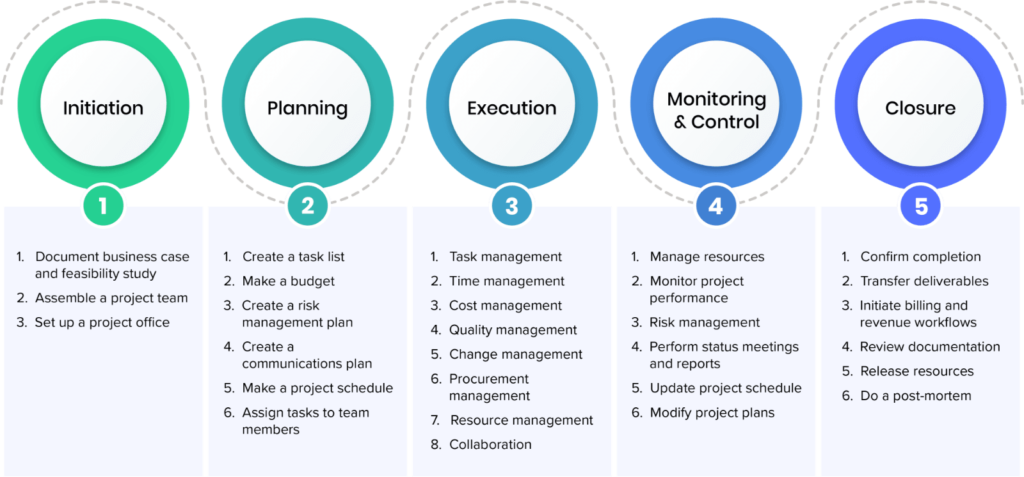 Creating a project management plan may seem like a lot of work, but it will save you time and money in the long run. By having a plan in place, you can avoid common mistakes such as forgetting to do a vital task or going over budget.
3. Choose the Right Project Management Tools
There are a variety of project management tools available to help you plan, execute and track your projects. These tools can be very helpful in ensuring that your projects are well-organized and running smoothly.
Some of the most popular project management tools include:
Asana: This tool helps you create task lists, assign tasks to team members, and track progress.
Basecamp: This tool allows you to create project timelines, delegate tasks, and communicate with team members.
Trello: This tool helps you organize your projects into boards and cards so that you can see the big picture and track progress.
Monitask: This tool allows you to monitor employee productivity, track project progress, and stay on top of deadlines.
There are many other project management tools available, so be sure to do your research to find the right one for your needs.
4. Set Up a Project Management Office (PMO)
A Project Management Office (PMO) is a centralized department within an organization that is responsible for managing all projects.
The PMO provides project management support to ensure that projects are completed on time, within budget, and to the required standards. The PMO also provides guidance and templates to project managers so that they can effectively manage their projects.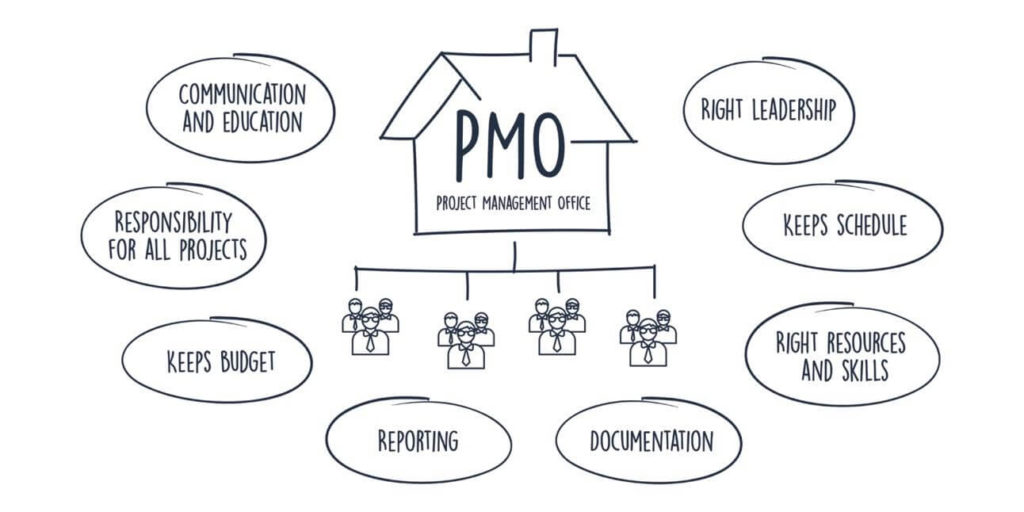 Creating a Project Management Office is a great way to improve the overall efficiency of your organization. By centralizing all project management activities, you can streamline processes, reduce duplication of effort, and improve communication between teams.
5. Delegate and Let Others Help You
As an entrepreneur, it can be tempting to try to do everything yourself to maintain control over every aspect of your project. However, project management techniques such as delegating tasks and letting others help you can lead to increased efficiency and success.
CEOs, managers, and business owners oftentimes find themselves in a position where they have to lead and oversee a project
By identifying key tasks and assigning them to team members, you can focus on the most important aspects of your project while also allowing others to excel and contribute their skills.
This not only helps lighten your workload but also allows for multiple viewpoints and fresh ideas. In addition, project management tools such as task lists and project timelines can help ensure that tasks are completed on schedule.
6. Trust in Milestones
One project management tool that can be particularly helpful for entrepreneurs is implementing a system of milestones. By breaking down your project into smaller, achievable goals, you can create checkpoints to measure progress and improve project efficiency.
This system allows you to reevaluate goals, deadlines, and resources while also identifying potential obstacles and finding solutions. Moreover, project team members can use milestones as a measure of their contributions and duties.
Milestones promote accountability and cohesion within the company
Trusting in project milestones not only improves project efficiency and overall success but also helps to drive the growth and prosperity of the company as a whole.
7. Don't Forget About Risks!
Reaching milestones and completing tasks is important, but it's also crucial to keep an eye on risks. Risks are potential problems that could occur during a project and can jeopardize its success.
By identifying risks early on, you can take steps to avoid or mitigate them. For example, if you're working on a project that has a tight deadline, you may want to identify the risks associated with not meeting the deadline and take steps to avoid them.
Some common risks include:
Changes in scope
Unclear objectives
Lack of resources
Poor communication
Unrealistic deadlines
8. Celebrate Success
As an entrepreneur, project management is a crucial tool for organizing your workload and coordinating tasks with team members. It can be easy to get caught up in the hustle and bustle of running a business, but it's important to take a moment to celebrate project successes.
This not only promotes team morale and motivation but can also provide valuable information for future project planning
Celebrating project successes allows you to analyze what went well and identify potential areas for improvement. In addition, recognizing project achievements helps to increase trust within the team and maintain a positive work environment.
So don't forget to schedule some time for celebration – project management isn't just about crunching numbers and meeting deadlines. It's about celebrating each step towards reaching your goals as an entrepreneur.
Best Practices for Risk Management
As an entrepreneur, you need to take into account different risks that could affect your project. Here are some best practices for risk management:
Keep track of all the risks. Make sure to have a list of all the risks, big and small. This will help you keep track of them and be able not to overlook one of them.
Prioritize the risks. Not all risks are created equal. Some risks are bigger than others and should be given more attention. Make sure to prioritize the risks so you can focus on the ones that could have a bigger impact on your project.
Have a plan for each risk. Once you've identified and prioritized the risks, you need to have a plan for each one. What will you do if the risk becomes a reality? Having a plan will help you be prepared and react quickly if anything happens.
Monitor the risks. Just because you have a plan doesn't mean you can forget about the risks. You need to monitor them and be ready to take action if necessary.
Be prepared to change your plans. As the project progresses, the risks might change. Be prepared to adapt your plans as necessary to deal with new or different risks.
Project management is a crucial tool for entrepreneurs. By understanding and using best practices for project management, you can increase the chances to produce a product or service to meet your customer's demands.
Takeaway
As an entrepreneur, project management is a crucial tool for organizing your workload and coordinating tasks with team members. Project management can help you reach milestones, complete tasks, and avoid risks.
It's important to celebrate successes and learn from failures to constantly improve your process. By following best practices for project management, you'll be well on your way to success.
If you enjoyed our blog post, we got some more in our blog post archive, please take a look here!
-The Monitask Team
Try Monitask
Track employee productivity and simplify work with them
35