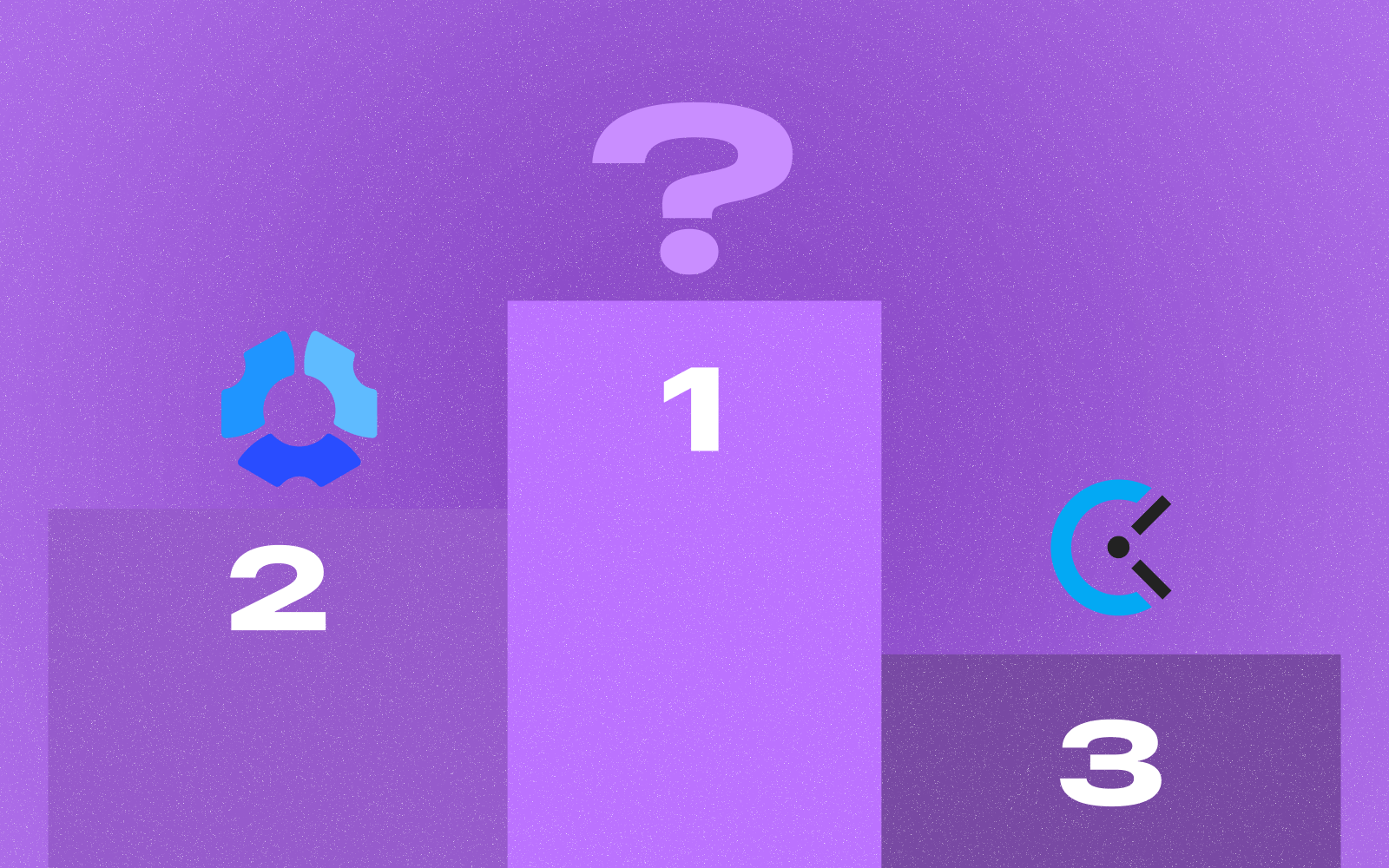 15 Useful Hubstaff Alternatives [January 2023]
Are you searching for a Hubstaff alternative? Or do you want alternative software that can help with standard integration and time tracking?
The good news is there're tons of time and expense tracking tools available in the market today. But the challenge is choosing the one best suitable for your needs.
In this guide, you will get in-depth information about 15 useful alternatives to Hubstaff. And with this information, you can choose the right time tracking tool or productivity software appropriate for your business.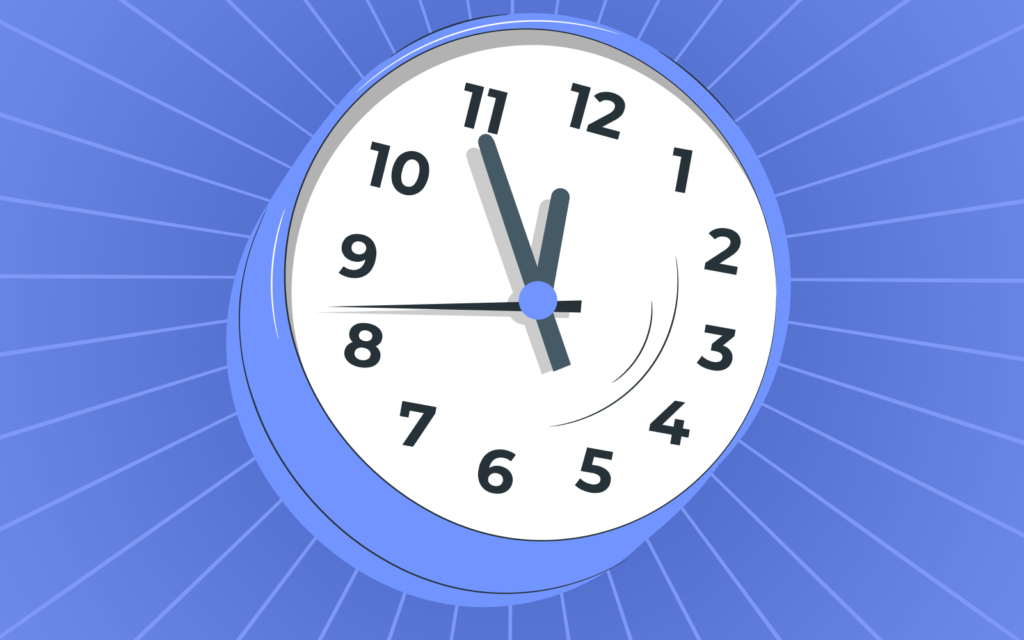 Employee work hours tracker
The time tracking app is a work time management tool that can help you and your team get more efficient. This app also makes your team become more organized and get things done quickly.
Time tracking app saves you time and money. Furthermore, you can find many time tracking apps with different features. Such features include GPS tracking, invoicing, productivity monitoring, etc.
Which Employee Time Tracking App Is Best For You And Your Team?
The answer depends on your business needs. However, in this article, we've researched the best time tracking tools alternatives to Hubstaff. And we have also put them together in one place. So you can choose the one that's right for you whether you're a freelancer, a small or a big business owner.
List of 15 alternatives to Hubstaff
We have put together a list of time tracking software that we can use instead of Hubstaff. Below are 15 affordable alternatives to Hubstaff.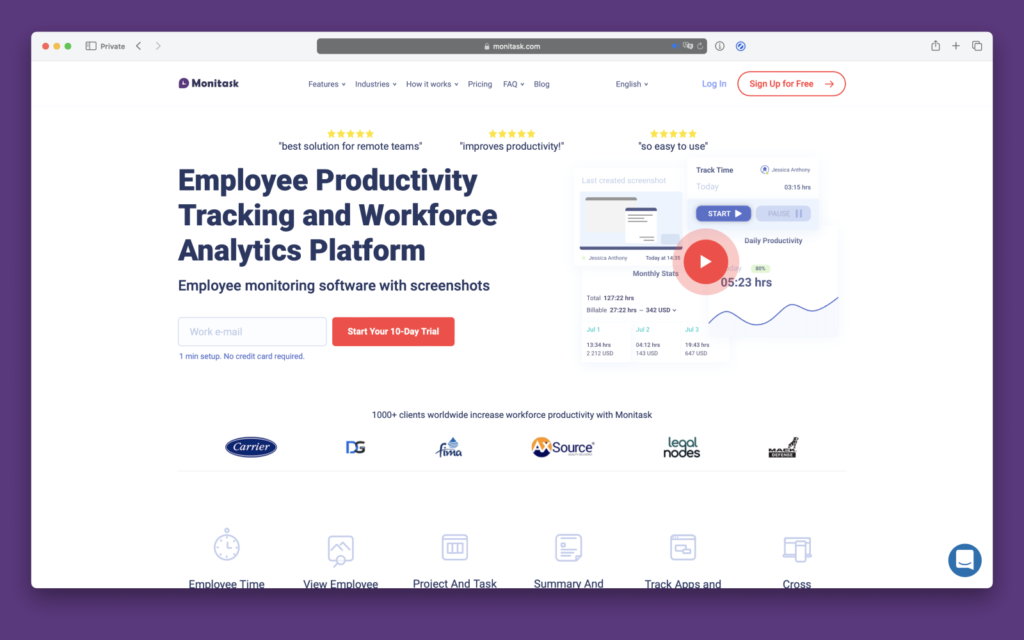 This web-based tool for tracking time and productivity is available for businesses of different sizes. The tool allows your team to streamline time entries with automated employee time tracking software.
This desktop software is an alternative to Hubstaff and is available for Mac, Windows, and Linux. Employees can record their hours from anywhere with work proof using the desktop app.
On the other hand, you can also review their work from a web-based dashboard.
Key Features
Idle Time Detection
Automatic Timesheets
Internet and App Monitoring
Project Management
Offline Time Entry
Employee App
Daily email report
Time entry report
Pros
This tool is a lightweight and straightforward program that effectively tracks time. Moreover, Monitask does it without slowing down the computer and adversely impacting productivity.
Monitask allows you to communicate with your team seamlessly.
This web-based tool has a wide range of customizable settings. Hence it will fit into the need of your company.
Monitask comes with several reporting features that can help with your daily activities.
Monitask can help to increase the productivity of your team. Besides, it can grant you easy access to productivity reports.
Monitask can help you locate areas to improve general efficiency and make the most out of your budget.
Cons
It may be challenging to create the right balance between monitoring and allowing employees to motivate themselves.
Monitask doesn't have API functionality.
Some employees may not be open to the use of monitoring software.
Customer Ratings
Capterra Rating: 4.9/5 (55 reviews)
Pricing
Monitask has a starting price of $4.99/month.
The Pro version starts at $4.99/month.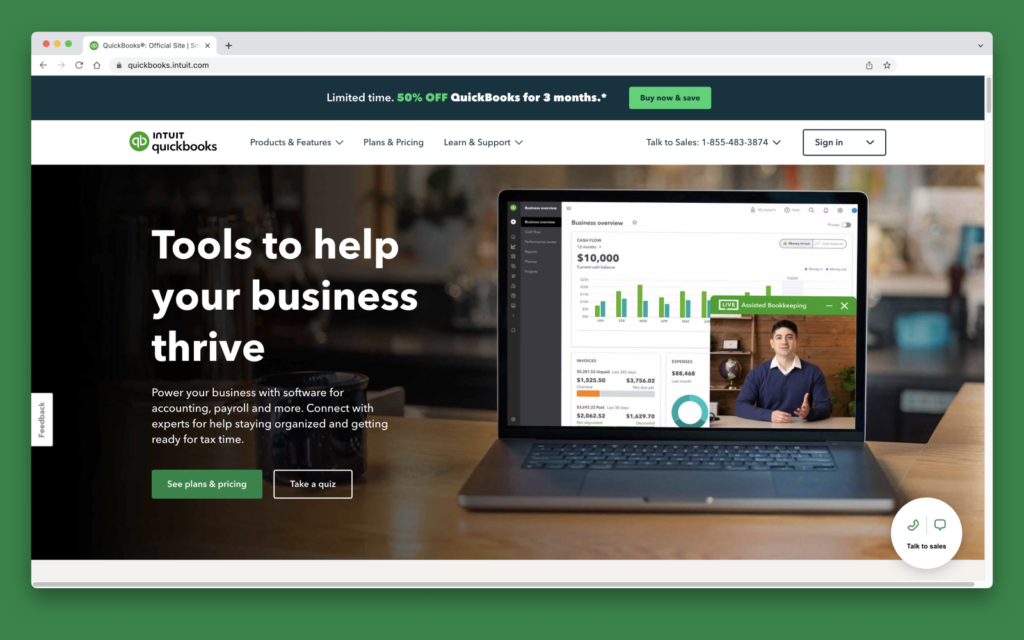 2. TSheets
TSheets is one of the affordable alternatives to Hubstaff, which can serve as a useful employee time tracking tool.
TSheets also offers a scheduling solution that can save you precious time and money. Furthermore, this tool allows your workers to track time from anywhere.
TSheets is perfect for a tablet, smartphone desktop, or laptop. Additionally, it's embedded inside QuickBooks.
Hence business owners can review and approve time cards of employees to do job costing, run payroll, or create invoices. All these tasks can be done with ease without leaving QuickBooks.
Key Features
Accurate time for client invoicing and painless payroll
Customer support that lives up to the hype
Full mobile optimization
iPhone compatible app
Android compatible app Web-based
QuickBooks Integration
Real-time project tracking
Mobile time tracking with GPS and geofencing
Revolutionary employee scheduling software
GPS time tracking and timesheet compliance
Pros
TSheets provide seamless integration with a variety of accounting platforms. It's easy to use
TSheets has excellent customer service and User Support.
TSheets can boost the efficiency and the accuracy of other business areas.
This time and expense tracking makes employee scheduling easy.
It comes with a customizable alerts feature, making it a perfect fit for Scheduling.
Cons
TSheets has no batch editing feature for the time entries of employees.
TSheets is costly when compared to similar competitor solutions, like Hubstaff.
It doesn't have future time functionality. Hence you can't input future time for employees through the Timesheet Editor.
Many users usually complain of mobile app bugs when using the mobile app.
GPS tracking doesn't record the arrival time.
Customer Ratings
Capterra Rating: 4.7/ 5 (5,444 reviews)
G2crowd Rating: 4.5/5 (1,345 reviews)
Pricing
Premium: $8 per user/month and $20 base fee/month
Elite:$10 per user/month and $40 base fee/month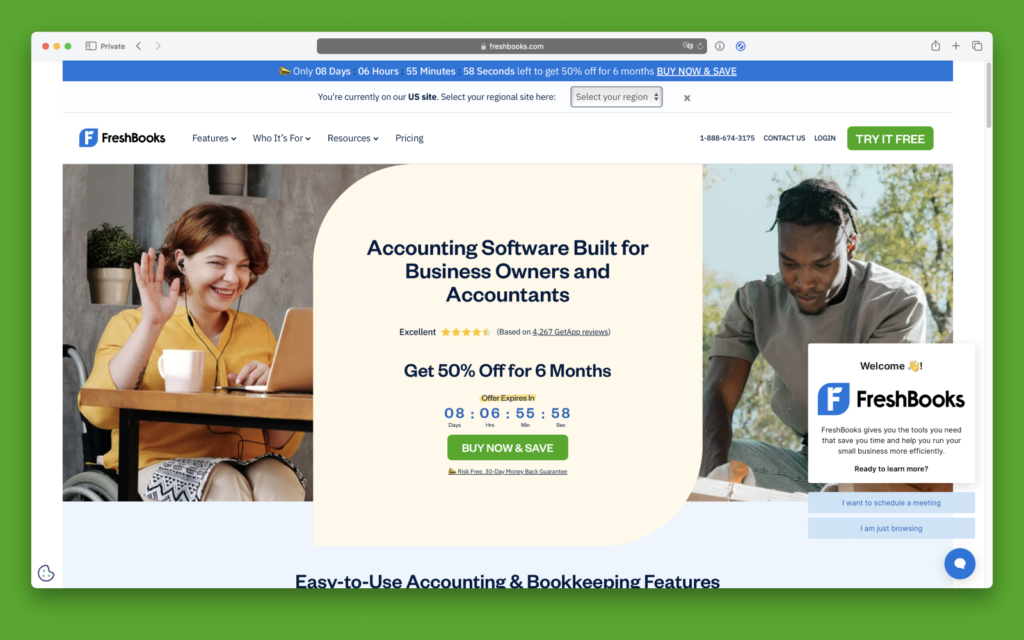 3. FreshBooks
FreshBooks is productivity software that provides an overall intuitive and attractive accounting experience for users.
Also, the Freshbooks supports time tracking, invoices and estimates, expenses, and projects. It proffers better solutions to the needs of freelancers and small businesses better than Hubstaff.
Key Features
Estimate and retainer functionality
Inventory tracking
Automatic mileage tracking on iOS
Double-entry accounting
Team collaboration and time tracking tools
Pros
Freshbook is an excellent scaling tool for Quickbooks alternative for Small business.
Freshbook can supports projects and proposals.
It offers a great user experience and also detailed records of clients.
This time tracking tool can help with the accounting and daily budgets of your business.
Freshbook is a tool that automates teamwork.
Cons
Freshbook comes with some dashboard deficits, and it has minimal setup help.
This software has limited invoice customization.
Mobile apps do not have some site features and quarterly tax estimates.
Customer Ratings
Capterra Rating: 4.5/ 5 (3,389 reviews)
G2crowd Rating: 4.6/ 5 (589 reviews)
Pricing
Lite plan: FreshBooks is available for $15 per month
Plus plan: $25 per month
Premium plan: $50 per month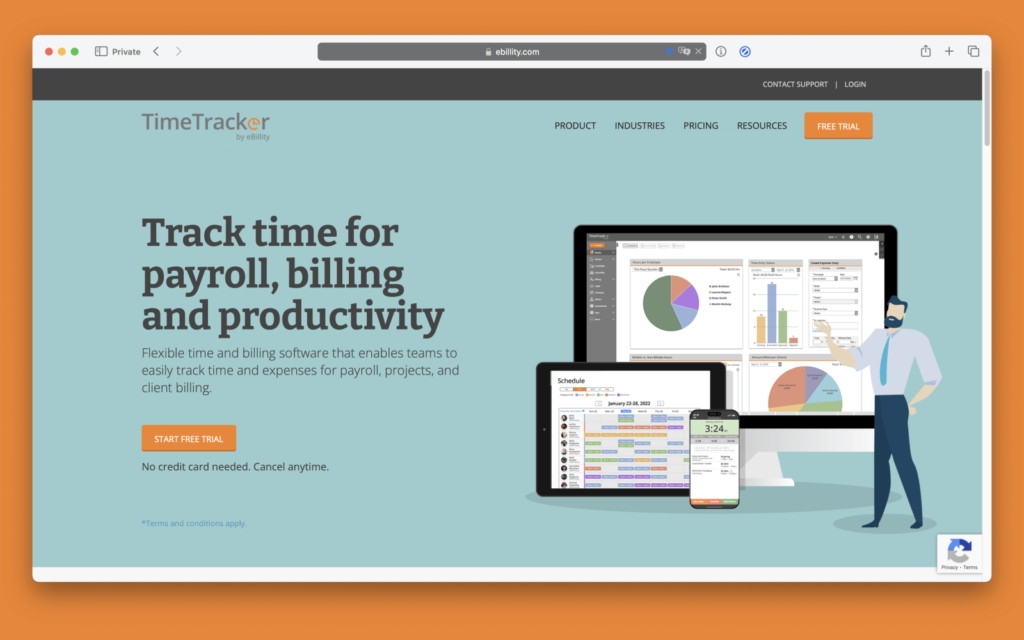 4. Time Tracker by eBillity
Time Tracker by eBillity is a work time tool suitable for organizations of all sizes. This application offers an affordable solution for capturing employee time to invoice clients, run payroll, and manage productivity.
It has a flexible time tracking function and customizable settings. Hence you can manage your employee's hours in every situation with ease.
Besides, this option allows you to start a timer from any device and clock-in on arrival at work. Furthermore, you can add time in blocks with the weekly timesheet or make and share your team's schedule.
Key features
Multiple Billing Rates
Offline Time Tracking
Overtime Calculation
Timesheet Management
Vacation/Leave Tracking
Automatic Time Capture
Billable & Non-Billable Hours
Billing & Invoicing
Employee Database
Mobile Time Tracking
Pros
This tool takes screenshots at regular intervals so that you can see what your employees are doing.
It's easy to use the mobile app of Time Tracker by eBillity.
Time Tracker by eBillity provides easy time entry consistent with QuickBook's internal time tracking.
eBility time Tracker is suitable for businesses of various sizes due to its scalability and flexibility. This ranges from small to medium to large organizations.
Cons
eBility time Tracker comes with no free version
It is difficult to obtain consistent input from users.
The tool is very buggy.
Customer Ratings
Capterra Rating: 4.3/5 (2248 reviews)
G2crowd Rating: 3.4/5 (14 reviews)
Pricing
Time Tracker starts at $4.00/month.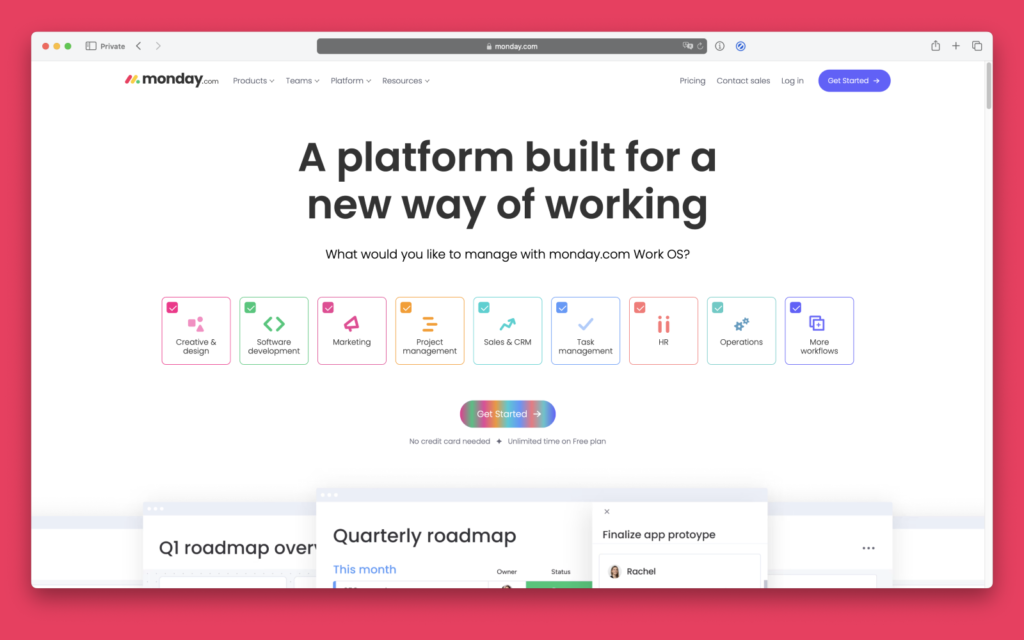 5. Monday.com
Monday.com is powerful productivity software, enabling business owners to plan and execute projects with significant results quickly.
It doesn't matter whether you're in the comfort of your home, office, or on-the-go. Its flexibility and ease of use indicate fast onboarding for your team. This also allows you to customize workflows as you deem fit.
It features powerful productivity functionalities such as automated notifications, time tracking, timeline views, and integrations. Monday.com will help your team to get better and faster results for every project milestone.
Key features
Skills Tracking
Utilization Reporting
Resource Management
Capacity Management
Collaboration Tools
Drag & Drop
Forecasting
Reporting/Project Tracking
Resource Scheduling
Search/Filter
Pros
Monday has an intuitive interface and customization features, making it suitable for any project and business.
This tool can be installed on Windows, Mac, Android, and iOS.
It has a free version.
Monday is customizable, and the boards are entirely yours to design and use.
This time tracking app is suitable for supporting bigger business teams and many projects at the same time.
Cons
The interface becomes significantly slower as use increases, and boards become larger.
The software is costly.
Customer Ratings
Capterra Rating: 4.6/5 (2163 reviews)
G2crowd Rating: 4.6 (1,250 reviews)
Pricing
It has a starting price o $7.80/month/user
39$/month/5 users.
79$/month/10 users.
119$/month/15 users.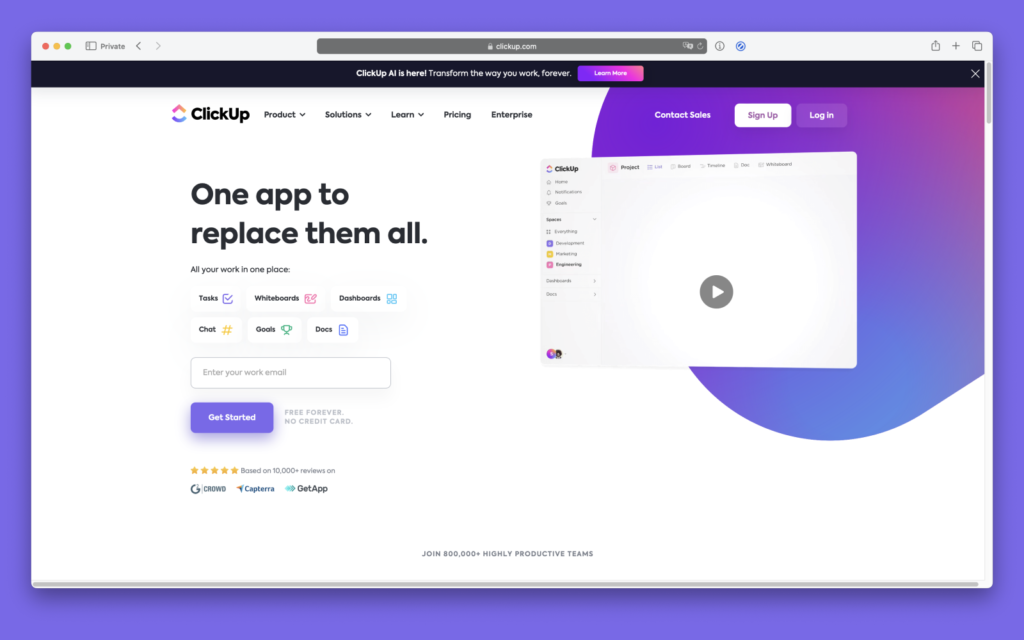 6. ClickUp
ClickUp is an application that is the future of work. It is not just restricted to just task management. ClickUp equally offers reminders, documents, goals, calendars, and even a mailbox.
ClickUp, fully customized, works for every type of business. This means all teams can use the same app to plan, organize, and collaborate.
The primary mission of this app is to make the world more productive. It does this by eliminating the friction caused by so many different applications.
Key features
Resource Allocation
Issue Tracking
Creation & Assignment
Project Budgeting
Pros
It's easy to tailor ClickUp to your requirements based on the suite of features.
ClickUp is suitable for every type of team. So all teams can use it for collaboration.
ClickUps' main strength lies in the fact that it gives the user full control over how they want to manage their tasks and checklists. Additionally, it also offers users the option to view them as they like.
Cons
ClickUp has a variety of features that seem overwhelming sometimes. This is obvious when setting up your workspace for the first time.
Also, the learning curve of this app is pretty steep.
There are frequent updates that may sometimes be a nuisance.
Customer Rating
Capterra Rating: 4.7/5 (2,069 reviews)
G2crowd Rating: 4.7/5 (1,984 reviews)
Pricing
Unlimited: $5/month
Business: $9/month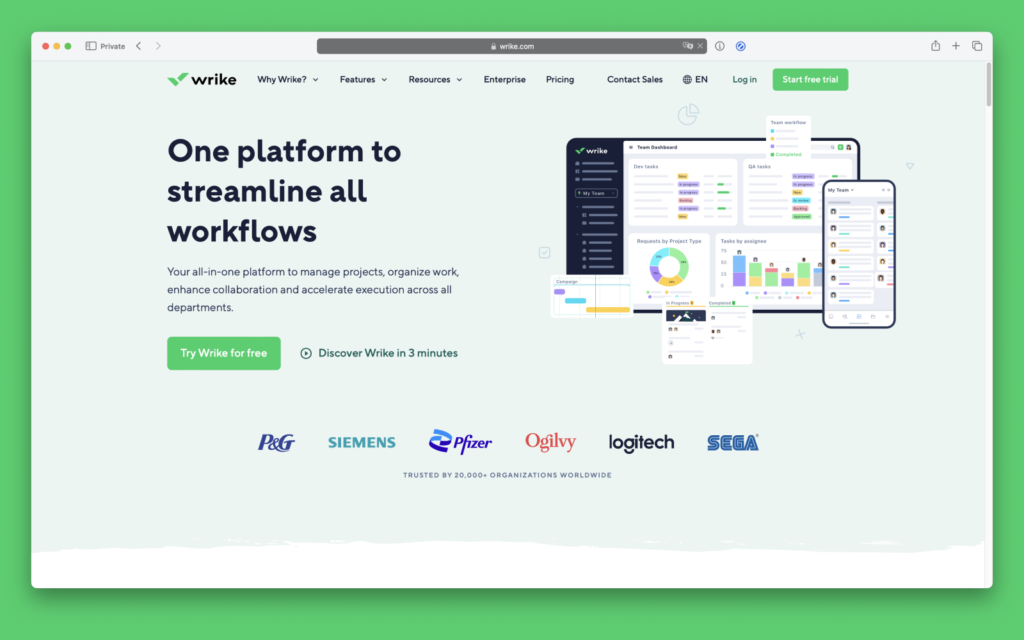 7. Wrike
Wrike is a top collaborative work management platform that helps business teams do their best. It is not dependent on the employees' location, as many companies now engage their employees remotely.
Put merely, Wrike is one of the best platforms that allow collaboration and delivers efficient results for teams.
Key features
Release Forecasting
Time Tracking
Progress Monitoring
User, Role, and Access Management
Sandbox / Test Environments
Work Capacity
Task Ranking
Kanban Board
Custom Workflows
Pros
It's an excellent time tracking app for organizing and managing projects.
It comes with simple and effective time tracking features.
Wrike features an intuitive and flexible project management platform.
This tool is extremely versatile. And it can be used to satisfy almost any business need.
Wrike enables you to optimize your internal team's contact. So you can start your project tasks with Wrike and contact all your team members immediately.
This multi-purpose platform can also help you document work and other team members to track what needs to be achieved.
This tool is not only a valuable networking mechanism, but it equally helps to avoid the sending of excess emails at work.
Cons
The Integrations come at extra cost and are sometimes limited in scope.
Wrike has a 5GB storage space, which you may find very limited.
Wrike features a broad set of functionality, which you may also find a little challenging.
The desktop application for Windows does not sync quickly.
Customer Rating
Capterra Ratings: 2/5 (1,612 reviews)
G2crowd Rating: 4.2/5 (1,320 reviews)
Pricing
Professional: $9.8 user/month
Business: $24.8 user/month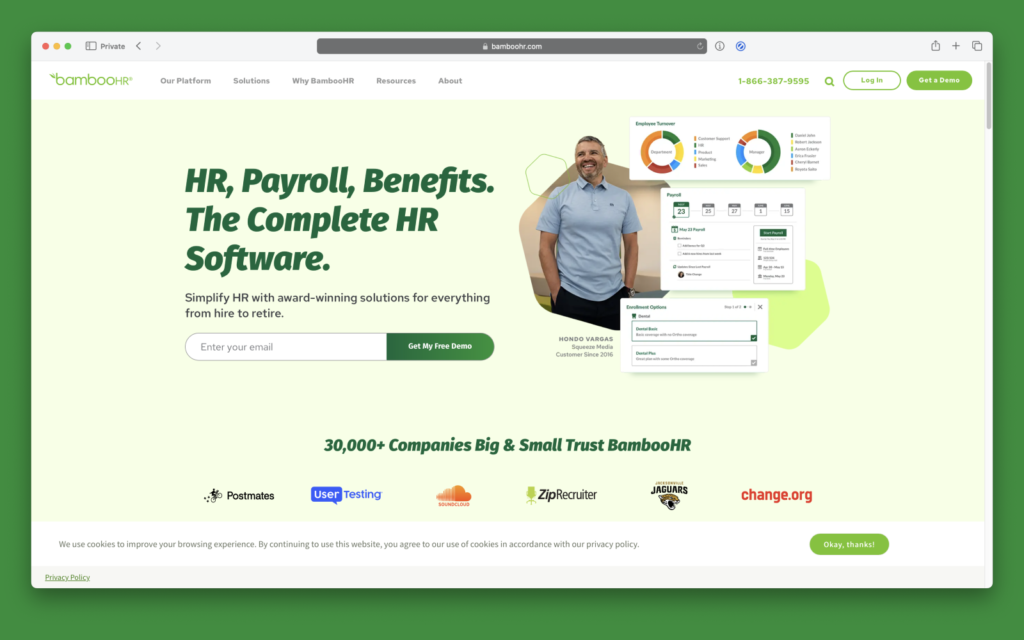 8. BambooHR
BambooHR is a Software-as-a-Service (SaaS) software that provides online human resource software for small and medium-sized businesses.
Many users consider it as one of the best alternatives to Hubstaff. BambooHR has a cloud-based system, which is very intuitive.
This system also helps growing businesses track and manage core employee information in a customized Human Resource Information System (HRIS). Human resource managers now have meaningful work time.
Also, executives receive accurate, timely reports, and employees can make use of self-service using a convenient mobile application. BambooHR's customers include innovators such as FreshBooks, Klout Fitbit, Fab, and Squarespace.
Key features
Shift Scheduling
Labor Forecasting
Time & Attendance Tracking
Automated Resume Parsing
Self-Service Portal
Automated Team Introductions
Automated Onboarding Workflows
Onboarding Notifications
Time, Attendance, and PTO
Pros
BambooHR is easy to make use of the interface and customizable reports.
It's one of the best HRIS for small and medium-sized organizations.
This application is user friendly. And besides, it is straightforward to operate.
BambooHR is the best application for employee profiles and HR tracks.
Cons
BambooHR has automation functions in different fields, which tracks inappropriate behavior and attaches it to the system.
This program might not be robust enough for some businesses.
BambooHR is designed only for small or medium-sized organizations. So if you have a large business, then you cannot benefit much from this software.
BambooHR offers a poor mobile phone application.
it allows the minimal amount of customizations
Customer Rating
Capterra Ratings: 4.5/5(1,169 reviews)
G2crowd Rating: 4/5 (634 reviews)
Pricing
Essentials: $4.95/per month
Advantage: $8.25/per month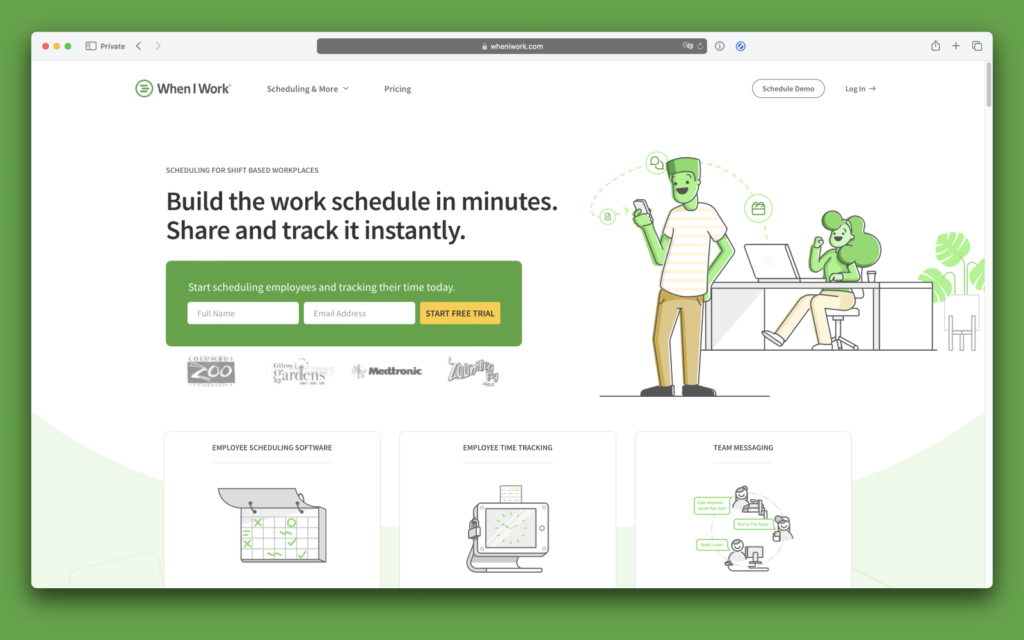 9. When I Work
When I Work is an award-winning workforce management software. This tool provides an easy way for companies to schedule and communicate with their employees on an hourly basis.
All you need today do is to put the schedule and time clock in everyone's pocket. This tool can help your business to save time and money with simple employee scheduling tools.
At present,150,000 businesses use this app to schedule over 1 million people around the world. And one good thing is that it's free of about 75 employees.
Key features
Mobile Shift Scheduling
Team Communication
Automated Reminders
User, Role, and Access Management
Mobile Time Tracking
Labor Forecasting
Shift Scheduling
Time & Attendance Tracking
Absence & Leave Management
Self-Service Capabilities
Pros
When I Work is an efficient saas scheduling app.
When I work saves time, and it's also helpful for labor forecasting.
This app helps staff to manage their own availability calendar.
The tool is easy to use and navigate through
Cons
It tends to freeze on the iOS device and requires a hard close regularly.
The mobile app has much fewer features than the desktop version.
Customer Rating
Capterra Ratings: 4.5/5 (91 reviews)
G2crowd Rating: 4.4/5 (215 reviews)
Pricing
Scheduling Basic: $1.50/month
Scheduling Pro: $2.25/month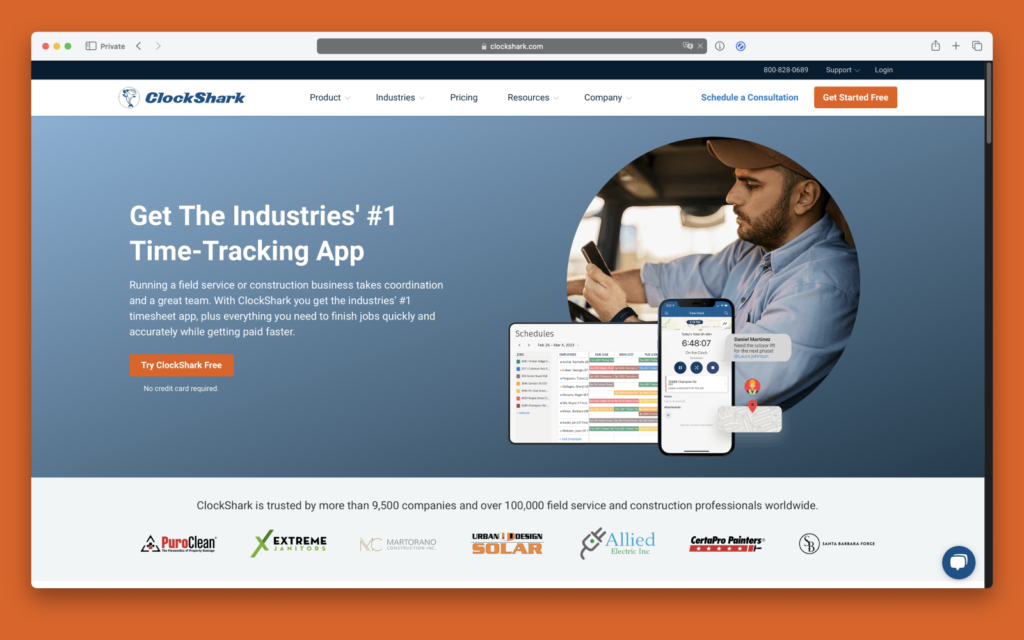 10. ClockShark
ClockShark is among the leading time tracking and scheduling software. It's designed for field service, local construction, and franchises that want a simpler method to track mobile employee work time. It also helps run the payroll quickly and accurately and understand labor costs. More than 4,000 clients have used the software. And they claim that makes it easier to run their business and keep accountants happy.
Key features
Overtime Calculation
Timesheet Management
Vacation/Leave Tracking
Billable & Non-Billable Hours
Employee Database
Mobile Time Tracking
Multiple Billing Rates
Offline Time Tracking
Pros
Clockshark is very easy to use. And the tutorial for mobile use is excellent.
Clockshark features a document manager that meets nearly all the technical needs making it easy for a company to cover its workflow correctly.
Cons
One big challenge is that there's no way to track the phone usage of your employees while clocked in
The app will crash sometimes and not work for hours at a time.
Customer Rating
Capterra Ratings: 4.7/5 (1,062 reviews)
G2crowd Ratings: 4.7/5 (272 reviews)
Pricing
Starting Price: $3.00/month/user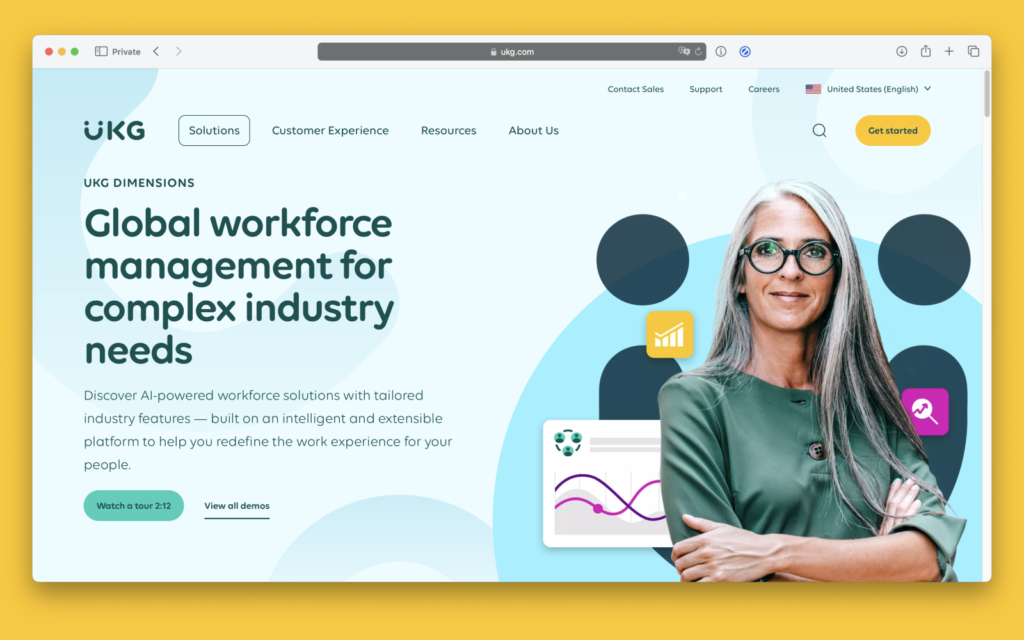 11. UKG Pro
UltiPro is a product of Ultimate Software, a powerful global human capital management (HCM) solution.
It can transform your business with a common global workforce experience offered by flexible and thoughtful HR technology.
UKG Pro is the powerful HCM package you need to deliver effective results for clients.
Key features
UltiPro TouchBase
Time Management
Recruiting and Onboarding
Performance Management
Succession Management
Career Development
Global HCM
Compensation Management
Payment Services
System Administration
Payroll Administration, Tax Management and Compliance
Talent Management
Reporting, Workforce Analytics & BI tools
Business/Employee Portal
Time, Attendance, and Scheduling.
Pros
UltiPro can customize your favorite links to allow the user interface to fit your business needs.
UltiPro is easy to use and navigate.
It offers excellent customer service and support.
Cons
There are a few Ultipro versions available. So if you pick the wrong one, it is difficult to work with it. Hence you cannot reset passwords or access your information.
New users may find this software a bit overwhelming at first.
Customer Rating
Capterra Rating: 4.2/5 (929 reviews)
G2crowd Rating: 4.2/5 (1,175 reviews)
Pricing
UltiPro costs $600.00 per year for a license for up to 5 users.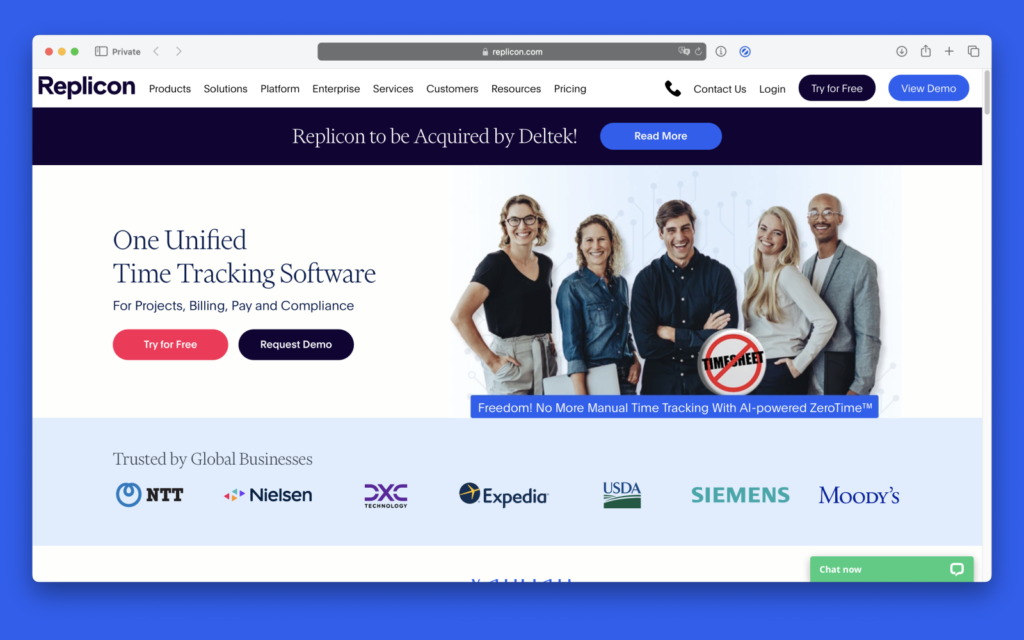 12. Replicon
A replicon is a software that provides end-to-end time management services to businesses of all sizes.
Replicon helps to capture, analyze, and optimize time—this helps boost the profitability, productivity, and satisfaction of your employee.
Replicon is suitable for both Salaried & hourly workers. This is because the software is simple and easy to use.
Furthermore, you can enter your time, vacation, attendance, and expense information via a mobile app or web browser.
Key features
Salaried Employee Tracking
Sick Leave Tracking
Timesheet Management
Vacation/Leave Tracking
Biometric Recognition
Mobile Access
Online Punch Card
Payroll Management
Punch card
Reporting/Analytics
Pros
This tool is mobile friendly and straightforward to use.
It's easy to connect Replicon to other business apps.
This software is not only highly responsive but equally offers excellent customer service.
The interface of the app is easy to use and navigate for employees.
You can add and update projects using the RIA import tool with ease.
Cons
The reporting templates are a little more complicated than they should be
Due to the program's versatility and customization, it can be a challenge to standardize certain things.
Some of the backend account set up features are not as intuitive.
Customer Rating
Capterra Rating: 4.6/5 (553 reviews)
G2crowd Rating: 4.2/5 (349 reviews)
Pricing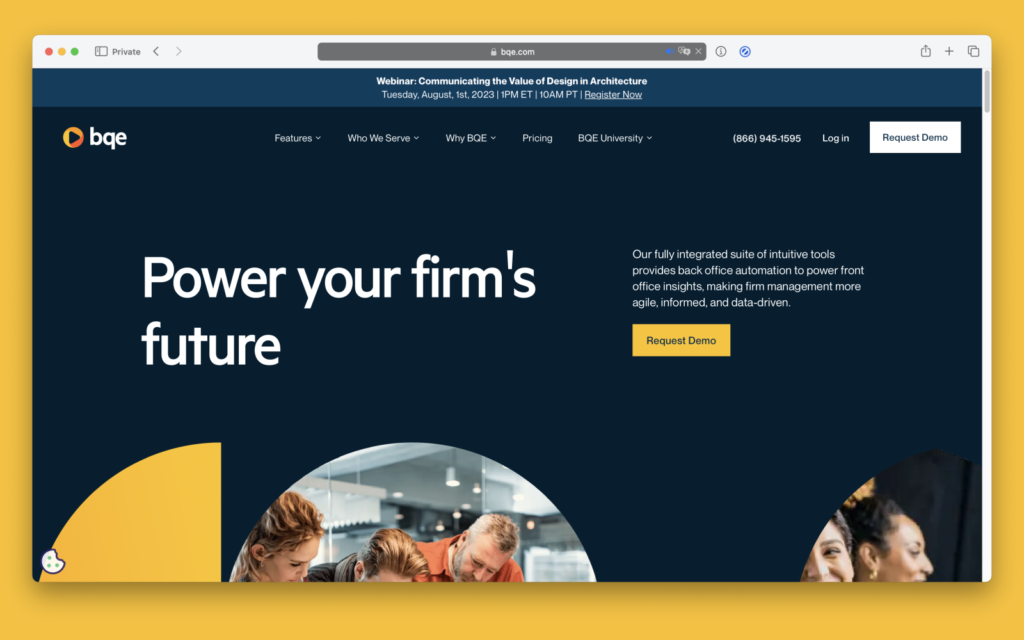 13. BQE Core
BQE CORE is not only an integrated or cloud-based solution meant for professional service businesses.
It also provides time and expense tracking, invoicing, business and project accounting, project and human resource management, and client relationship management (CRM).
BQE CORE supports a wide range of industries including, architecture, engineering, legal services, accounting, and more.
Key features
Reimbursement Management
Time Tracking
Time Tracking by Client
Time Tracking by Project
Activity Tracking
Billing & Invoicing
Expense Tracking
Project Tracking
Pros
This powerful tool is useful in tracking project time and expenses for professional services.
This tool also offers strong support for customizations.
It's an excellent software for billing at a law firm.
Cons
Many users complain that the software is not as user-friendly as it could be.
The cost is a bit high to modify reports, particularly if you want extra reports.
Customer Rating
Capterra Rating: 4.4/5 (458 reviews)
G2crowd Rating: 4.5/5 (43 reviews)
Pricing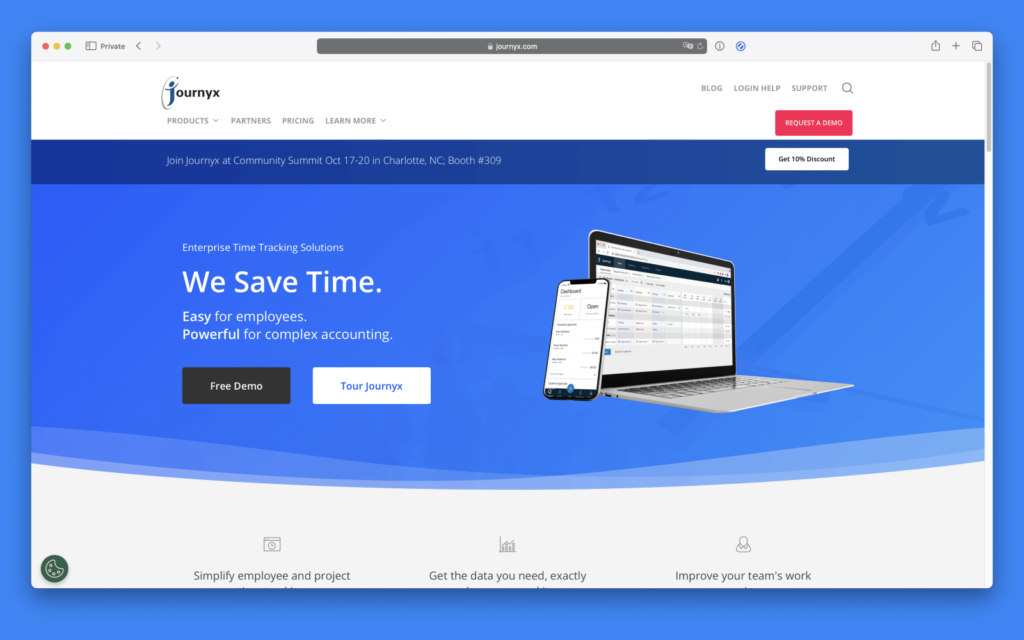 14. Journyx
Journyx is a leading business tracking software that can quickly and accurately track employees' work time, invoicing, and payroll.
It offers time-tracking solutions specially created for companies that engage in project-oriented or customer-oriented work.
Journyx is considered a reliable option to Hubstaff because it had helped thousands of companies to save time and money. Furthermore, Journyx offers two main products that allow users to achieve maximum profitability.
Key features
Multiple Billing Rates
Offline Time Tracking
Overtime Calculation
Timesheet Management
Vacation/Leave Tracking
Time Tracking
Automatic Time Capture
Billable & Non-Billable Hours
Billing & Invoicing
Employee Database
Mobile Time Tracking
Pros
Journyx is a very useful software that helped to better organize the projects by crossing essential data.
This software also helps to manage the personnel and keep the budget under control.
This tool integrates well with other administration and financial tools.
Journyx comes with a clear and well-designed interface.
It's easy and streamlined to navigate through the system.
Journyx is customizable, and reporting is excellent.
Cons
You cannot use Journyx to forecast time/revenue.
Journyx has a poor user interface, which not mobile-friendly
Customer Rating
Capterra Rating: 4.1/5 (35 reviews)
G2crowd Rating: 4.3/5 (120 reviews)
Pricing
It comes with a custom quote.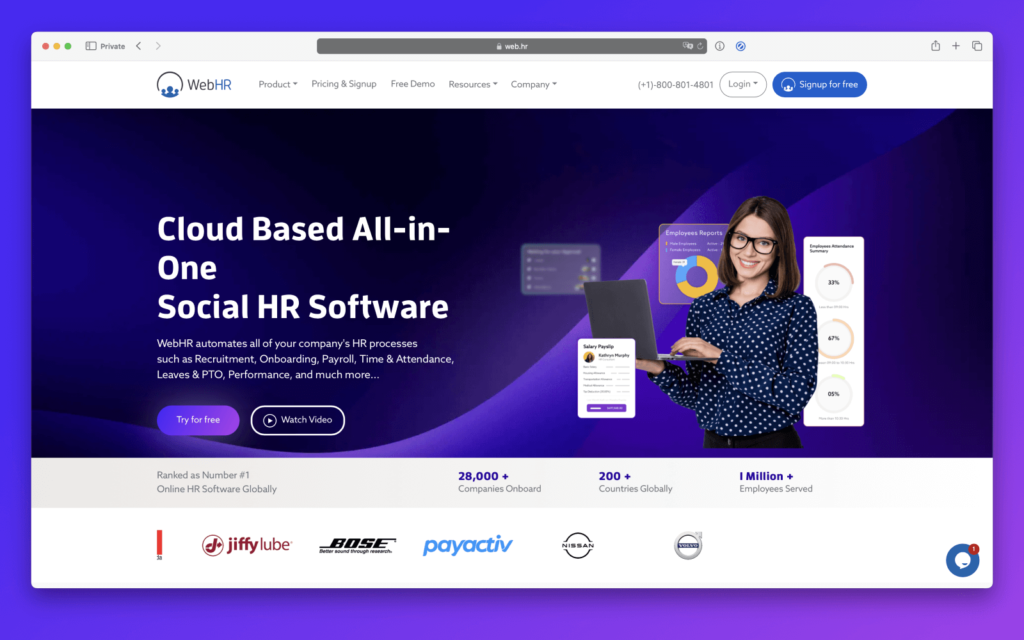 15. WebHR
WebHR is redefining the way HR works. WebHR is a socially integrated cloud-based HR software for small and medium businesses.
WebHR handles everything from hiring to retirement in the most innovative way. WebHR not only saves money for business but also increases productivity, saves space, and makes internal and internal office communications faster, more reliable, and more efficient.
WebHR helps the company manage its most critical asset – its employees.
Key features
Job Description Management
Orientation Workflow Management
Self Service Portal
Task Management
Training Management
Applicant Tracking
Artificial Intelligence
Pros
WebHR offers a free trial for clients.
It's easy, safe, and secure to use.
It comes with customization capabilities.
It provides stable and Great customer support.
Cons
The customer service is not only terrible but also it's difficult to contact and handle
There are no detailed notifications to employees, which causes some frustration for them.
It takes time to set up and get large volumes of data into the system.
Customer Rating
Capterra Rating: 4.3/5(489 reviews)
G2crowd Rating: 4.2/5 (86 reviews)
Pricing
WebHR pricing starts at $2.00/ month.
Basic: $19.99/month
Professional: $97.97/month
Business: $190.90/month
Final Thoughts
To wrap up, you must take note that all of these tools have their own specialty. That's to say, no two-time tracking software is the same. Some may do more, while others do less than Hubstaff. However, you may decide to use one or more of these alternatives to Hubstaff together to maximize your team's effectiveness.
Try Monitask
Track employee productivity and simplify work with them
525