Choosing The Best Employee Scheduling Software
Employee scheduling is a big headache for many companies nowadays. However, utilizing scheduling tools takes care of such an issue.
We analyzed the best employee scheduling system in the market today. This article also provides relevant things to consider before choosing one.
Let's get started!
The Hardships Of Employee Scheduling And Management
Employee scheduling and management come with challenges that can cause employee burnout. On top of that, utilizing unprofessional tools may worsen the situation.
Fortunately, using an employee scheduling software like Monitask could help.
This software helps business owners to simplify scheduling, manage time and keep an eye on their budget.
Let's discuss how Monitask can help your company overcome these challenges.
1. Organizing Staff Availability
Organizing employee availability is a tricky thing to do. Plus, both large and small businesses face this challenge. For example, smaller companies often have to work with limited staff availability.
Bigger businesses need to provide more shifts to a more significant number of employees. And at the same time, juggle several availability schedules.
Solution: Utilize employee scheduling software like Monitask. It handles employee availability. Scheduling software tools reduce some of the heavy liftings. This helps to lower manager and employee fatigue. Any type of organization can input employee availability into Monitask to help out with scheduling.
2. Budgeting For Scheduled Shifts
Budgeting based on employee scheduling is something difficult to do. We suggest scheduling employees who earn at a lower rate per hour to suit your budget.
Solution: Use employee scheduling software to track expenses and manage your budget. Monitask software allows the scheduling of employees with different hourly rates. This tool is also effective for managing an organization's budget.
3. Scheduling Hard-to-Fill Shifts
Let's be honest: some shifts are less desirable than others. Nobody wants a night shift schedule. In addition, employees don't want shifts at the crack of dawn.
The least desirable shifts are back-to-back shifts early in the morning and late at night.
Solution: Utilize Monitask to predict busy hours and offer rewards to employees working open shifts.
Employee scheduling helps team managers to see estimated sales forecasts while scheduling. Hence the organization is always staffed at the right level. Avoid creating schedules for employees both early in the morning and late at night – either one is okay.
Rewarding employees with more desirable shifts would encourage them to take on-call shifts.
4. Divvying Out Shifts
Any shift translates to a "desirable" shift when it involves a business with many employees.
Furthermore, creating a fair schedule isn't the only issue. Business managers would have to deal with employees' disappointment over their shifts.
For example, in a restaurant, tipped staff may prefer open shifts on Saturday than Monday night.
Solution: Utilize employee scheduling software to reward excellent work with favorable shifts.
Monitask can track the performance of your company's staff. And it allows you to offer favorable shifts to employees with excellent performance.
This shift scheduling software ensures the best shifts are offered to employees who provide excellent customer support and help to fill in unwanted shifts.
5. Avoiding Manager And Employee Burnout
Burnout is major challenge business managers face. They can spend most of their time scheduling, but it doesn't have to be like that. Also, utilizing a low-quality scheduling tool can cause employee burnout.
Such ineffective employee scheduling software can develop a messy work schedule. As a result, some employees will always work the night shift and some only during the day.
Solution: Utilize Monitask, coupled with other scheduling techniques. This helps to prevent open shifts and burnout.
Ready to create a schedule without experiencing all the above challenges?
What Is Shift Planning Software?
Shift planning (or "scheduling") plays a vital role in an organization's management. Scheduling your employees to work specific jobs during certain periods is vital.
Besides, shift scheduling can help your company avoid the pitfalls of high payroll costs. And also overcome common resource management challenges.
So what's shift planning?
Shift planning or scheduling is developing a dedicated schedule that describes who is responsible for a particular shift in the workplace.
For instance, shift scheduling software can be employed in the management of laundry services. It allows you to organize the dry cleaners, laundry attendants, and other support personnel. Hence all prep, service, and clean-up hours are covered.
A mere two decades ago, using an employee scheduling shift was time-consuming and a difficult job. This is because it involved managers filling in names and jobs on a paper calendar.
Little wonder, it was most managers' nightmare.
But the advent of personal computers, smartphones, Wi-Fi, and the cloud changed everything. These advancements made it possible for IT managers to have access to shift planning software.
Now, with just a few taps or clicks, a busy manager can develop a scheduling routine that saves time.
Thus, an organization can plan and get its employees organized in less time. That way, managers can focus on other things to help them accomplish their business goals.
Other benefits include:
Shift planning allows access to workforce management data anytime or anywhere with ease.
Shift planning tools integrate seamlessly with other business digital components. These include invoicing and payroll.
Shift planning software can detect and minimize errors.
Employee Scheduling Software Comparison Criteria
Utilizing suitable scheduling software in a workplace enables the scheduling of employees in a few minutes. Moreover, the right scheduling software comes with straightforward functionality. This improves the ease of use.
Mentioned below are essential scheduling software criteria to consider before making a choice:
User Interface (UI)
The user interface (UI) is a vital criterion to consider when choosing a scheduling software. It's the point where humans and devices interact and communicate in a device.
And this may include monitors, a mouse, keyboards, and the desktop appearance.
Also, it's a way users share or interact with a website or application. The increasing trust of many businesses in scheduling applications has led many companies to prioritize UI.
Consequently, the overall experience of the user is improved.
Usability
The ease of use is a crucial factor when evaluating scheduling software options. And you need to answer these questions below to the software usability.
Does the employee software require any training?
How many hours does the software need for implementation?
Can the software be used anytime and anywhere?
Does the software require a new device or add-on to work well?
Throw in a few additional questions based on the organization's needs. The idea here is that simple doesn't mean less efficient!
Instead, it shows that anyone can use the tool without much hassle.
Integrations
Proper scheduling enables business owners to manage labor hours, costs, and budgets.
But, more importantly, it is highly beneficial if employee scheduling software works seamlessly with other software.
The paragraph below provides essential questions about integration that a suitable scheduling tool should address.
Does the software connect with an HR system to sync employee time off requests, leave balances, and pay rates?
Does the software integrate well with an organization's point-of-sale solutions?
Can the software switch from different devices, such as desktop, iPhone, and Android?
Can this software quickly sync with an already existing payroll system?
An employee scheduling software that integrates well can boost productivity.
Furthermore, a correct integration would save time, resources and provide complete visibility of a company's cash flow.
Employee Scheduling – Pen And Paper VS. Software Or App
PEN AND PAPER METHOD
Before the advent of scheduling software, managers used pen and paper for scheduling. However, technological advancement has reduced the use of such old-fashioned methods.
But then, some managers still prefer creating schedules with pen and paper.
Fair enough, this old-fashioned method still serves its purpose. Mentioned below are the pros and cons of the pen and paper method.
Pros:
It doesn't require knowledge of computer software and program
It only involves a sheet of paper and a pen
It's effective as long as managers know their business needs.
Cons:
This method is time-consuming and cumbersome
It's not easy to adjust the pen and paper schedule after they have been passed around.
Rapid mass distribution of this schedule type is challenging.
SOFTWARE OR APP
Software or app development changed the whole concept of scheduling within an organization.
Nowadays, managers have access to software tools that take care of their scheduling demands.
Although this method is helpful, it still has its downside. The pros and cons of using scheduling software or apps are stated below.
Pros:
Using software tools helps to reduce paper wastes.
Scheduling with software helps to cut back on the amount of paper a business uses. That way, the cost is also reduced.
Scheduling software saves the schedule automatically once it's created.
It's easy to make necessary adjustments with employee scheduling software.
Cons:
Employee scheduling software is no exception to the learning curve period. And this can take time.
It requires specialized knowledge in IT to use software or apps for scheduling.
It requires access to a device and the internet to use employee scheduling software.
Free VS Paid Software
Given below is a comparison of the advantages and disadvantages of free and paid apps.
FREE APP
There are over 6,500 pieces of free software available on the market today. The best free employee scheduling software offers a free version. And it also gives users various options.
Here are details of the pros and cons that come with designing a free app for employee scheduling
Pros:
Free apps or software appeal better to new clients because of their ease of access.
Free apps or software tend to garner more positive reviews.
It's free to download. Besides, wouldn't you instead pay nothing than to pay $200 for the software you need?
Cons:
Free apps or software have no guaranteed support and no guaranteed return on investment.
Some free software programs have varying interfaces and inconsistent updates.
Some free software programs don't have high customer loyalty and base.
PAID APP
The paid app comes with well-thought features, quality design, and runtime that fits the investment. It also makes the process of employee scheduling easy!
Below are some pros and cons of paid scheduling software:
Pros:
Paid scheduling apps or software have a high customer base.
There's less competition as opposed to free apps.
A paid employee scheduling software helps to generate revenue.
Cons:
The expectation placed on paid scheduling software is also high.
One notable con with paid apps or software is that they have one form of monetization.
The paid app is not free, and its design cost is expensive.
Features That Will Make Your Life Easier
Mentioned below are five useful features that come with premium employee scheduling software:
Time Tracking
Time tracking is a feature that records the work of a consultant, employees, or freelancers associated with an organization.
In contrast to traditional scheduling, in which time entries are made manually, this feature saves time.
In addition to recording total working hours, time tracking also records:
How long an employee has been inactive.
Total work done per week/month.
How many hours are spent on individual projects?
Apart from what is mentioned above, time tracking helps generate payrolls, analytical reports. It also makes it easier to measure employees' productivity levels accurately.
Timesheet Reporting And Analytics
Many employee scheduling software collects and analyzes data. For example, how much employees work and the income they earn over some time.
In addition, timesheet reporting and analytics allow tracking staff time against targets.
Also, it is used to:
Know how many hours employees work over a specific period
Resolve any issues before the approval process of the timesheet
Compare actual client and target hours
Compare actual and target hours worked
All this information mentioned above can help a company develop certain insights on labor costs and financial reports. Besides, there is an option to export this data.
Hence data and supporting analytics can be presented to partners, shareholders, and employees without difficulty.
Schedule Export Options
You can set an export to run on a scheduled or regular basis. First, choose the Email / Schedule tab in the Create Export area on the exporter's page. Then, a click on the "Schedule Export" option switch will open the scheduling options:
Repeat Every: Ensure export runs at a set frequency. Then specify the number of days, weeks, or months as the frequency. For the export to be a one-off, select "One Time."
Start date and time: Select the date and time when you will run the first export.
Ends: Choose whether to repeat a recurring report or to stop after a certain number of times
Once your scheduling options are set, select the green "Schedule" button to begin the schedule. The first export will occur at the time specified in the "Start Date and Time" fields.
Time-off Requests And Approvals
Time Off Request and Approvals features allow employees within an organization to request time off in advance.
This feature also ensures that the appropriate Time Manager or Administrator reviews such requests.
With Time Off Request, employees can now request their leave with just one click! Besides, this feature allows employees to see the time off they have available.
Furthermore, it notifies administrators about time-off requests. Managers and others can create time off reports for an employee, a team, or the entire company.
Pricing
Do you know an organization can lose a lot of money from poor pricing?
With a good pricing solution, it's easy to track every product purchased, sold, used, and expensed.
That way, all transactional processes are done in real-time.
This solution also shows full cost summaries of various product groups. Thus, helping businesses correctly derive buying and selling prices.
We recommend using employee scheduling software like Monitask because it offers good value for money.
Besides, the software has a data analysis functionality that tracks how pricing strategies affect the profitability of the sale.
This information can help businesses improve win rates and margins on their deals.
So, let's start reviewing
Choosing a Free Employee Scheduling Software
Mentioned below are free employee scheduling software tools. With these, managers can make a schedule and adjust it on the go.
7shifts
Homebase
OpenSimSim
Humanity
ShedWool
When I Work
GoodDay
Top Pick: Monitask
7shifts is a Saas-based platform that is effective for shift planning or scheduling. Besides, it's also one of the best employee scheduling. This tool was specially developed for fast food and restaurant businesses.
It comes with excellent scheduling and communication features that allow both managers and staff to use it on the go.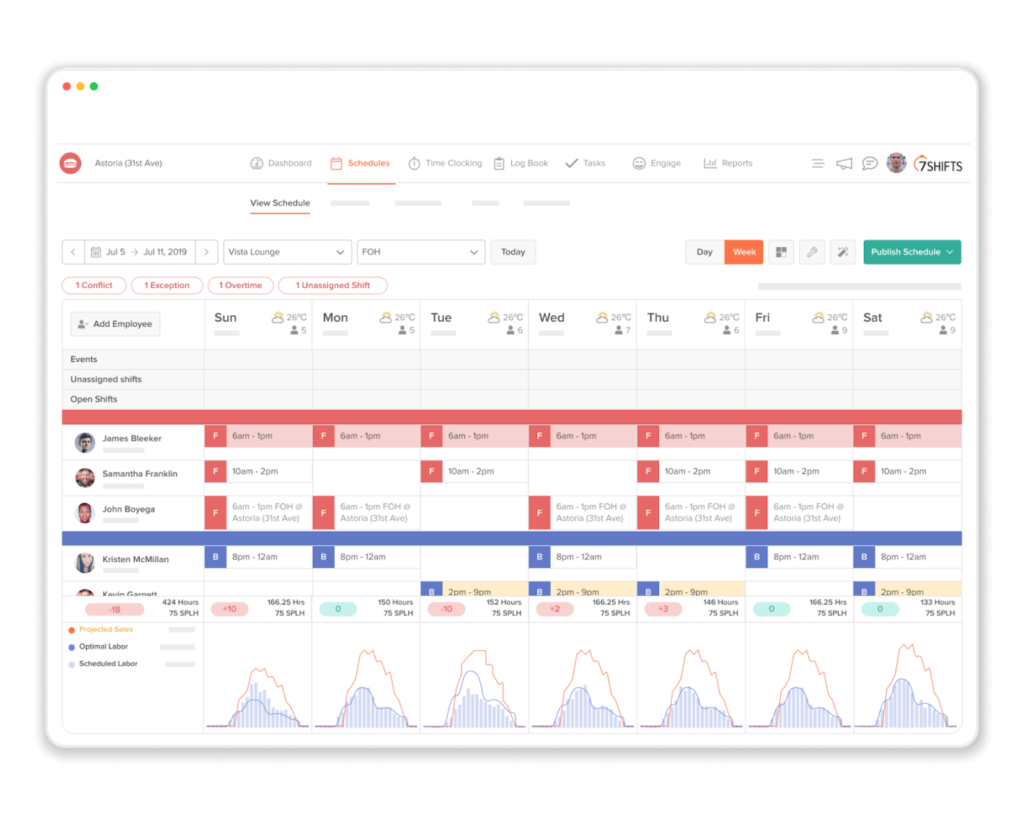 But its free plan only gives users access to its time clocking and employee scheduling solutions. This includes PTO requests, shift trading, staff scheduling notifications, basic reporting, and mobile app access.
Another downside about 7shifts is that its free plan is limited to 10 employees and one location. Therefore, it must be upgraded to a paid plan if users want additional user seats and multi-location scheduling.
Homebase is great for employee scheduling. Also, it has a user-friendly interface. This makes it an excellent option for small businesses like restaurants and retail stores.
In addition, the free plan version is feature-rich. Homebase is not only limited to its scheduling functions. The software also allows job posting and communication with team members.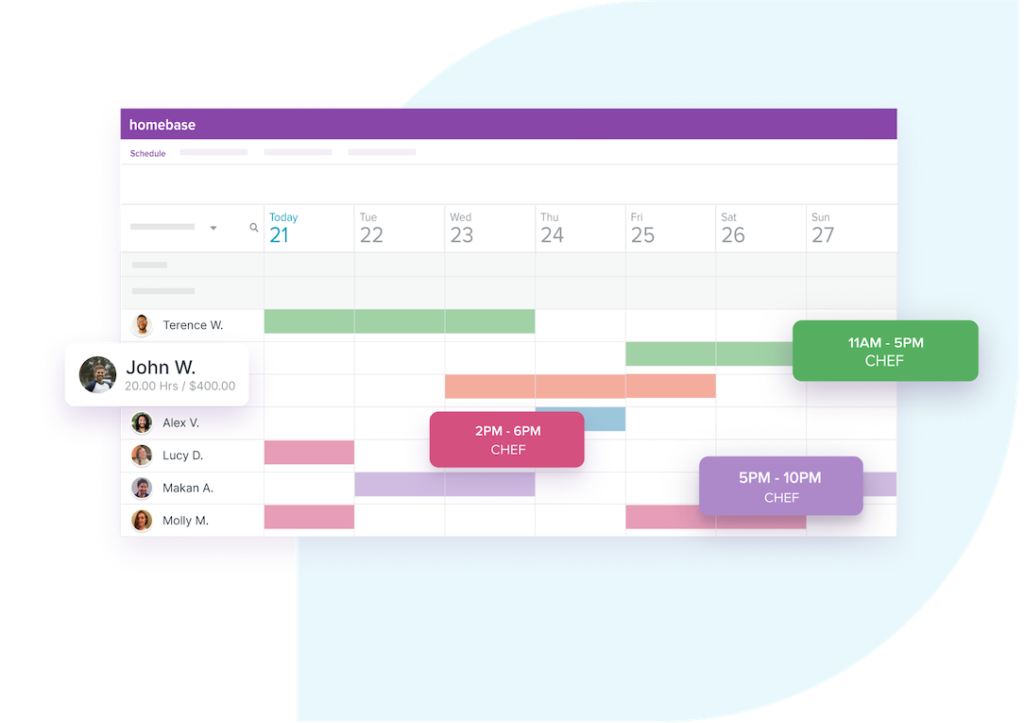 However, Homebase's free plan is only limited to one location.
While accrual tracking, geofencing, geolocation tracking, overtime alerts, and PTO are included in paid plans. Another challenge a user may face when using this software is that it lags from time to time.
OpenSimSim, now SocialSchedule, is a cloud-based employee scheduling software that's position-based.
This means that the position of each employee must be specified before creating and assigning shifts.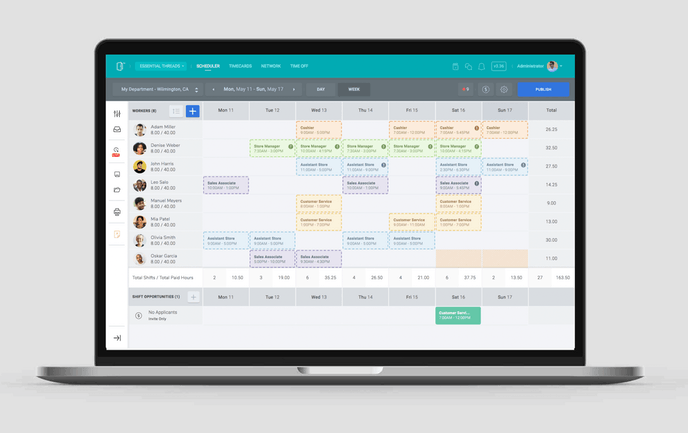 The free version of SocialSchedule comes with limited features. It has to upgrade to its premium plan to access features like advanced reporting, and POS integration. Other features that can be accessed on the premium plan include; shift confirmations, multi-location scheduling, and a mobile time clock. This makes it one of the best free employee scheduling software
Humanity is one of the popular employee scheduling software tools. It can manage day-to-day employee engagement. This software also speeds up the creation of shift schedules by nearly 80 percent.
Unfortunately, the tools notes section on the time clock is small. Hence, it overlaps the add note button.
Another downside is that when shift changes are made, they're not noticeable to managers or employees.
ShedWool is easy-to-use software. Hence it's regarded as one of the best free employee scheduling software.
It features excellent phone support, an intuitive user interface, and free mobile apps. Hence, business owners can save money and time to focus on growing their business.
However, this software doesn't upload schedules greater than 50 resources and locations. Furthermore, it lacks the functions to send messages via SMS.
When I Work is ranked as one of the best free employee scheduling software. This is because it comes with many built-in features. As a result, employees can communicate better, collaborate, and set appropriate schedules.
The free version offers communication and single scheduling for about 75 users.
The best features include staff availability, team scheduling, time-off requests, and shift trading.
When I Work is great for employee scheduling. However, it's best suitable if you do not mind keeping your data in the cloud storage
GoodDay is great employee scheduling software that is suitable for firms of all sizes. Although it's difficult to use, it also has provisions for maintaining multiple projects.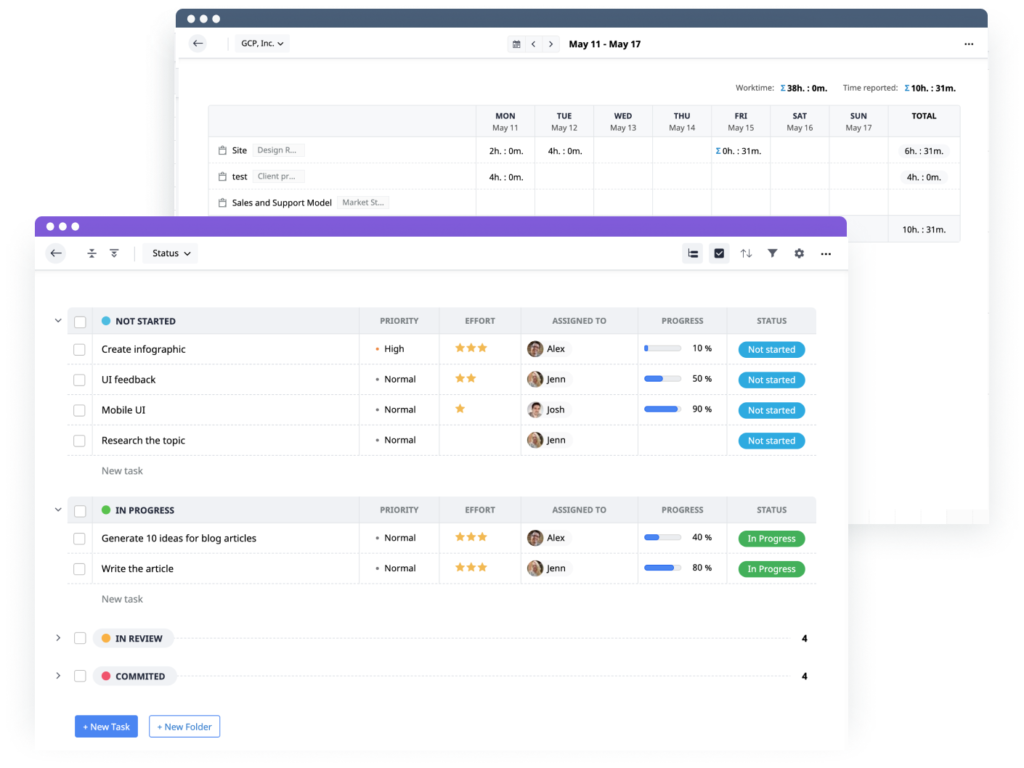 However, the initial software loading suffers greatly on slow internet connection.
Also, this software text editor is not feature-rich, and the file upload mobile network needs improvement. This will help users to avoid restarting their upload whenever connection switching occurs.
Monitask is one of the best online employee scheduling software. This tool offers employee scheduling solutions for businesses of all sizes. It features tools such as activity monitors, advanced screenshots, and tracking capabilities. As a result, it's easy to create employee shifts for the team.
All these help to increase employees' productivity, efficiency, and accountability. Managers or supervisors can also access the dashboard from any device to schedule their team activities anytime, anywhere.
Monitask allows employers to picture the time teams spent on each project by providing statistics and generating reports.
These reports enable managers to determine the cost of a project, analyze performance, and use the data to create invoices. The reporting feature could also be used to view worked hours online.
Top Employee Paid Schedule Apps
Here are the top employee/work schedule apps that can make scheduling much easier:
actiPLANS
Paycor
Sling
Shiftboard
ShiftNote
QuickBooks
Deputy
Top Pick: Monitask
actiPLANS is an ideal tool for employee scheduling. In the desktop version of the business plan, a user can track the current and future PTO balance.
And then use that data to identify any period and mark it as a vacation or anything related.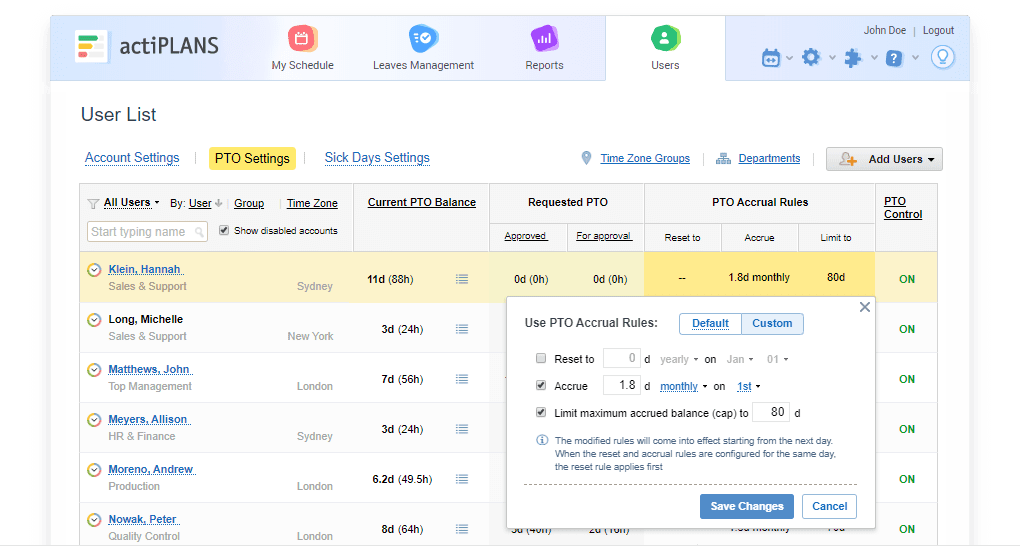 In addition, the mobile version enables team members to be informed about delays or early departures. It also helps them have an overview of who is currently absent and why.
actiPLANS has a notable feature which is the automatic leave request approval. It helps simplify the absence management process.
This saves managers much time. And also contributes to higher employee satisfaction. actiPLANS gives team members more control over their work and social schedule.
Paycor, formerly Ximble, is an employee scheduling software that creates schedules for teams of all sizes. This tool is used to manage absence requests, create shifts, control labor costs, and more.
Paycor also allows managing schedules for teams in different offices.

Additionally, it supports multiple calendars for other locations. It protects against double-booking work hours by someone working in two locations.
Paycor is a good bet if managers want to understand their staff availability for future workloads.
Sling is a high featured tool that combines absence management features and employee scheduling. This software is effective in managing shift work and avoiding conflicts with the team's absence schedule.

Team managers can copy shifts and schedules between days and weeks and create recurring shifts to remove duplicate entries with a sling.
With its mobile app, employees can stay updated and communicate with their colleagues anytime. In addition, the app has a "social space" feature that allows sharing files and updates and setting up newsfeeds.
Shiftboard employee scheduling software is designed for medium and large teams.
It provides a complex approach to shift planning, tracking attendance, and analyzing performance and capabilities.
Plus, its scheduling functionality enables a simple setup process that avoids unwanted overtime and schedule conflicts.

Managers can take advantage of the built-in reports and analytics to help plan work in advance.
The tool includes a start-up procedure for new employees that simplifies the onboarding process. Furthermore, it ensures that all employees have passed through the necessary training steps.
For hiring managers, it also simplifies collecting candidate data and streamlines the entire hiring process.
ShiftNote is an employee planning software for shift-based industries such as hotels, restaurants, and retail stores.
It comes with features like a user-friendly scheduler, daily communication, time-off management, and KPI.

Moreso, ShiftNote enables managers to create faster schedules while cutting labor costs by reducing overtime and improving team communication.
This is done by using the logbook on each shift. The tool also includes onboarding setup and free training!
QuickBooks offers similar functionalities and options to most workforce scheduling apps on the market. Small businesses mainly use it.

QuickBooks allows users to receive overtime or missed shift alerts to reduce labor costs.
The software has key features like asset management and tracking, budget tracking, and forecasting. It also features simple employee scheduling and accounting integrations.
Deputy software caters to the retail and healthcare industries. This employee scheduling software is also valuable in the hospitality, security, and child care industries. This tool has unique features, including auto-scheduling with rest breaks and lunch.

Deputy can easily be integrated with POS and HR systems like QuickBooks, Gusto, Lightspeed, Xero, and more.
Furthermore, it allows users to create and publish schedules, shift replacements, and swaps. However, this software is not easy to use, and it requires a few tech skills to get the best out of it.
Do you want your company to create schedules without causing conflicts amongst your staff? Then Monitask is among your best options!
This employee scheduling software doesn't only enhance employee scheduling. It also improves employees' performance and productivity.
Little wonder businesses that utilize this software see a 10% to 80% increase in staff productivity. In addition, it helps companies get the most out of their budget.
Monitask features a mobile-friendly dashboard and clean UI, which attracts users. More importantly, this super easy-to-use system comes with amazing customer support.
With Monitask, you have access to features only available in the software that cost $10.
One significant advantage Monitask has over other paid tools is that there's no steep learning curve.
Best Free Employee Scheduling Software Summary
| | | | | |
| --- | --- | --- | --- | --- |
| Free Employee Scheduling Softwares | Free Plan | Premium Plan | Software advice Rating | Capterra Rating |
| | Yes | Yes | 5.0/5.0 | 4.8/5.0 |
| | Yes | Yes | 4.5/5.0 | 4.6/5.0 |
| | Yes | Yes | 4.5/5.0 | 4.5/5.0 |
| | Yes | Yes | 4.5/5.0 | 4.3/ 5.0 |
| | Yes | Yes | 4.45/5.0 | 4.5/5.0 |
| | Yes | Yes | 4.5/ 5.0 | 4.5/ 5.0 |
| | Yes | Yes | 4.5/ 5.0 | 4.7/ 5.0 |
| | Yes | Yes | 4.5/5.0 | 4.7/5.0 |
Best Paid Employee Scheduling Software Summary
| | | | | |
| --- | --- | --- | --- | --- |
| Paid Employee Scheduling Softwares | Free Plan | Premium Plan | Software advice Rating | Capterra Rating |
| | Yes | Yes | 5.0/5.0 | 4.8/5.0 |
| | No | Yes | 4.5/ 5.0 | 4.4/ 5.0 |
| | Yes | Yes | 4.5/5.0 | 4.6/5.0 |
| | No | Yes | 4.5/5.0 | 4.4/ 5.0 |
| | No | Yes | 4.3/ 5.0 | 4.4 / 5.0 |
| | No | Yes | 4.5/ 5.0 | 4.5/ 5.0 |
| | No | Yes | 4.5/ 5.0 | 4.65/ 5.0 |
| | Yes | Yes | 5.0/5.0 | 4.8/5.0 |
A Shor Conclusion on Employee Scheduling Software
There are tons of scheduling software available on the market. And this makes it challenging to make a choice.
Mentioned above is a list of the top employee scheduling software. Utilizing them could help all kinds of businesses stay ahead in employee management.
Are you satisfied with this article? Kindly share your thoughts and opinions.
Or, are there other better schedules employing software that should be on the list? Let us know in the comment section.
Finally, is this article helpful? If yes, share it with your business colleagues, so they don't miss out.Wish to improve the employee scheduling process in your workplace? Then, sign up for Monitask premium and enjoy a 10-day free trial.
Try Monitask
Track employee productivity and simplify work with them
122