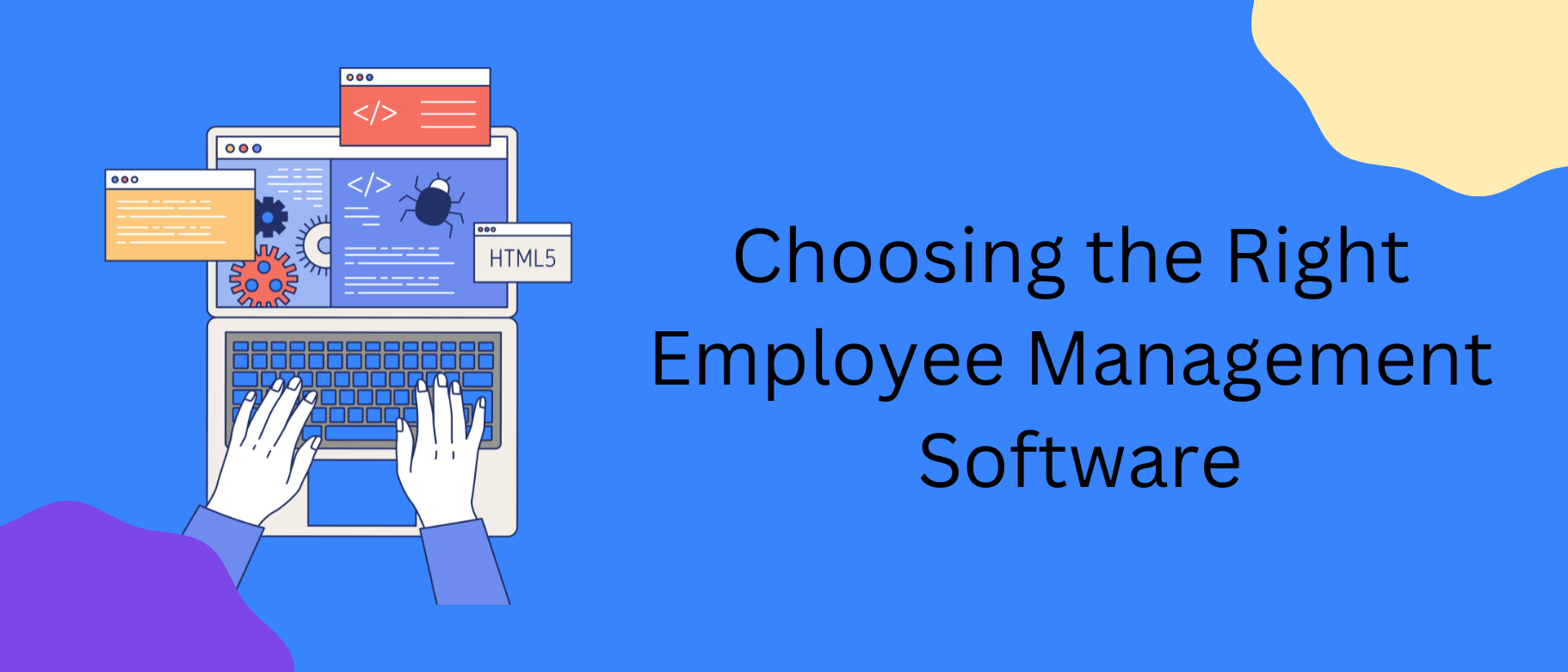 20 Best Employee Management Software in 2023  | Monitask
Software for employee management has revolutionized the way organizations handle their workforce. With the right tools, managers can optimize their team's productivity, streamline their workflow, and improve employee engagement. The best employee software for employee management offers a range of features that help businesses manage their human resources effectively.
From tracking employee performance to managing payroll, these software solutions are designed to handle all aspects of employee management. Integrated employee software management solutions offer a comprehensive solution that combines HR, payroll, and benefits administration in a single platform. In this blog post, we will explore the best employee management software solutions available in the market!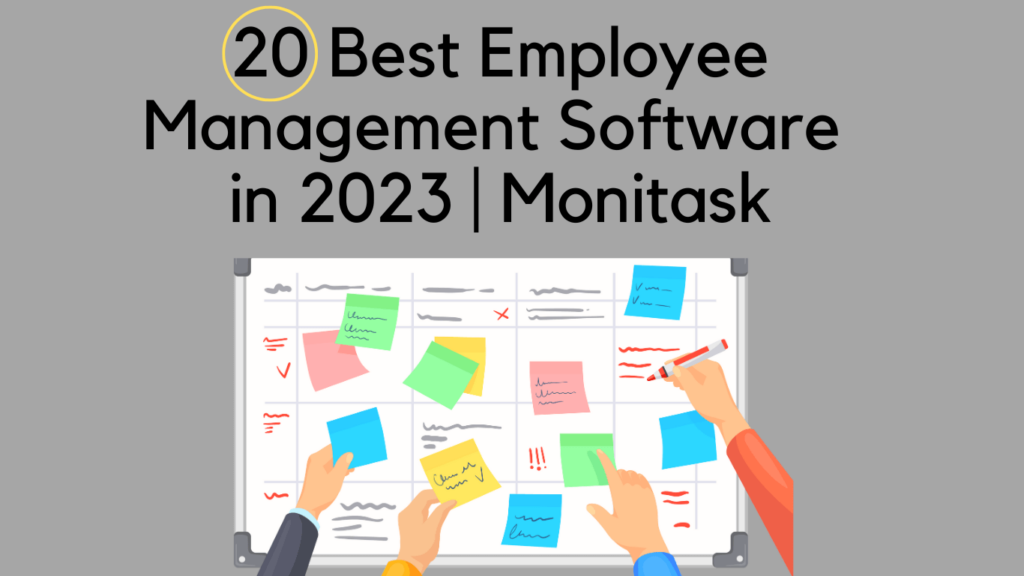 What Is Online Employee Management Software?
Employee management software is a system that helps organizations manage their workforce more efficiently. It enables managers to automate and streamline HR processes, such as tracking employee performance, managing payroll, and administering benefits. The best online employee management system offers a range of features such as attendance tracking, time off requests, applicant tracking systems (ATS), and compliance updates.
As employee management tools offer insights into the performance of staff members, managers can make better decisions on training and staffing needs. Additionally, it provides an avenue for employees to voice their opinions, which can help employers create a culture of employee engagement and loyalty within the organization.
How to Choose the Right Employee Management Software?
When choosing the right employee management system for your organization, it is important to consider the features that best suit your operational needs. The best employee management software should provide an intuitive user interface, be able to integrate with existing systems such as payroll and accounting, offer automated HR processes, and include a comprehensive reporting system. Here are five features to look for in employee management software:
Time Tracking
Time tracking is an important feature to look for in employee management systems. It allows businesses to manage employees and see how much time they spend on tasks and can help managers identify areas where employees may be slacking off.
Activity Rates
Activity rates are another important feature to look for in an employee management solution. This metric helps businesses to get insight into employee productivity and identify further areas of improvement in the workplace.
Screenshots
Screenshots are another important feature of employee management software. They allow businesses to see what employees are doing on their computers and flag any suspicious behavior, or unproductive activities.
Project Management
Employee management software provides a centralized platform that allows project managers to create and assign tasks, set deadlines, track progress, and communicate with team members in real-time. This helps to ensure that tasks are completed efficiently and effectively.
Reports
Reports play a crucial role in employee management software by providing relevant and actionable insights into various aspects of employee performance management. Leveraging the power of data and analytics, organizations can optimize their workforce processes.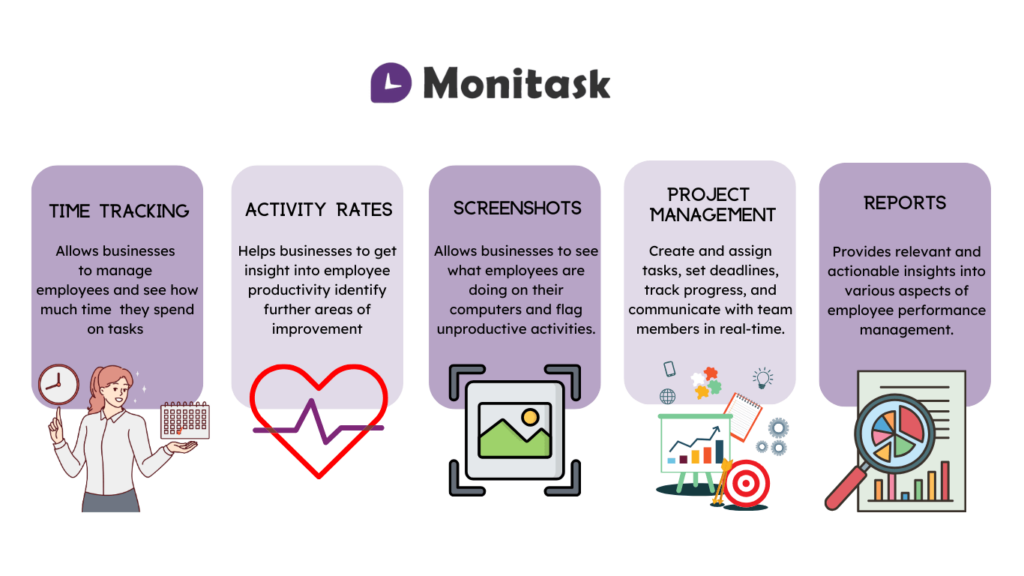 Overviews of the 20 Best Employee Management Systems
There are many employee management software solutions available, and it can be difficult to choose the right one for your business. To help you out in choosing the best one for you, we have reviewed 20 of the best employee management systems in the market:
Monitask
Monitask workforce management software comes at the top of our list as it offers the most comprehensive set of features to help businesses and individuals manage their work more efficiently. Unlike other software for employee management, Monitask provides its users with an all-in-one solution that includes not only time tracking but also task management, screenshot capture, and productivity analysis of the entire workforce. Monitask BIG 3 covers:
Real-Time Dashboard
One of the biggest advantages of Monitask is its real-time dashboard. This feature allows managers to see exactly what their team members are working on at any given moment, providing an up-to-the-minute overview of productivity levels. The dashboard also displays screenshots of employees' screens at regular intervals.
This feature gives managers a more detailed insight into how their team is spending their time and is particularly useful for remote teams, as it helps managers stay connected with their team members and ensures that everyone is working towards the same goals.
Across Platforms Functionality
The software is platform-agnostic, operating seamlessly on Windows, Mac, Linux, Android, and iOS devices. This cross-platform functionality ensures that all team members have unrestricted access to the software, promoting consistency in task management and time tracking, regardless of the device used.
Data Safety
Monitask is committed to privacy and transparency. The software is designed to be non-intrusive, and legally compliant. Monitask does not collect any personal information or data outside the scope of employee management. All data is securely stored, ensuring that privacy is maintained at all times. This commitment to transparency and privacy has helped Monitask to build a loyal user base and makes it a popular choice for businesses of all sizes.
Monitask stands out as a comprehensive and reliable employee management software solution that caters to the needs of businesses across the board. The platform excels in delivering an array of high-performing features to help organizations streamline their operations, enhance productivity, and maintain a high level of transparency.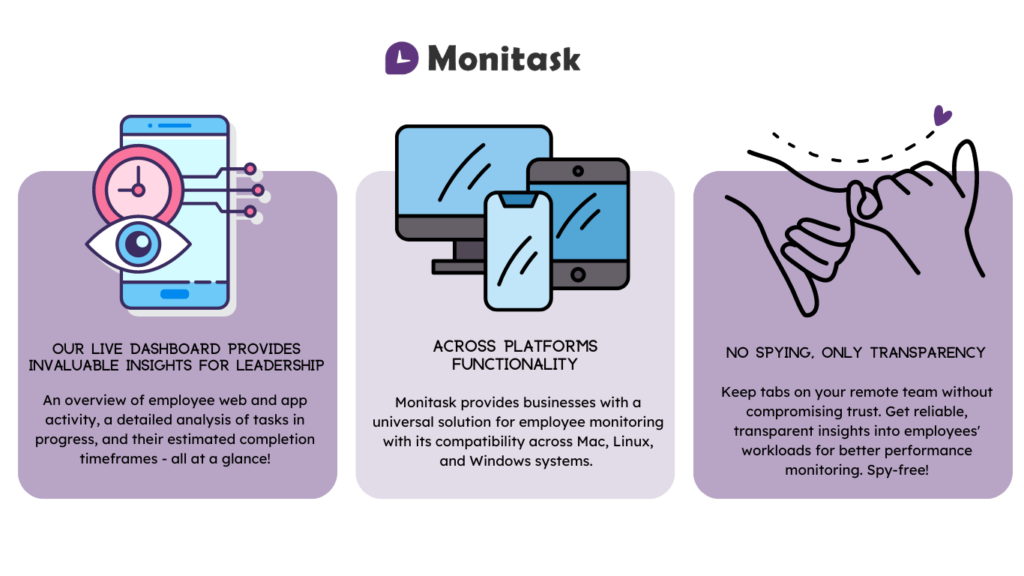 Monitask Across Various Industries
Monitask's comprehensive features make it a versatile tool that caters to a broad range of industries. Here are a few specific sectors that can significantly benefit from implementing Monitask:
IT and Software Development
In the IT and software development industry, project timelines and accurate billing are crucial. Monitask allows project managers and team leaders to track time spent on individual tasks and projects accurately, ensuring accurate client billing and efficient resource allocation. The screenshot feature facilitates transparency and accountability, especially in remote or distributed teams.
Marketing and Advertising
In marketing and advertising, employees often juggle multiple tasks and projects at once. Monitask helps keep track of these various tasks, ensuring timely completion and effective time management. The productivity analysis feature can help identify any bottlenecks or inefficiencies in the workflow, allowing for timely intervention and improvement.
Freelancers and Contractors
Monitask is an invaluable tool for freelancers and contractors. The platform allows them to accurately track their working hours, allowing them to invoice clients with greater accuracy and precision. Additionally, its productivity analysis tools can help freelancers identify areas where they can improve their efficiency and output. With Monitask you get a bundle of features such as:
Time tracking: Monitask makes it easy to track the time spent on each project or task.
Task management: Users can create and assign tasks, set deadlines, and track progress in real-time.
Screenshot capture: This feature captures screenshots of users' screens at predetermined intervals.
Productivity analysis: Monitask provides productivity analysis tools that enable users to analyze how efficiently their team is working.
Integrations: Monitask integrates with a wide range of other software tools, including project management software, accounting software, and payroll software.
Mobile app: Monitask offers mobile employee management software that allows users to track time and manage tasks on the go.
Choosing Monitask means investing in a culture of transparency, productivity, and effective team management. Its all-encompassing features and strong commitment to privacy make it an ideal choice for savvy businesses striving for operational efficiency!
Paycor
Paycor's Human Capital Management (HCM) software (starting from $99 plus $5 per employee per month) helps with all aspects of the entire employee lifecycle – from recruitment to retirement. The software covers tasks such as recruiting and onboarding, job postings, and scheduling interviews.
With Paycor, payroll management gets simplified with automatic tax calculations and direct deposits. Time and attendance with employees clocking in and out, requesting time off. As well as HR and benefits managing employee records, and ensuring compliance with labor laws.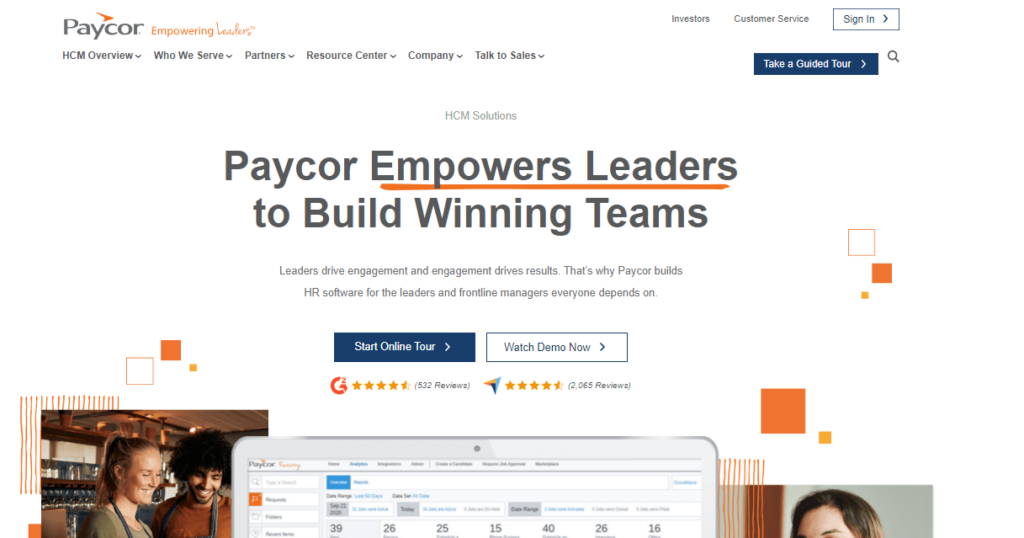 → Pros: Paycor offers a wide range of products that can provide significant benefits for businesses with multiple locations and departments. Extensive reporting capabilities provide valuable insights into HR-related data.
→ Cons: Some users have reported slow customer support response time. The system may take some time to learn due to its extensive features and tools, and the system can present bugs and glitches.
monday.com
monday.com is a robust project management tool designed to enhance team productivity. Features like task assignment, timeline tracking, and project overview streamline operational processes. Integration capabilities with platforms like Slack, Google Drive, and Gmail ensure seamless data flow. The highly customizable interface provides visual insights into project progress, making collaboration easy and efficient.

→ Pros: This software offers a highly customizable, intuitive interface that helps in visualizing project progress. The integration capabilities are extensive, and the reporting features provide helpful insights into team performance. It effectively facilitates team collaboration enhancing productivity.
→ Cons: It might have a steep learning curve for beginners and pricing can be on a higher end. Additionally, the pricing, starting at $8 per user/month for the basic plan, may be costly for smaller teams seeking more advanced features.
Connecteam
Connecteam is a comprehensive employee management software that offers various features like time tracking, scheduling, communication, and operational procedures management. The platform is mobile-friendly and caters specifically to deskless or remote teams. Connecteam also offers advanced features such as employee surveys, performance reviews, and employee engagement tools. Connecteam's pricing is budget-friendly with plans starting as low as $35 per month for up to 30 users.

→ Pros: Connecteam's ease of use and mobile-first approach make it ideal for managing remote, non-desk employees. The software offers immense value for money with its affordable price and range of features. Free plan for up to 10 employees.
→ Cons: Some users have pointed out that while the software is feature-rich, it may require a learning curve to fully utilize all its capabilities. There can be some limitations when it comes to customization options.
Lattice
Lattice is a performance management software that focuses on employee engagement, performance reviews, and goal setting. Its features include continuous feedback, 360-degree performance reviews, and analytics to track employee performance and engagement. Lattice integrates with popular HR tools, making it a comprehensive solution for HR management. Pricing starts at $4 per person per month for the most basic plan.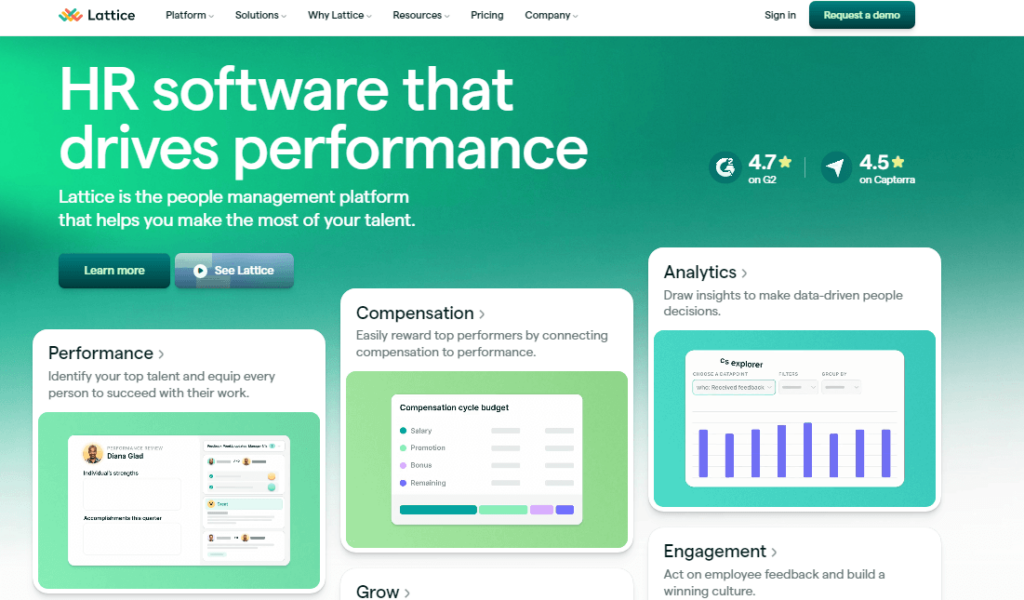 → Pros: Lattice's robust performance management features and straightforward interface make it a popular choice amongst businesses. The software provides valuable insights into employee performance and OKR goals and can be seamlessly integrated with existing HR tools.
→ Cons: Users have mentioned that the interface can bit difficult to navigate and understand, and there is currently no option to mark goals as completed. Instead, they remain on the list indefinitely until manually deleted.
PrimePay
PrimePay (formerly SyncHR) is a comprehensive payroll solution tailored to meet the needs of small to mid-sized businesses. It offers payroll, HR and benefits administration, and time and labor solutions, along with extensive compliance support to always stay on top of legal frames. You can purchase this software depending on your needs, either for payroll, or HR essentials. Bundles start at $5 PEPM ($99 minimum for up to 10 employees).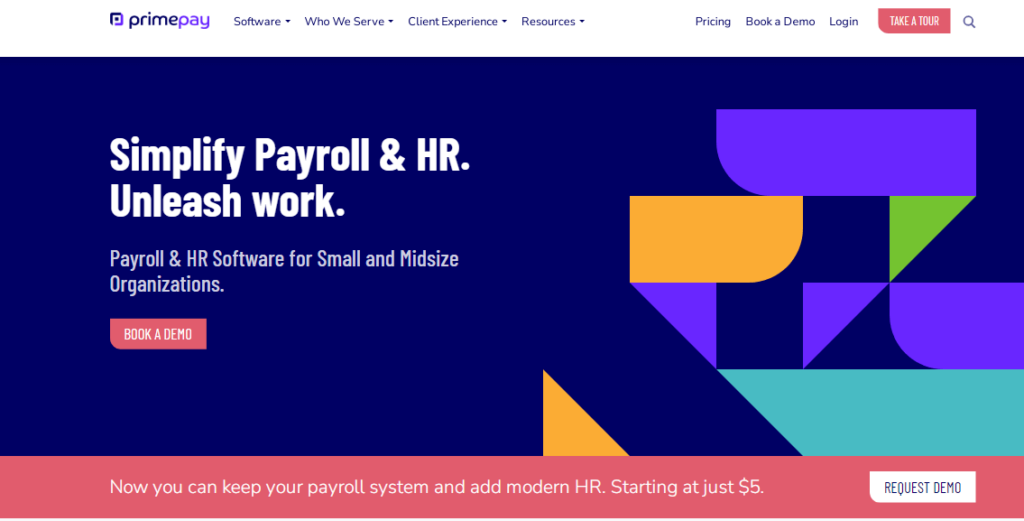 → Pros: Easy to use and navigate. PrimePay's payroll feature helps in calculating taxes, setting up pay types, tracking time offs, etc. It also simplifies onboarding tasks like e-verifying I-9 forms and W-4 forms.
→ Cons: Customization options are limited as the software doesn't have a feature-rich interface. Users have conveyed difficulties in the reporting features, and customer service can be unhelpful at times.
TriNet
TriNet is an all-in-one HR solution and employer organization (PEO) that offers a full-service HR function to small or medium-sized businesses. This software is designed to simplify managing a workforce. It offers a range of services, including payroll, benefits administration, risk mitigation, and compliance assistance. TriNet's scalable platform caters to different industries and business sizes, offering flexible HR solutions.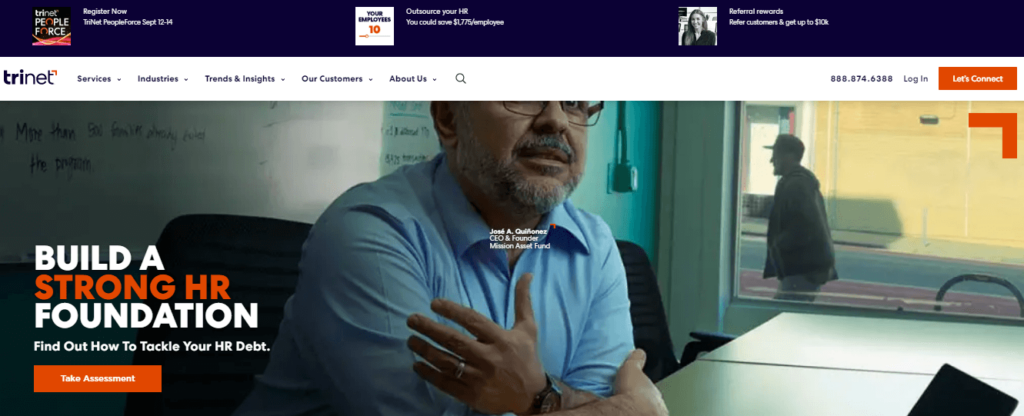 → Pros: TriNet's platform is intuitive and offers a comprehensive set of HR services, and PEO solutions. Their industry-specific solutions make them stand out, and their customer support is often praised.
→ Cons: The software might not be ideal for very small businesses due to its pricing structure, and some users mention that the reporting capabilities could be enhanced. For pricing details, potential customers are encouraged to contact TriNet directly as they provide customized pricing based on specific business needs and industry requirements.
Insperity
Insperity is a comprehensive HR solution offering full-service HR outsourcing aimed at simplifying business operations. Their services encompass payroll and HR administration, employee benefits, risk management, and compliance assistance. Key features include performance management, human capital management, and time and attendance tracking. Insperity caters to businesses of all sizes and offers personalized onboarding support and a dedicated service team.

→ Pros: Insperity's full-service HR outsourcing simplifies many aspects of HR management. With an array of features and dedicated support, it is a robust solution for businesses seeking comprehensive HR services.
→ Cons: Some users have reported that the software interface could be more user-friendly. The pricing is not disclosed on their website, which may be a deterrent for some businesses. For specific pricing details, potential customers are encouraged to contact Insperity directly.
Leapsome
Leapsome is a powerful employee management software that offers solutions for performance management, learning, and employee engagement, while also providing feedback on the go. It provides features like goal setting, performance reviews, feedback collection, and personalized learning paths. Its analytics dashboard offers valuable insights into team performance.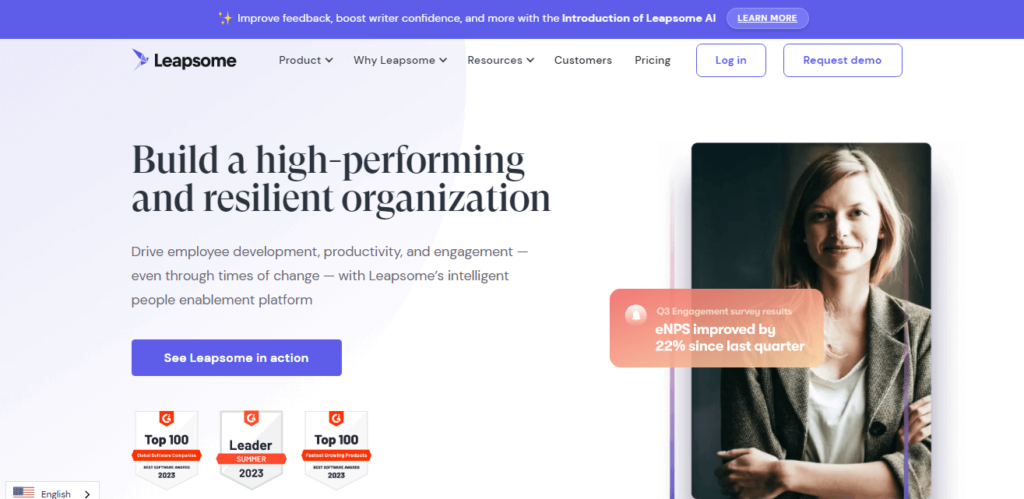 → Pros: Leapsome offers a highly customizable platform that allows for the setting of individual and team goals. The software's ability to generate actionable insights from feedback improves employee engagement significantly. Free 14-day trial.
→ Cons: Some users have pointed out that its extensive features may require a considerable learning curve. Also, more integration options would be beneficial. Pricing is not disclosed directly on their website. Potential customers are encouraged to contact Leapsome for a custom pricing plan based on their specific requirements.
Justworks
Justworks (pricing is tiered, starting from $59 per month per employee for the basic plan) is a comprehensive employee management software that streamlines HR, payroll, and benefits. Its user-friendly platform enables effortless onboarding, PTO tracking, performance management, and compliance. Justworks also offers access to high-quality, affordable benefits plans and employment practices liability insurance. Justworks is also considered a Professional Employer Organization (PEO).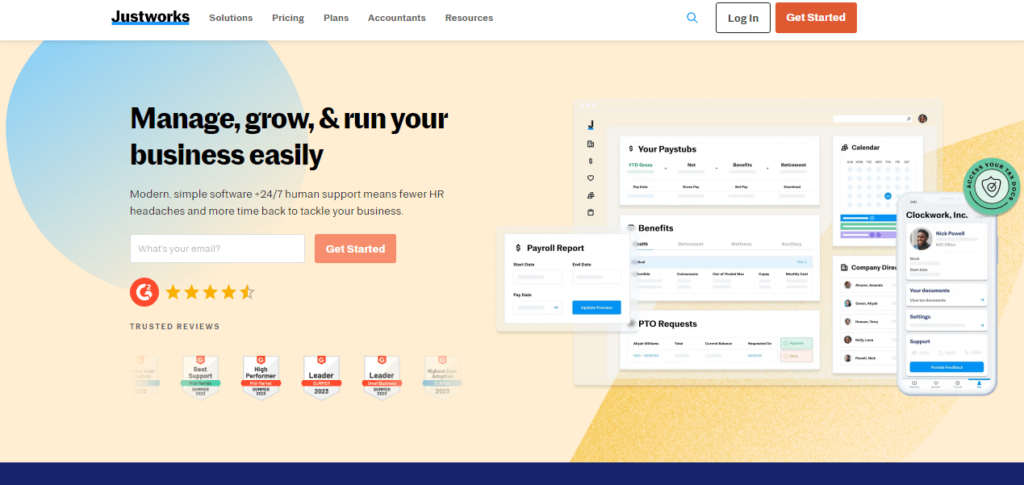 → Pros: Justworks stands out due to its easy-to-use platform and comprehensive coverage, from payroll to benefits. It is praised for excellent customer service. The cost of the software can decrease for larger teams.
→ Cons: Some users find the reporting features lacking. Also, while it offers extensive features, small companies might find it expensive. Time tracking is offered as a paid add-on. No mobile app is available.
Workday
Workday is a cloud-based software that offers complete HR solutions, including payroll, time tracking, recruiting, applicant tracking and talent management. It can be integrated with existing systems, including third-party software, all while offering solutions for finance and performance management, as well as analytics tools. It's a unified system designed to help businesses manage their workforce more efficiently.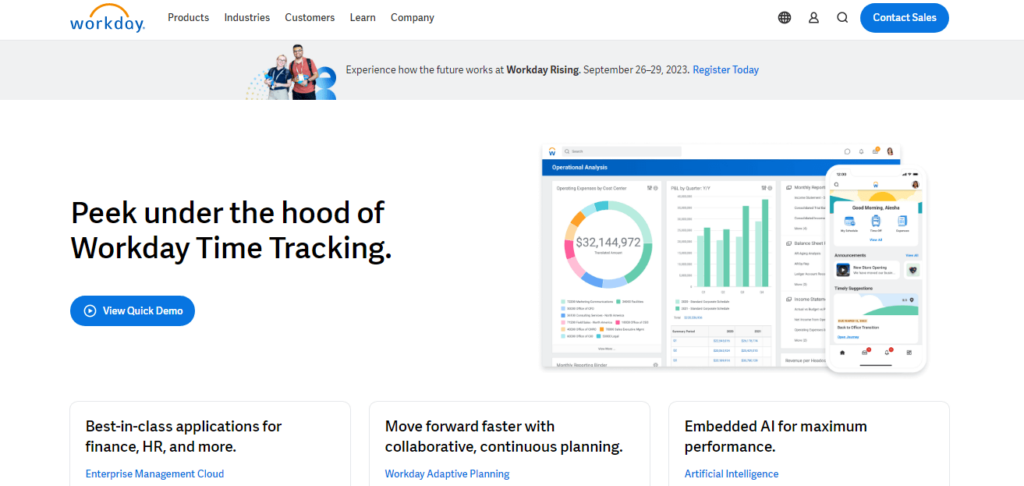 → Pros: Workday's comprehensive suite of tools makes HR processes fluid and efficient. Its user-friendly interface and excellent integration capabilities further enhance user experience. Customer support via phone and online.
→ Cons: Some users have noted that the reporting functionality could be improved. Also, as Workday offers a wide range of features, it may take some time for new users to familiarize themselves with the platform. Pricing details are not directly available on their website.
Oracle Cloud HCM
Oracle Cloud HCM is a comprehensive suite of HR tools designed to boost efficiency and improve employee experience across different industries. This software offers solutions for talent management and performance management, as well as features for payroll and compliance. It also offers workforce insights, which allows businesses to better understand their employee base.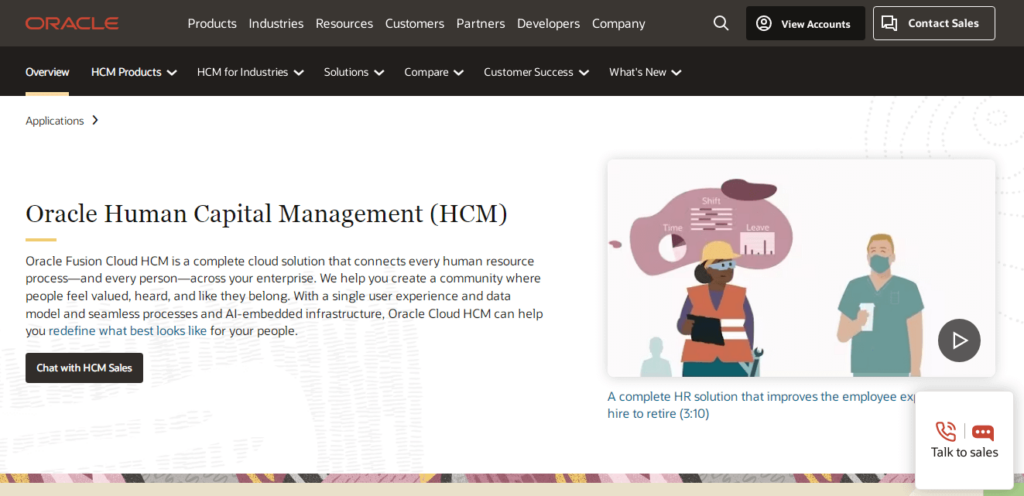 → Pros: Oracle Cloud HCM offers a robust and feature-rich platform suitable for managing global workforces across different locations, or teams. It comes with comprehensive HR capabilities and excellent analytics tools. Employee self-service. Great reporting feature.
→ Cons: Users might find the user interface less intuitive and Software performance can become sluggish and unresponsive, particularly in teams with numerous users. Frequent updates often lead to technical complications. For pricing details, potential customers are encouraged to contact Oracle directly.
Kissflow
Kissflow is an HR management software that aims to streamline HR processes with its comprehensive suite of tools. It includes modules for recruitment, onboarding, leave management, attendance tracking, performance appraisal, and employee offboarding, among others. The software provides a unified platform for HR tasks, allowing for efficient employee management and decision making using accurate data.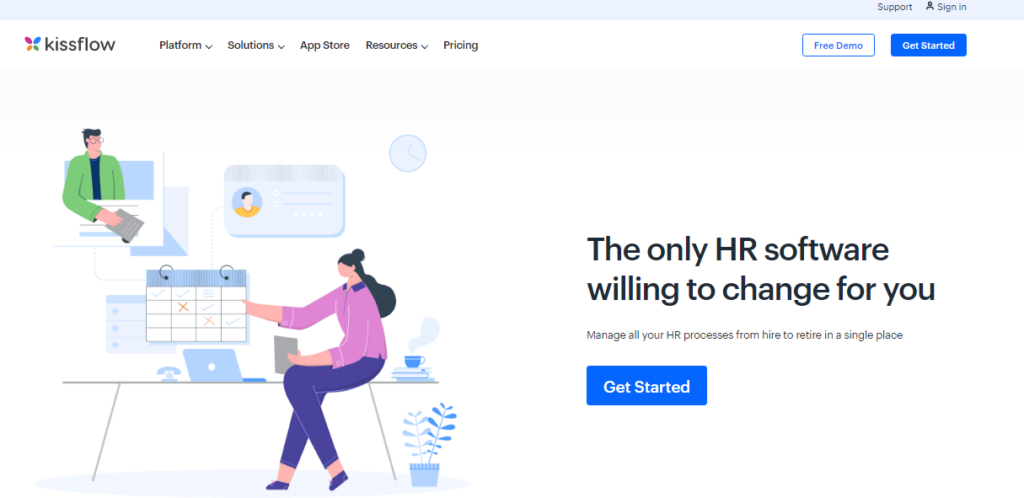 → Pros: Kissflow HR offers a user-friendly interface, comprehensive HR tools, and custom workflow creation. Its flexibility and ease of use make it a popular choice for businesses of all sizes. Help businesses to stay on the budget.
→ Cons: Some users have noted a lack of advanced reporting features. Also, while the software is generally user-friendly, the initial setup can be complex. The software can be very expensive starting at $1,500/month for the basic plan.
Bullhorn Staffing and Recruiting
Bullhorn is a leading staffing and recruiting software designed to enhance productivity and streamline operations. It automates the recruitment workflow, provides integrated applicant tracking, and helps businesses make competitive offers. Its analytics tools give accurate insights into the performance of recruiters. Bullhorn aims to drive faster, smarter staffing decisions.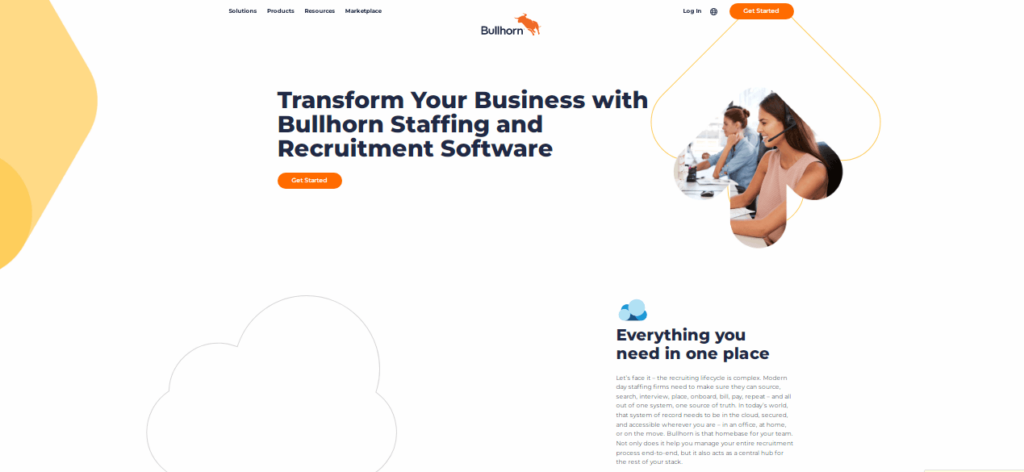 → Pros: Bullhorn is praised for its robust feature set, its integration capabilities, and its intuitive, user-friendly interface. It also offers excellent customer service. This solution is offered by company size, industry, and roles, allowing flexibility to choose the best fit for your company.
→ Cons: Some users find the platform a bit expensive. Additionally, the mobile app could offer more functionality. As for pricing, Bullhorn offers custom pricing plans which are not disclosed on their website, requiring to get in contact with the sales team.
Litmos
Litmos is a reliable employee management and powerful learning management system (LMS) that focuses on performance enhancement, training, and employee education, and team collaboration. It comes with a range of features such as content authoring tools, learning analytics, certification tracking, etc. Companies can use it to develop custom-branded courses for onboarding new hires or upskilling current employees.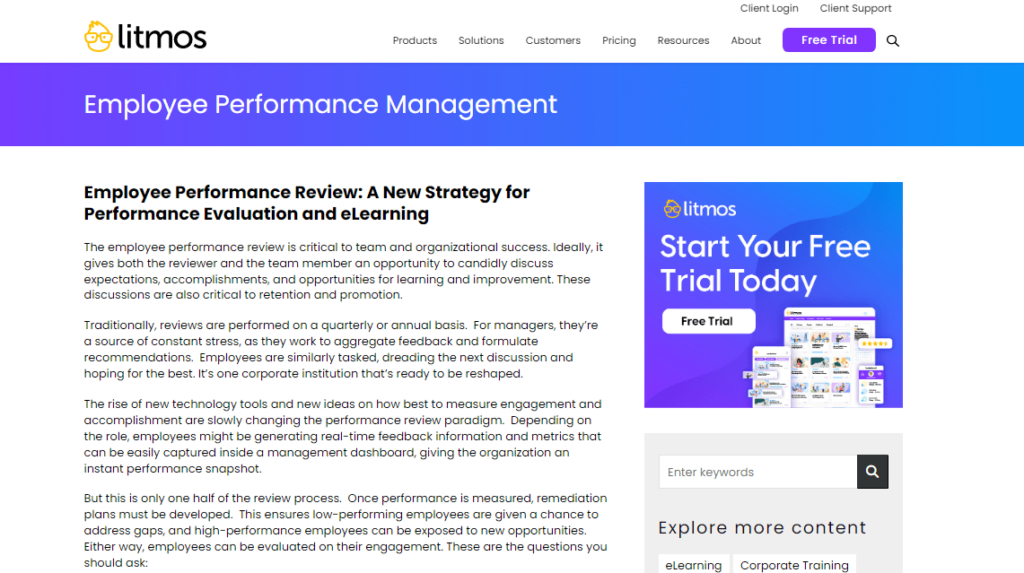 → Pros: Litmos is highly appreciated for its user-friendly interface, the extensive training content library, and its ability to be accessed anywhere, anytime, offering flexibility for remote teams and manager alike.
→ Cons: Some users have pointed out the need for more customization in reporting and course creation. The initial setup can be slightly complex, requiring a learning curve for some. As for pricing, Litmos does not provide specific cost details on its website.
15Five
15Five is a continuous performance management solution that helps businesses maintain employee engagement and drive high performance. It offers features such as goal tracking, 360-degree feedback, as well anonymous feedback, weekly check-ins, ad hoc reporting, and a peer recognition platform. Also, customizable training modules for managers are available. Pricing starts at $4 per user per month, billed annually.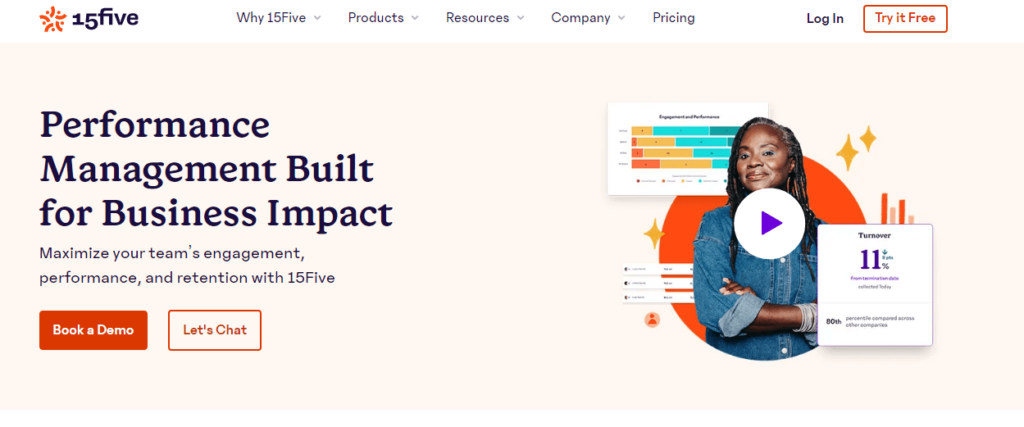 → Pros: 15Five is lauded for its strong focus on employee engagement, its user-friendly platform, and its robust features that facilitate communication and feedback. Offers a one-on-one meeting tool.
→ Cons: Some users complain of too many emails/notifications. No core HR features are available. Also, the reporting features could be improved.
Cornerstone OnDemand
Cornerstone OnDemand is a leading talent management software that offers comprehensive tools for recruiting, personalized learning, performance management, and HR planning. It also provides recruiting and onboarding capabilities, workforce analytics, and benchmarking features to drive insights and inform strategic decisions. This solution provides talent managers with a dashboard that enables them to predict employees who may not comply with organizational, state, or federal regulations. Additionally, it helps identify suitable employees for open positions.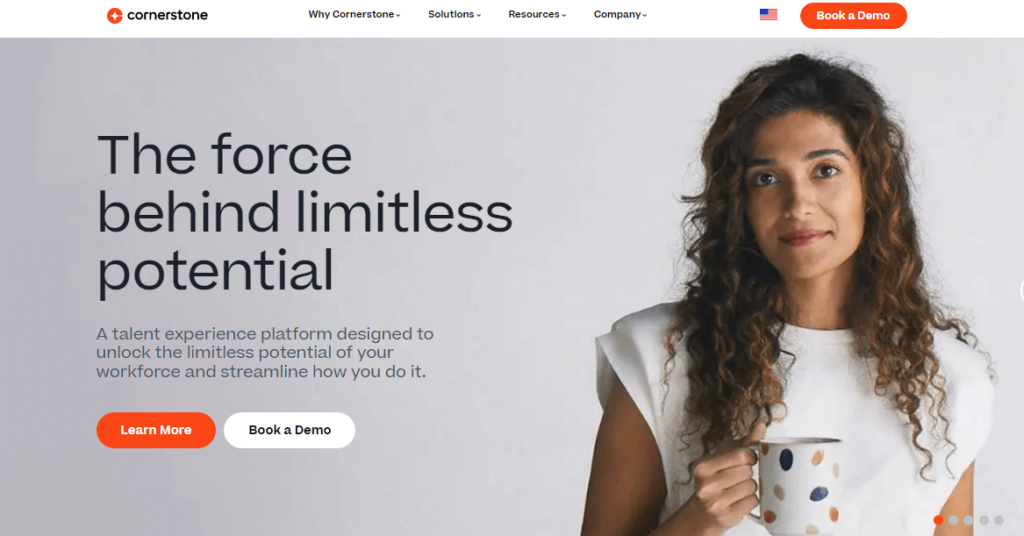 → Pros: Cornerstone excels in providing a wide range of HR features and its ability to integrate with existing systems. It also offers a user-friendly interface and excellent customer support.
→ Cons: Some users have reported that the software can be slightly complicated to navigate, particularly for new users. When the platform is not working properly, it requires a lot of time to have support. The pricing details are not directly available and require contacting the company.
Employee Navigator is a robust benefits administration and HR software, that enables companies to streamline processes like onboarding, benefits management, and compliance. Its comprehensive suite of features includes payroll integration, time-off tracking, ACA reporting, and an employee portal for easy access to benefits and documents. Pricing for the cheapest plan is $630/mo, which includes: basic enrollment, benefits communication, ACA reporting, modern carrier, TPA, and payroll integrations.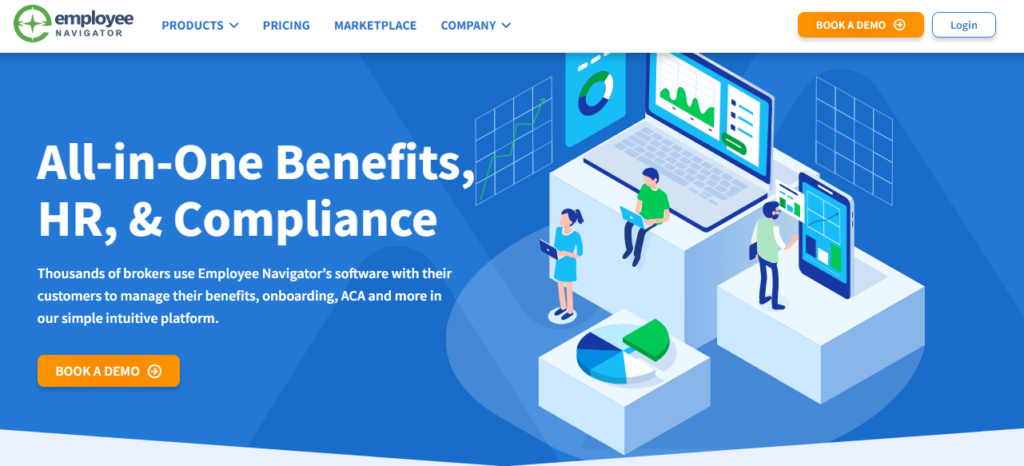 → Pros: Employee Navigator is well-regarded for its intuitive interface, robust feature set, and excellent customer support. Its flexibility allows it to cater to both small and large businesses. It can include important capabilities such as HRIS database, ACA compliance, COBRA administration, deduction management, HIPAA compliance, and others.
→ Cons: Some users have noted initial setup challenges and wish for more customization options to fit different needs.
Zoho Workplace
Zoho Workplace is a comprehensive suite of collaborative and productivity apps tailored to meet the needs of modern businesses. Its platform brings together applications for email, document management, presentation, and real-time collaboration. Key features include cloud storage, an office suite, email hosting, and team communication tools. Zoho Workplace is a comprehensive suite of collaborative and productivity apps tailored to meet the needs of modern businesses.
Its platform brings together applications for email, document management, presentation, and real-time collaboration. Zoho Workplace provides a unified platform to manage employee accounts, contacts, and other information. It caters to both SMEs and large enterprises alike with features such as time tracking, activity logging, detailed analytics reports, and more. Key features include cloud storage, an office suite, email hosting, and team.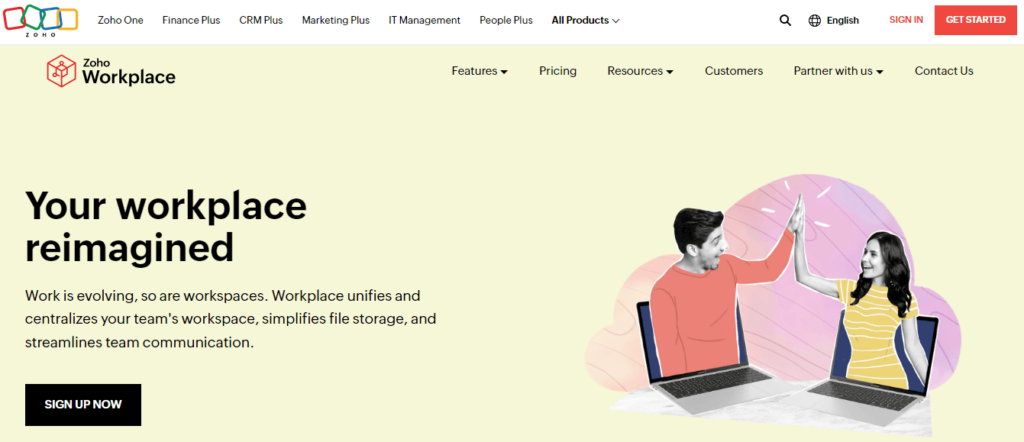 → Pros: Zoho Workplace excels in its integrative capacities, allowing for seamless collaboration across various applications. Its user-friendly interface is well-received and its affordability, with plans starting as low as $1 per user per month, sets it apart.
→ Cons: Some users have mentioned a steep learning curve for less tech-savvy individuals and occasional glitches with some of the apps. The lack of unified search across all apps is another point of contention.
Weekdone
Weekdone is a performance and employee management software designed to improve team communication and productivity. It offers a clear overview of plans, progress, and problems through weekly check-ins, allowing managers to stay updated on team activities and individual progress. Key features include goal setting based on the Objectives and Key Results (OKR) framework, weekly status reports, and performance tracking. Pricing starts from $ 29.00 per month/user.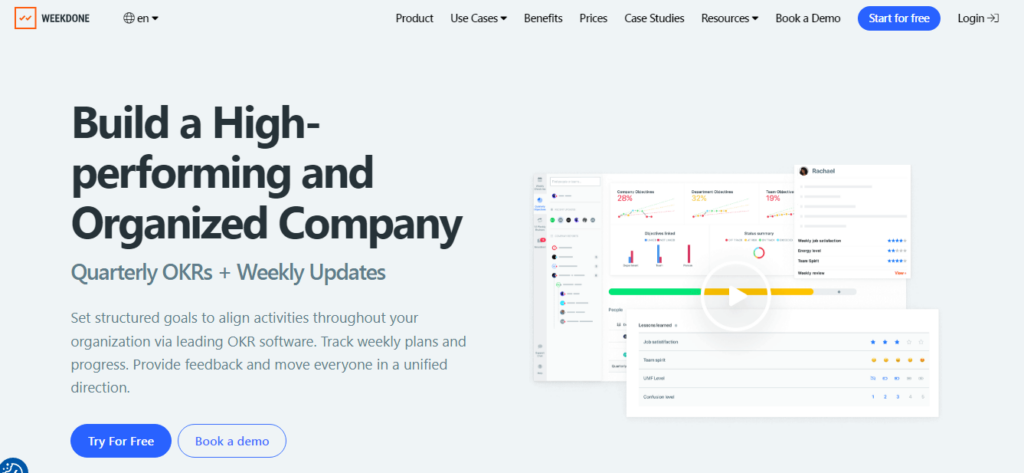 → Pros: Weekdone is praised for its powerful OKR functionality and its intuitive interface. It also facilitates enhanced team communication and transparency.
→ Cons: Some users have reported the need for more customization options. There's also a need for more in-depth training materials and resources, as navigating the software can pose challenges, particularly for new users unacquainted with its functionalities.
How Does Staff Management Software Work?
Staff management software typically works by allowing employers to manage their employees' schedules, time-off requests, and other important information in one centralized location. The software often includes features such as employee self-service portals, time and attendance tracking, and performance management tools. By using these tools, employers can more easily manage their workforce and ensure that their team members are working efficiently and effectively.
Employee work management software can also provide valuable insights into employee productivity and allow employers make data-driven decisions about their business operations, their workforce, and helping business to streamline their HR processes and improve their overall performance.
Why You Should Use Employee Management Software?
Employee management software can greatly improve the efficiency and productivity of any organization. With features such as time tracking, scheduling, and payroll processing, it streamlines many of the tedious administrative tasks involved in managing a workforce. This frees up time for managers to focus on more important tasks such as employee development, training, development, and strategic planning.
Additionally, employee management software can provide valuable insights into workforce trends and performance metrics, allowing managers to make data-driven decisions. Overall, the implementation of employee management software can lead to a more organized and productive workplace with high retention rates and motivated employees.
Benefits of Using Employee Management Software
With the growing need for automation and digitalization in the workplace, employee management software has become increasingly popular. Employee management software offers a range of benefits to businesses looking to increase their efficiency and productivity. Let's check them out!
Increased Employee Engagement
By providing a platform for employees to easily access and manage their work-related information, such as schedules, tasks, and performance metrics, employees feel more empowered and invested in their work. This can lead to higher levels of job satisfaction, productivity, and overall job performance.
Streamline Internal Communication
Employee management software can be used to streamline internal communication, allowing teams to collaborate more effectively. By providing a central platform for team members to communicate and access important information, managers can ensure that everyone is on the same page and working towards the same goals.
Fewer Manual Errors
By automating tedious administrative tasks, such as payroll processing and time tracking, employee management software eliminates the possibility of manual errors. This can help organizations save time and money, as there will be fewer costly mistakes due to human error.
Employee Management Systems: FAQs
What is Employee Management Tool?
Employee management tools are software solutions designed to help organizations manage their workforce. They typically offer time tracking, task assignment, and performance analysis features that enable employers to track employee performance, productivity levels, and job satisfaction.
What is Good Employee Management?
Good employee management is about more than just tracking hours and managing tasks. It's about developing a positive work environment where employees feel empowered and motivated to do their best. This includes providing clear communication, and offering rewards and recognition for outstanding performance.
Which Software is Used for Storing Employees Details?
Employee management software is typically used for storing employee details. This includes basic information such as name, age, and address, also job-related data such as performance metrics and time tracking records. The software also allows users to access important documents related to the employee, such as timesheets and contracts.
What is a Workforce Planning Software?
Workforce planning software is a type of employee management software that enables organizations to analyze and plan the deployment of their workforce. This typically involves forecasting future needs, scheduling employees, and optimizing the utilization of resources.
Try Monitask
Track employee productivity and simplify work with them
46